Growing up, when the nighttime television drama, Beverly Hills, 90210 first came to television, we all were addicted. It was all the talk at our lockers the next day at school. And if you were like me, you had a picture of Jason Priestley or Luke Perry hanging on your bedroom walls. We also followed their fashion trends from the guys wearing sideburns to white tees, and the girls wearing neon with teased hair and acid washed jeans.
The iconic primetime show was premised on "typical" California high school kids dealing with some seriously soapy dramas—infidelity, teen pregnancy, abortion, STDs, suicide, divorce, family secrets, eating disorders—oh, and let's not forget, being busted boozing it up at prom! And should we even dare mention that infectious theme song? Too late.
When the show popular show debuted on October 4th, 1990, most of the cast were in their 20s and destined to become teen idols. Now, the 'Peach Pit' gang is heading into middle age—Ian Ziering just hit the big 5-0 and Luke Perry isn't far behind—but age hasn't slowed them down. Few people know, but most of the actors weren't as young as their characters. From fighting deadly fish to scoring points on the dance floor to surviving race car crashes and more, see what some of our 90210 favorites are doing now
Jason Priestley (Brandon Walsh)
As West Beverly High's Midwestern transplant, Brandon was the golden child that every guy wanted to be friends with and every girl wanted to date. Not only did he make sideburns look cool, but he also maintained his good-guy image even while dating a plethora of women. Priestley left the show after nine seasons but continued to serve as an executive producer until the series ended. He went on to play small roles in "Tru Calling," "Love Monkey" and "My Name Is Earl," and even directed an episode of the show's spin-off series, "90210." He is now a father of two with his wife, make-up artist Naomi Lowde.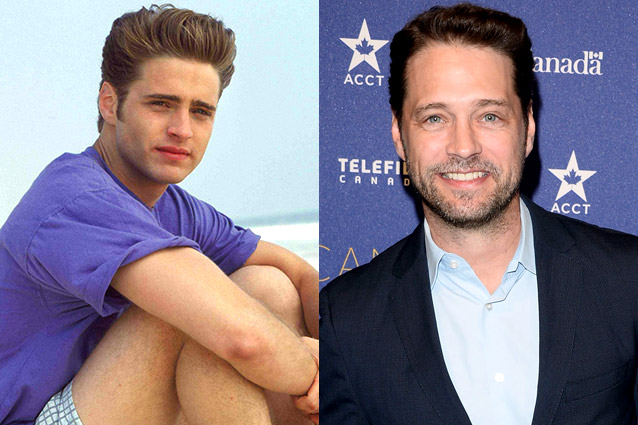 Jennie Garth (Kelly Taylor)
While she was deemed the "snobby rich girl" of the group, it was anything but easy for Kelly in Beverly Hills: she's had a stalker, abused drugs, was sexually assaulted, was caught on a fire, joined a cult, got shot and had amnesia. As one of the original cast members to remain until the series' finale, Garth went on the star in the TV sitcom "What I Like About You" with Amanda Bynes. She reprised the role of Kelly Taylor on the first two seasons of the "90210" spin-off series. She recently married her third husband, actor Dave Abrams.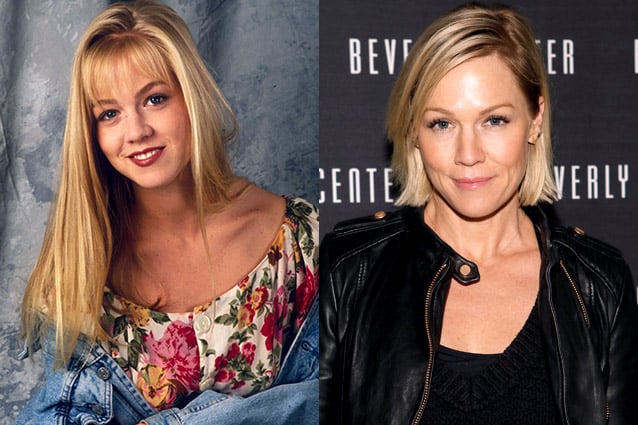 Luke Perry (Dylan McKay)
Combining his brooding looks and tortured demeanor, Dylan was the typical bad boy that every high school girl lusted over — particularly Kelly Taylor and Brenda Walsh. After high school, he overcame a battle with alcohol, had money troubles and ultimately fell in love with the daughter of his father's killer. After her murder, Dylan left town -only to return years later for the remainder of the series. Since then, Perry returned to the TV in 2015 in the series "Detective McLean: Ties That Behind." In 2003, he ended a 10-year marriage with his wife, with whom he has two children.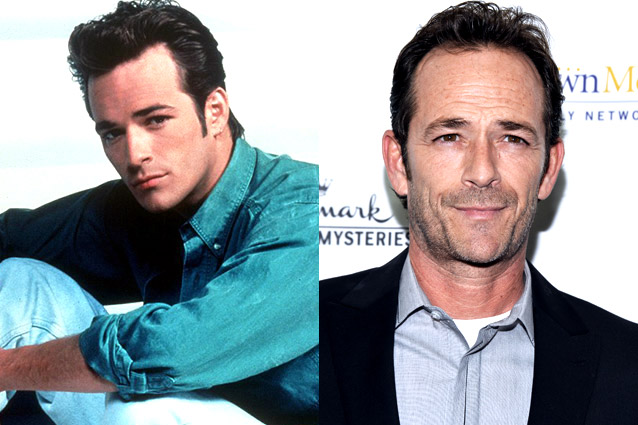 Tori Spelling (Donna Martin)
It never hurts to be the executive producer's daughter! Just ask show creator Aaron Spelling's daughter Tori, who played the show's ditsy, virginal rich girl during the entire series' run. Off-screen, Spelling's personal life seems to have trumped her TV career. She met future husband, Dean McDermott, while still married to actor Charlie Shanian, who she divorced one month before marrying McDermott in 2006. The couple renewed their vows in 2010 and are still married despite McDermott having an affair after 10 years and four children. Spelling and McDermott starred in a number of reality shows about their troubled domestic life, including the aftermath of McDermott's affair that played out in several episodes of "True Tori" in 2013.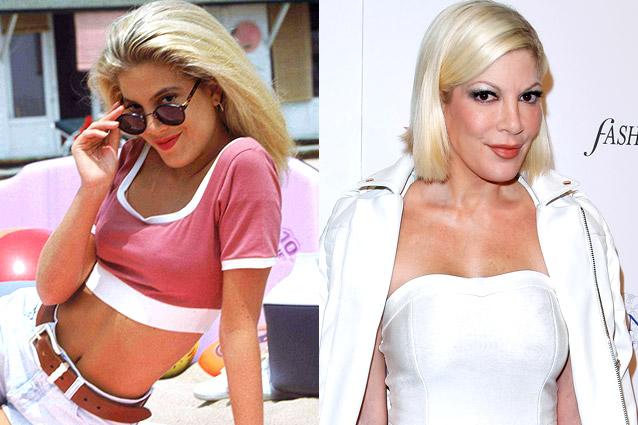 Ian Ziering (Steve Sanders)
He played the typical party boy who knows how to have a good time. As one of the few original characters who remained on the show during its entire run, Steve had the biggest transformation as resident goof-off to devoted husband and father. Post "90210," in 2002 Ziering went on to marry — and then divorce – Playboy Playmate Nikki Schieler. He moved on and tied the knot with Erin Kristine Ludwig, whom he has two kids with. Ziering appeared on NBC's Celebrity Apprentice in 2015 and has recently been in the "Sharknado" films.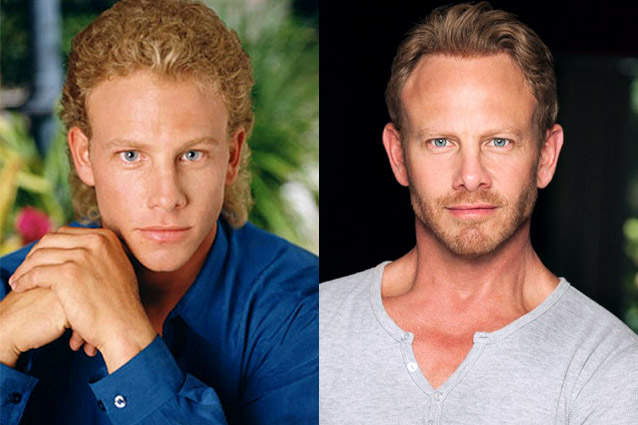 Brian Austin Green (David Silver)
Starting out as a nerdy underclassman, David eventually lost his awkwardness and became one of the cool kids in school. After years of pursuing Donna Martin, he finally won her over and married her on the series' final episode. Green attempted to pursue music after the series, only to wind up with a failed rap career. The actor went on to marry Megan Fox in 2010 before the couple filed for divorce in 2015 and called it off when it was revealed Megan was pregnant again with the couple's fourth child. Post 90210, Green starred in Desperate Housewives and Anger Management opposite Charlie Sheen.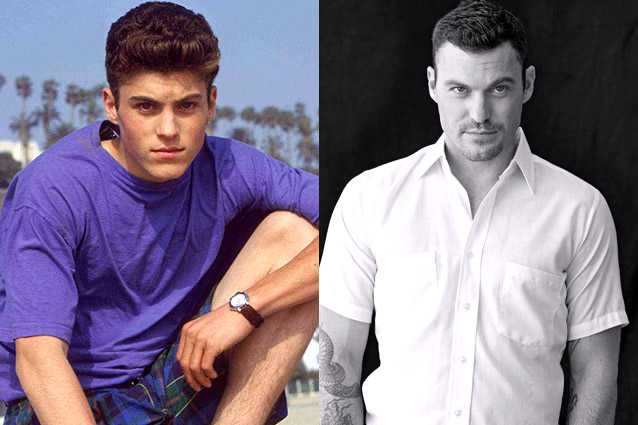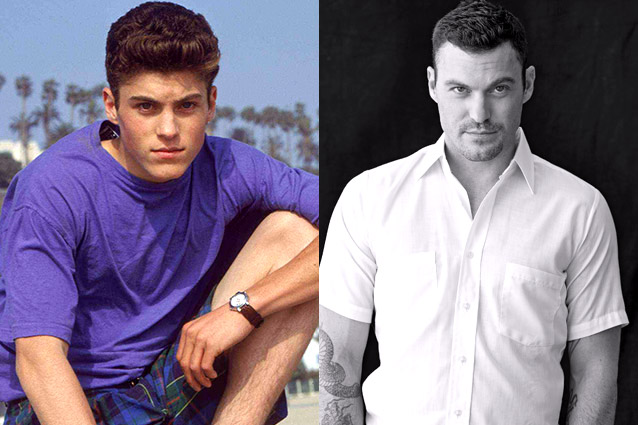 Tiffani Thiessen (Valerie Malone)
Following Shannen Doherty's departure from the show, Tiffani Thiessen joined the cast's fifth season as a fresh-faced girl from Minnesota who quickly sheds her good-girl act (and the high school cheerleader typecast that followed her from "Saved by the Bell") to become the resident vixen. After dating practically every man on the show, Val decided to return home to live with her mother at the end of season nine. After roles on failed sitcoms "Two Guys and a Girl," "Fastlane" and "What About Brian," Thiessen found success on USA's "White Collar" and the animated series, "Jake and the Never Land Pirates."