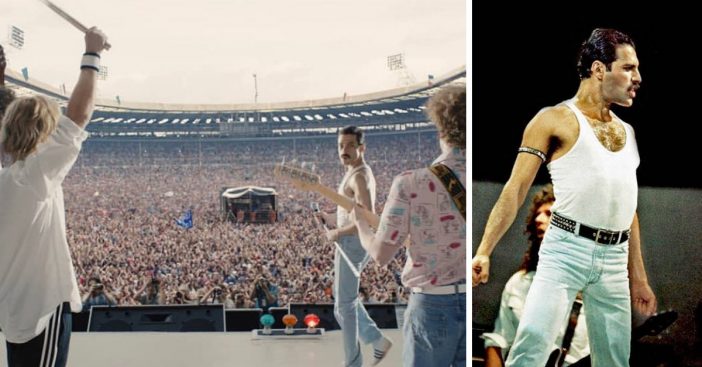 Have you seen the new movie Bohemian Rhapsody yet? Rami Malek, who plays the iconic Freddie Mercury in the film, is amazing in his performance. So amazing that viewers realized that he (and the other actors) perfectly recreated Queen's 1985 Live Aid performance for the movie. At the end of the film, you get to see a recreation of the entire twenty-two-minute performance and you can see that every single part of it is the same!
Not only are the songs the same, but you can see that every hand movement, step, gesture, and basically every part of the performance are exactly on cue together. Rami and the other actors must have studied Queen's Live Aid performance very intensely to get this down!
What Rami Malek Said About Playing Freddie
Rami actually spoke out and said that he watched the original Live Aid performance over 1,500 times. He even watched the recording on set to make sure it was perfect! Fans of the movie took to social media to share how amazed they were at the similarity of the real performance and the movie recreation.
However, he knew that it wouldn't be perfectly executed. Rami felt that if you try to make everything too perfect, you lose some of the authenticity that comes across so well on the screen. They filmed one song of the performance per day and worked to get every gesture exactly the same. It took them about a week just to film the recreation of the 1985 Live Aid performance for the film.
See For Yourself How Close The Performances Are
The actors said that filming these scenes were an adrenaline high like nothing else. Freddie Mercury was one of the best rock stars out there and Rami Malek did him justice in this film about Queen. It also brought a new generation of fans into Queen's music. How cool is that?
Are you surprised or amazed that the real Live Aid performance and the movie version are so similar? Do you love the movie performance or will you always love the true Queen performance from 1985 the most? Check out the side-by-side performances below and see for yourself. You might not even know the difference!
If you enjoyed this article and love Freddie Mercury and Queen, please SHARE this article with your friends and family who are fans of Queen and loved the new movie Bohemian Rhapsody!