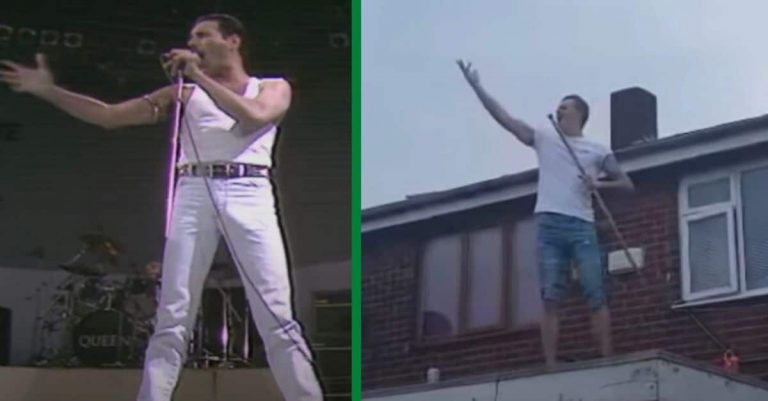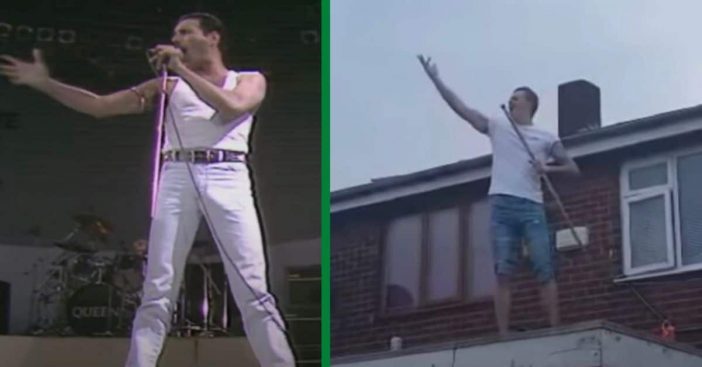 People are doing everything they can to keep themselves entertained while in the middle of a lockdown. One man took it upon himself to put on a replica Live Aid concert as Freddie Mercury and it did not disappoint. The video was first uploaded to YouTube and then made its way to Twitter, going viral. The man was standing on his roof, using a broomstick for a microphone and lip-syncing to the iconic 'day-oh' from Queen's 1985 show at Live Aid.
Many people have made their own versions of the hilarious video, sparking laughs across the Internet. "Now prepare a concert. At least two full songs: "We Will Rock You," "We Are the Champions," and "Bohemian Rhapsody." Blessings to you. Thanks humanity!" one person comments. Another says, "Wonderful!!! That was impressive. I think you gave me the guts to do the same on my fire escape. I think south Brooklyn will love it!!! 🙂 All the best."
Man recreates hilarious Live Aid performance during coronavirus lockdown
Speaking of Queen, the band's guitarist Brian May has actually spoken out since the coronavirus pandemic began. "It's a very hard time for everyone," he says. "This is a tragedy. But there are things to be grateful for. There's a lot of people who are in terrible times, and we're gonna lose a lot of people. It might be me, since I'm an elderly and vulnerable person. But, you know, it's not all bad — there are good things to look forward to, and this is only for now."
RELATED: Blind Boy Plays Incredible Piano Cover Of "Bohemian Rhapsody"
He
adds
, "When we come out of this, I think there will be some great lessons we have learned. I hope we remember the lessons that we've learned — that we can work from home, the cars can stop, the planes can stop, the air can get clear. I mean, suddenly we can all breathe again. That's gonna save countless lives. There's no animals being knocked down on the roads anymore, and our wildlife rescue is experiencing a tremendous difference."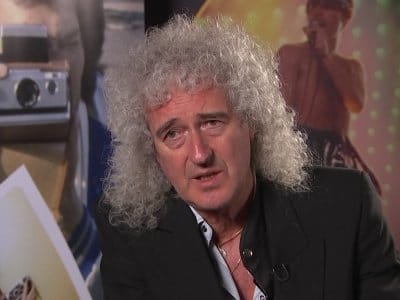 It is very important to try and stay positive amid the coronavirus lockdown. And videos like this are definitely giving people the hope and positive energy we all need! Check out another funny version of the video below.
'Day 2746439270 and this is what my husband has resorted to' 😂🔊 pic.twitter.com/iO04P2C4ml

— LADbible (@ladbible) April 11, 2020