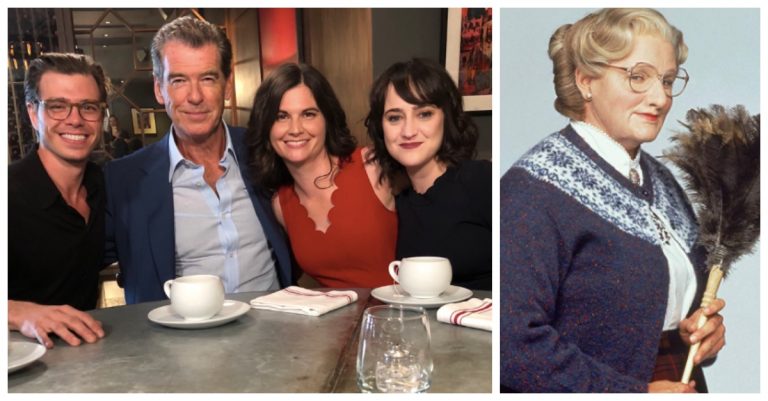 This year marks the 25th anniversary of Mrs. Doubtfire, which came out in 1993, starring the late Robin Williams. In the film, Robin Williams disguises himself as a female nanny named Mrs. Doubtfire in order to be able to spend time with his children after he and his wife divorced and the mother wins custody.
The main cast of Mrs. Doubtfire consisted of Lydia (Lisa Jakub), Chris (Matthew Lawrence), Natalie (Mara Wilson), Miranda (Sally Field), and Stu (Pierce Brosnan). Well, just a few days ago, some of the cast members reunited for a special set that will air on the Today show next month! Those cast members included all three children (Jakub, Lawrence, and Wilson) and the love interest of the movie, Pierce Brosnan.
So this just happened. #mrsdoubtfire #reunion #25yearslater pic.twitter.com/Xa8LoUVNIE

— Lisa Jakub | Blue Mala (@Lisa_Jakub) October 24, 2018
Brosnan also posted a photo of the reunion and included a beautiful message for both Robin Williams and Sally Field, who could not be there to enjoy the reunion.
The post read, "Guess who? Today, after 25 years, I gathered around a table in the company of three beautiful young people, to talk story about a film that has touched the hearts of so many. Sally is on tour with her new book. Robin is in heaven making the angels laugh and was spoken of with the fondest of love and sweet memories. Can ya guess the movie? The Today Show is airing our interview in early November. Join us for the 25th anniversary of the #MrsDoubtfire."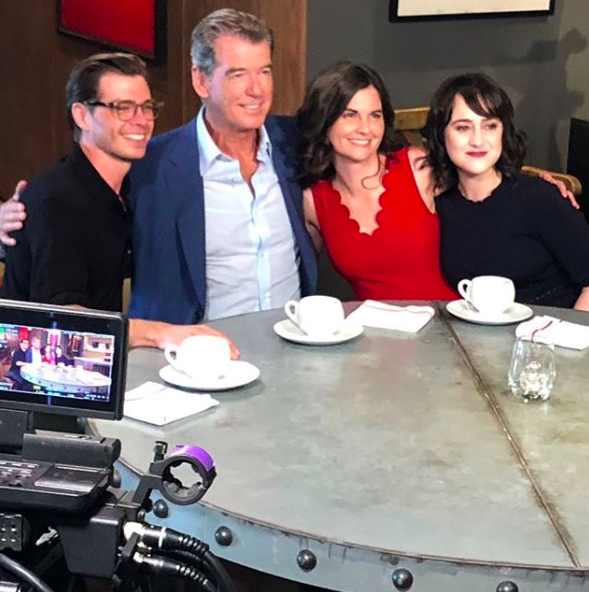 Brosnan has opened up in the past about the late Robin Williams, most notably after the actor's passing in 2014. He spoke in an interview with ET about working with Williams on the set of Mrs. Doubtfire.
"When I went up to do Mrs. Doubtfire in San Francisco all those years ago, the very first day of shooting they say to me, 'Do you want to meet Robin?' I said, 'Sure, I'd love to.' I mean, I was a huge fan of the man's work… I went into the makeup trailer and Robin was sitting there in a pair of boots and his hairy legs, and a Hawaiian shirt, and his hairy arms, and there he sat, but with Mrs. Doubtfire's head on. So that was my first encounter with Robin Williams."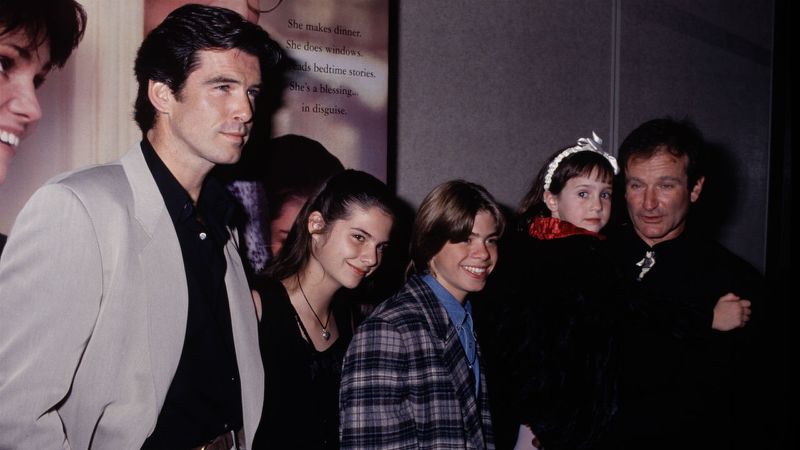 "He was a magnificent human being, and a beautiful person," Brosnan states.
We all miss him, too!
Be sure to SHARE this article if you remember Mrs. Doubtfire! Don't forget to check out the adorable video of the 25th cast reunion below.
#MrsDoubtfire #reunion #25yearslater pic.twitter.com/v1h259CwJv

— Lisa Jakub | Blue Mala (@Lisa_Jakub) October 25, 2018