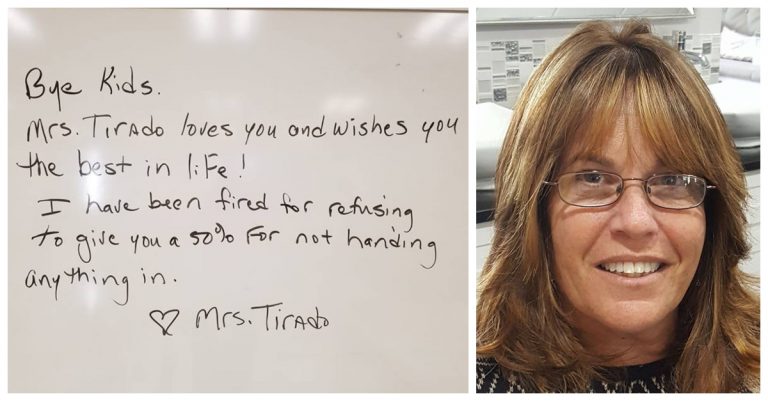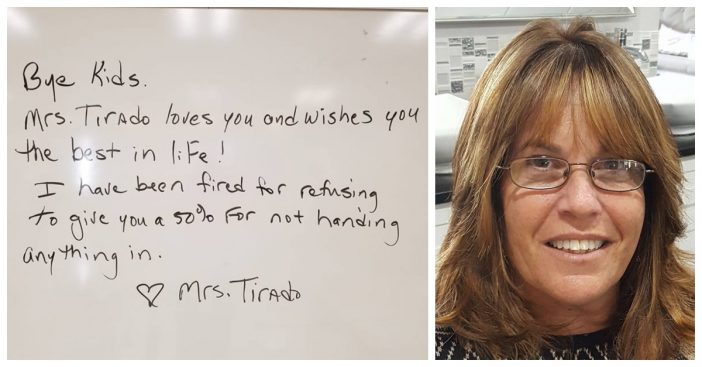 A Port St. Lucie, FL teacher was recently fired for giving out zeros to students who did not turn in her work. She claims the reason for her firing was due to her refusal to not give partial credit for her student's work that was never handed in. She apparently wasn't even able to see her kids upon the firing, so she left a little note on the whiteboard saying a proper 'goodbye'.
"Bye kids, Mrs. Tirado loves you and wishes you the best in life! I have been fired for refusing to give you a 50% for not handing anything in. [heart] Mrs. Tirado," the whiteboard note said.
https://www.facebook.com/photo.php?fbid=10216718689696576&set=a.1124654793522&type=3&theater
She snapped a photo of her message on the whiteboard and shared it on Facebook, prompting an uproar of love from her community and even her eighth-grade students. One of her students wrote, "You showed me to be responsible for my work and the things that I do. I hope you don't forget me."
Diane Tirado had been a teacher for more than 17 years. She had been recently working at West Gate K-8 School as an eighth grade Social Studies teacher.
https://www.facebook.com/photo.php?fbid=10214514039741705&set=a.1633997926782&type=3&theater
According to Tirado, she gave her students two weeks to complete an explorer's notebook project, but even with the two-week deadline, some of her students did not hand it in. This is when she learned about the school's no-zero grading policy, which is apparently written in red ink in the student's handbook.
The handbook excerpt states, "NO ZERO'S – LOWEST POSSIBLE GRADE IS 50%." Tirado says that she did not agree with this policy by asking the simple question, "If there's nothing to grade, how can I give somebody a 50%?"
https://www.facebook.com/photo.php?fbid=10215544090692335&set=a.1633997926782&type=3&theater
She received a termination letter on September 14th, but the letter apparently does not cite a specific reason due to termination of Tirado's position. The letter only stated that she was contracted as a teacher on a probation period, meaning she could be dismissed without proper cause.
Despite what the real reason may or may not be, after sharing her story on Facebook with her community, it's been seen by countless people worldwide who have congratulated Tirado for standing her ground. She's even been interviewed by big news networks on her story.
https://www.facebook.com/photo.php?fbid=10216804057590720&set=a.1124654793522&type=3&theater
Tirado is working tirelessly to inform other teachers and parents of children in school to be aware of this policy. "I'm arguing the fact that you don't get something for nothing. I want the policy changed, and it's not just here," says Tirado.
To back up Tirado's argument, she allegedly found some zeros found in the grading scale just above the 'no zero policy' in the handbook, which brings about some confusion for not only teachers but parents as well.
https://www.facebook.com/photo.php?fbid=10210447909730996&set=ecnf.1141690705&type=3&theater
"CALLING ALL PARENTS!!! Only you can make lasting change. Please organize, go to your school districts and speak out about against this grading policy. Your voices will be the ones to create policy change. This fight is too big for only one person. I need your help! Help me to bring back sanity to our schools. Our children will be better human beings for it," Tirado says in a Facebook post.
Be sure to SHARE this article if you support Tirado's decision!