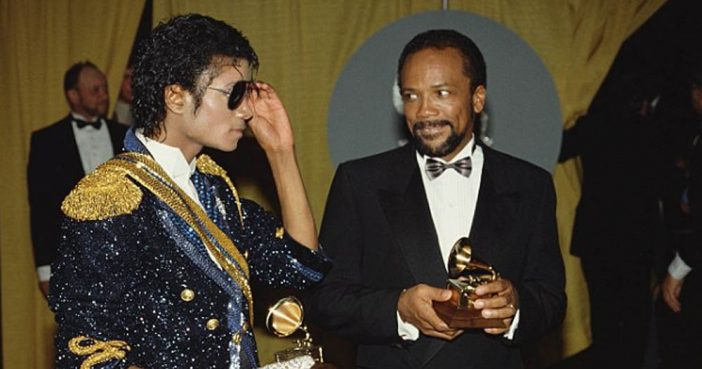 Quincy Jones turns 85 years old in March and is planning a banner year to mark the occasion. Coming down the pipeline, he says, are a Netflix documentary, an Oprah Winfrey-hosted CBS special, and possibly a TV biopic. Ahead of those projects, the music industry legend is currently hitting the interview circuit. Hard. Recently, he's participated in long, incredibly candid conversations with GQ and Vulture. Jones does not hold back: Among the topics discussed are the Beatles ("they were the worst musicians in the world"), Elvis Presley ("motherbleeping couldn't sing"), Prince trying to run over Michael Jackson with a limousine, the time MJ's pet chimpanzee Bubbles bit Jones' daughter Rashida, and plenty more. Below, check out 10 choice excerpts from the interviews. – Pitchfork.com
On Marilyn Monroe (GQ)
"Frank [Sinatra] was always trying to hook me up with Marilyn Monroe, but Marilyn Monroe had a chest that looked like pears, man."
On Elvis Presley (GQ)
"I was with Tommy Dorsey when [Elvis] Presley showed up at 17 years old…. And Dorsey said, 'bleep him—I won't play with him.' He wouldn't let his band play with him."
GQ: Did you think Dorsey was right?
"Yeah! Yeah, motherbleeping couldn't sing."
On Malcolm X (GQ)
"Every time we'd [Lionel Hampton and his band] go to Detroit, at the Majestic hotel, standing in front, with his Italian shit on and amber glasses: Malcolm X. Detroit Red. That's where we bought our dope. It was before he went to prison."
GQ: You'd buy off him?
"Yeah! He was the dope dealer. That's how he went to prison."
GQ: So you would personally buy drugs off Malcolm X?
"Personally?" He nods. "Shit, everybody in the band bought it! The junkies used to call cocaine 'girl' and heroin 'boy.' That's because they said cocaine would take you from your woman."
On that time Prince tried to run over Michael Jackson with a limousine (GQ)
GQ: "Did you ever see that thing with James Brown?"
Oh yeah.
[GQ writes:] Jones is referring to the legendary evening—August 20, 1983—when both Michael Jackson and Prince attended a James Brown show at the Beverly Theater in Los Angeles.
"That's heavy. He made a damn fool out of himself, didn't he?" says Jones, and the star he is referring to is Prince. Jackson had film of what happened that night. "Prince told Michael he'd kill him if he showed it to anybody," Jones explains, but one way or another, time-coded raw footage of what took place that night eventually surfaced. First Brown invites Jackson to the stage. Jackson sings a few phrases, spins, moonwalks, then embraces Brown and can be seen whispering to him. Brown then calls for Prince. After a delay, Prince gets onstage, takes a guitar, jams a little, then strips off his shirt. He does some mic-stand tomfoolery, dances a little more, then nearly tumbles into the audience trying to pull down an oversize streetlamp prop. It was a superstar face-off that has often been seen as a triumph for Michael Jackson, and a rare humiliation for Prince.
GQ: He spoke to Michael after the show?
"Oh yeah, he spoke to him. He waited in the limousine to try and run over him and La Toya and his mother."
GQ: How do you know Prince was trying to run him over?
"He knew. Michael knows shit. He was there. He said that was his intention."
GQ: Michael told you that?
"Yeah."
On that time Michael Jackson's chimpanzee Bubbles bit Rashida Jones (GQ)
"And the chimpanzee, whatever the bleep it was, he was a pain in the ass. He bit Rashida. My poor baby."
On Michael Jackson stealing music (Vulture)
You worked with Michael Jackson more than anyone he wasn't related to. What's something people don't understand about him?
"I hate to get into this publicly, but Michael stole a lot of stuff. He stole a lot of songs. [Donna Summer's] 'State of Independence' and 'Billie Jean.' The notes don't lie, man. He was as Machiavellian as they come."
Vulture: How so?
"Greedy, man. Greedy. 'Don't Stop 'Til You Get Enough'—[keyboardist] Greg Phillinganes wrote the C section [2]. Michael should've given him 10 percent of the song. Wouldn't do it."
On the assassination of President John F. Kennedy (Vulture)
Vulture: You sure seem to know a lot.
"I know too much, man."
Vulture: What's something you wish you didn't know?
"Who killed Kennedy."
Vulture: Who did it?
"[Chicago mobster Sam] Giancana. The connection was there between Sinatra and the Mafia and Kennedy. Joe Kennedy—he was a bad man—he came to Frank to have him talk to Giancana about getting votes."
Vulture: I've heard this theory before, that the mob helped win Illinois for Kennedy in 1960.
"We shouldn't talk about this publicly."
On the Beatles (Vulture)
Vulture: What'd you think when you first heard rock music?
"Rock ain't nothing but a white version of rhythm and blues, motherbleeping. You know, I met Paul McCartney when he was 21."
Vulture: What were your first impressions of the Beatles?
"That they were the worst musicians in the world. They were no-playing motherbleeping. Paul was the worst bass player I ever heard. And Ringo? Don't even talk about it. I remember once we were in the studio with George Martin, and Ringo had taken three hours for a four-bar thing he was trying to fix on a song. He couldn't get it. We said, 'Mate, why don't you get some lager and lime, some shepherd's pie, and take an hour-and-a-half and relax a little bit.' So he did, and we called Ronnie Verrell, a jazz drummer. Ronnie came in for 15 minutes and tore it up. Ringo comes back and says, 'George, can you play it back for me one more time?' So George did, and Ringo says, 'That didn't sound so bad.' And I said, 'Yeah, motherbleeping because it ain't you.' Great guy, though."
On Ivanka Trump (Vulture)
Vulture: What's stirred everything up? Is it all about Trumpism?
"It's Trump and uneducated rednecks. Trump is just telling them what they want to hear. I used to hang out with him. He's a crazy motherbleeping. Limited mentally—a megalomaniac, narcissistic. I can't stand him. I used to date Ivanka, you know."
Vulture: Wait, really?
"Yes, sir. Twelve years ago. Tommy Hilfiger, who was working with my daughter Kidada, said, 'Ivanka wants to have dinner with you.' I said, 'No problem. She's a fine motherbleeping.' She had the most beautiful legs I ever saw in my life. Wrong father, though."
[If Jones is correct, 12 years ago, he would have been 72 years old. Ivanka would have been 24.]