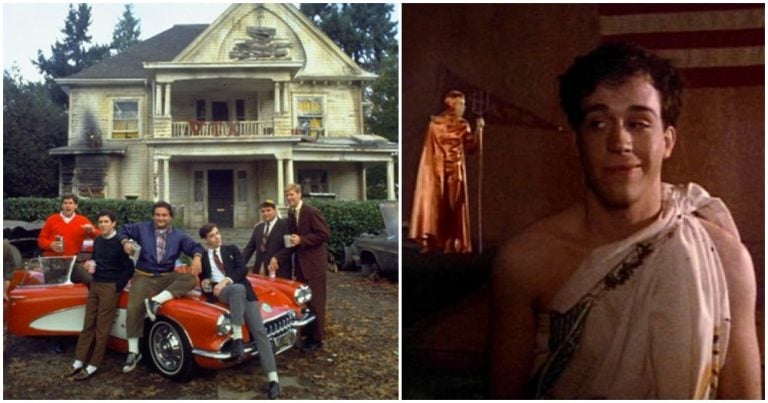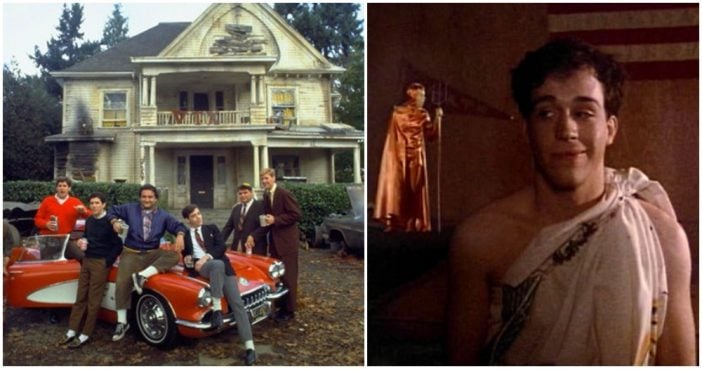 Many a dorm room wall has sported the now iconic image of John Belushi wearing his Animal House COLLEGE sweatshirt, putting up a strong fight against the blacklight Bob Marley posters of the world. The tiny 1978 film became one of the biggest comedy movies of all time, launched more than several Hollywood careers, and basically started the raunchy teen movie genre. Animal House cast photos show an odd assortment of actors who became underdogs for whom audiences ended up rooting. The film follows the pledges and members of Delta Tau Chi house of Faber College. The frat is notorious for their partying and wild antics and when they are put on "double secret probation" by the dean, they only ramp up their borderline-insane behaviors.
The Animal House cast partied hard both on and off screen, sharing the voices of the young baby boomer generation on movie screens for the very first time. Animal House writers like the late Ghostbusters star Harold Ramis used their own college fraternity experiences to bring the adventures of Delta house at the fictional Faber College to life. While Belushi was one of the biggest names going into production, many other of Animal House's stars like Kevin Bacon have the movie to thank for starting their careers. The stories behind Animal House include fights, drugs, and a lot of vomit.
1. The Cast Went To A Real Frat Party… And Got Beaten To A Pulp By Football Players
As the cast was completely submerging themselves into their roles, they decided to attend a real frat party on the University of Oregon campus. A group of college girls invited them to a mixer thrown at a "wealthy jock fraternity," but things turned ugly as soon as they walked in. After a bunch of drunk football players called them some offensive choice words, Hoover actor James Widdoes threw a beer and started an all-out brawl. Punches flew and Widdoes's teeth were nearly knocked out. D-Day actor Bruce McGill received a black eye in the scuffle but was too embarrassed to tell director John Landis what really happened. Although McGill insisted his injury was the result of a rough touch football game, Landis eventually found out what his cast had really been up to.
2. The Cast Threw Wild Parties Every Night At The Hotel That Included 'Strange Smoke' And A Stolen Piano
After getting beat up by real frat boys on campus, the cast and crew of Animal House decided to stick around their side-of-the-freeway motel. There, they discovered an old piano in the lobby and since no one seemed to be using it, a few of them pushed it across the parking lot during a rainstorm and into Bruce McGill's room.
Despite John Landis acting as a sort of parental figure and not joining in, everyone else used the room for daily parties. There was liquor, music, and "strange smoke." If anything, the parties certainly helped the Delta House members get into character and Kevin Bacon recalled, "The vibe was very much like it was in the movie. The Delta guys certainly didn't want to hang out with me. I was kind of young and not cool. I definitely felt like an outcast because they had all these amazing parties."
3. The Cast Stayed In Character Throughout Filming And Treated Each Other Like Frat Enemies
If actually attending a frat party on campus wasn't enough to get the cast into character, John Landis got all the actors playing Delta members to meet and begin bonding five days before filming began. They called each other by their character's name and painted the Delta house with the graffiti seen in the film. When the cast playing Omega members joined them, they were treated as enemies.
Mark Metcalf – who played Neidermeyer – remembered the food being thrown at him. Metcalf opted to hang out in his motel room while the rest of the actors partied so he could "listen to all this partying to get into character. I would sit up there and spit polish my riding boots and brood and make plans for what I could do to get revenge on them for their decadent way of life."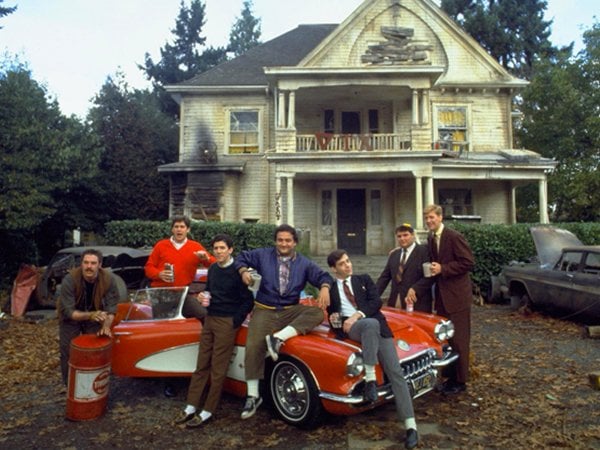 4. John Belushi Stayed In A House In The Suburbs While Filming To Keep His Sobriety Intact
Anyone who knows about the relationship John Belushi had with drugs might assume he fit right in with the rest of the hard-partying cast. However, during the filming of Animal House, Belushi was actually one of the best behaved. In order to keep him out of trouble, Belushi and his wife Judy were asked to stay in a suburban house far away from the motel to avoid temptation.
He managed to remain clean throughout the shoot, despite having to fly back to New York for a few days every week to film Saturday Night Live. John Landis attributed Belushi's ability to stay sober to his desire to succeed in his first film role. However, Landis apparently gave Belushi too much slack while filming The Blues Brothers a few years later, as his cocaine habit had spiraled out of control.