Even though we were first introduced to these guys back in 1984, to this day we still know that if there's something strange in the neighborhood we're gonna call…the Ghostbusters! The film starred a cast of comedy legends and created one of the most successful franchises in history. From there, we were met with television shows, video games, merchandise and a sequel. (And perhaps a third outing one of these days…) But until then, let's take a look at the cast of Ghostbusters then and now.
1. BILL MURRAY (DR. PETER VENKMAN)
Dr. Peter Venkman has doctorate degrees in psychology and parapsychology, although refers to any paranormal-like activity as "implied science." He spends most of his time and research flirting with female subjects and doesn't take anything too seriously. That is until he has a real-life ghost encounter. After that, he joins in his colleague's enthusiasm for all things paranormal, leading the investigation when his love interests' house appears to be displaying paranormal activity.
Bill Murray is everyone's favorite funny man, and he's still making audiences laugh today. Since the success of Ghostbusters, Murray has appeared in films such as St. Vincent (2014), The Grand Budapest Hotel (2014), Aloha (2015) and Rock the Kasbah (2015). He also appeared himself in Zombieland (2009). Now 65-years-old, Murray will voice Baloo in the much anticipated, live-action version of Disney's The Jungle Book this year, and he is also slated to appear in the new Ghostbusters film.
2. ANNIE POTTS (JANINE MELNITZ)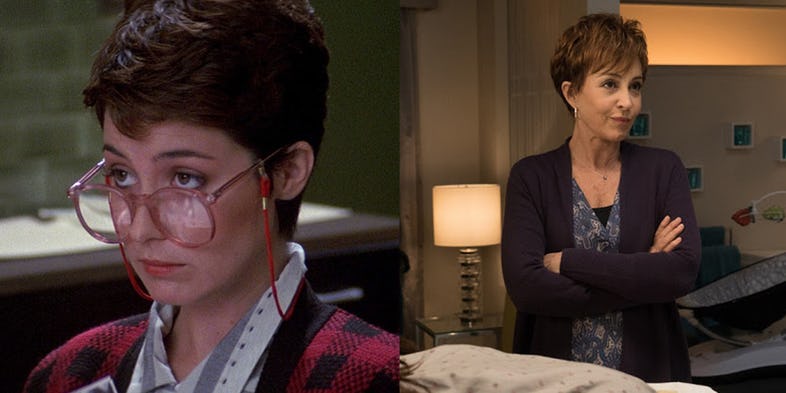 Janine Melnitz is a cynical, sassy receptionist for the Ghostbusters organization, and plays a love interest in the first film for Dr. Egon Spengler. She's a humorous character that wears large, black rimmed circular glasses and has short, red hair. One of the most notable qualities of the character is her nasally voice.
Annie Potts is an American actress who has appeared in films such as Pretty in Pink (1986) and in the Toy Story films as the voice of Bo Peep. She is also slated for voice work in the upcoming Toy Story 4 film set to release in 2018. She will appear in a 9/11 drama this year titled Two for One, and will also appear in the new Ghostbusters film this summer.
3. HAROLD RAMIS (DR. EGON SPENGLER)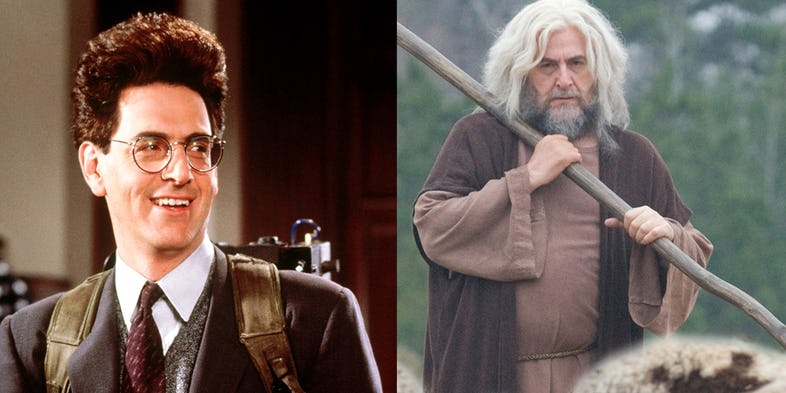 The brains behind the Ghostbusters operation, Egon is a master of electronics. He developed the containment system used to store the ghosts the team capture,s as well as the infamous proton packs that the team uses to grab the ghosts. He looks at everything like a scientist, driven by a quest for knowledge.
Harold Ramis was a writer, actor, director and producer with quite the track record. He acted in films such as Knocked Up (2007) and Year One (a 2009 film he also directed) but was a behind-the-scenes force in films such as Groundhog Day (1993), Caddyshack (1980) and Animal House (1978). And for fans of The Office (2006-2010), Ramis directed four episodes. He even had a hand in writing the upcoming Ghostbusters characters. Unfortunately, his life ended much too soon. On February 24, 2014 at 69 years old, Ramis succumbed to an autoimmune disease.
4. SIGOURNEY WEAVER (DANA BARRETT)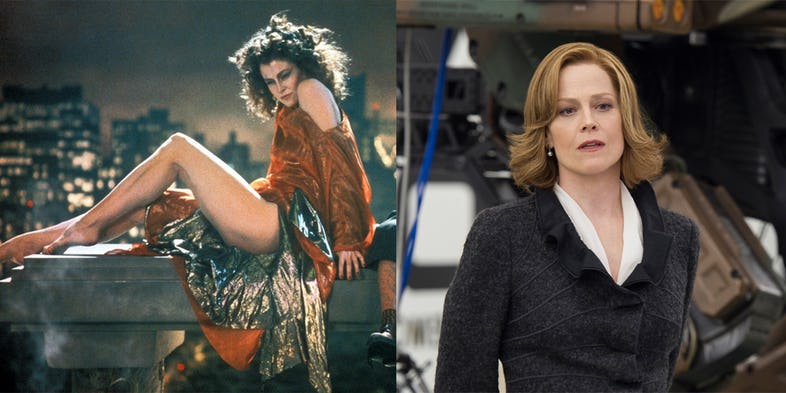 A single woman living in an apartment on her own, Dana Barrett is just fine on her own until strange goings-on begins taking over her home. She is forced to call the only person she believes can help her – a flirtatious parapsychologist and his team of ghost-hunting colleagues.
Sigourney Weaver, iconic for her role as Ripley in the Alien franchise, appeared in both Ghostbusters films and will also appear in the new film hitting theaters later this year. Following the success of the original film, Weaver found herself landing upon yet another giant movie: Avatar (2009), which has sparked three sequels of its own, projected for release in 2017, 2018 and 2019 respectively – all of which Weaver is slated to appear in, though there are no details, yet.
Her latest major role came in last year's Chappie.