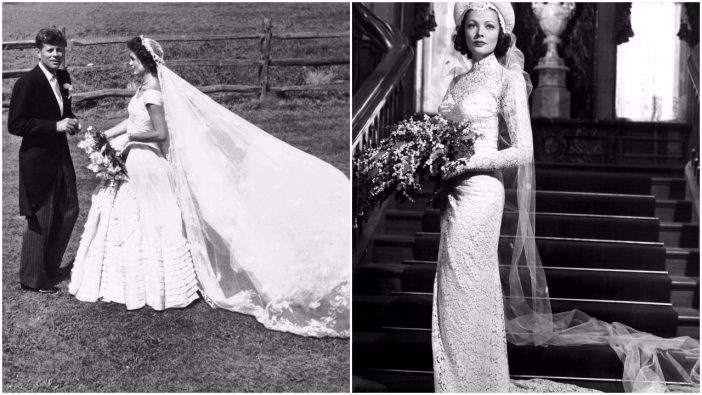 5. Elizabeth Taylor
The first of Elizabeth Taylor's seven husbands was Conrad "Nicky" Hilton. They were married in Beverly Hills in May 1950 and Liz wore a dress by Helen Rose – the MGM costumier who designed Grace Kelly's wedding gown. The dress bore a striking resemblance to the one Taylor wore in Father of the Bride, the costumes of which were also created by Rose. The marriage ended in divorce after just nine months.
6. Elizabeth Taylor (Again)
In 1952, when Elizabeth Taylor married her second husband – English actor Michael Wilding – divorce was not as accepted as it is today. As such, she wore a demure, three-quarter sleeve, ballerina-length dress with a matching jacket for the London ceremony rather than a traditional white dress. Wilding and Taylor were married for almost five years and had two sons – Michael and Christopher – together.
7. Elizabeth Taylor (And Again)
In May 1959, when Elizabeth Taylor married her fourth husband, singer Eddie Fisher – who left his wife Debbie Reynolds to marry Taylor – she wore a short, hooded, forest green dress with matching shoes and a bouquet made up of orchids and baby's breath. Taylor's third husband, producer Mike Todd – with whom she had a daughter, Liza – had died in a plane crash in March 1958.
Following her divorce from Fisher, Liz went on to marry (and divorce) Richard Burton twice before two further marriages – to politician John Warner from 1976 to 1982 and to construction worker Larry Fortensky (whom she met in rehab), from 1991 to 1996.
8. Audrey Hepburn
Audrey Hepburn married actor Mel Ferrer in September 1954, after starring with him on Broadway in the play Ondine. She wore a typically full-skirted Fifties ballerina-length style by Pierre Balmain with roses in her hair. Their marriage lasted 14 years, until December 1968, and Audrey went on to wed Italian psychiatrist Andrea Dotti in 1969.