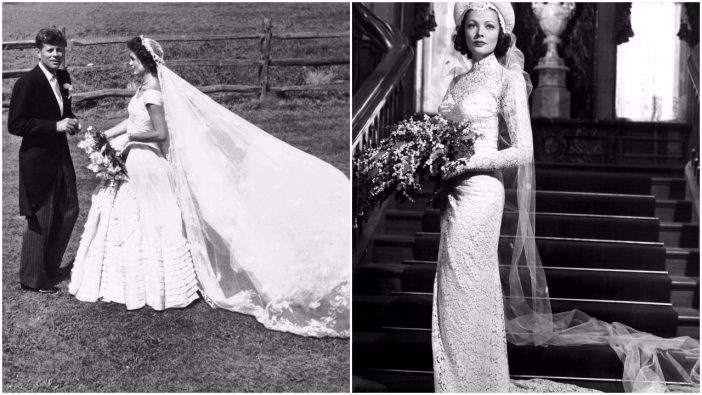 Famous celebrity wedding dresses are iconic for a reason. From historic royal weddings to stunning celebrity wedding dresses to the best bridal moments in films and on television, we've chosen the most iconic wedding dresses of all time – perfect if you need a bit of inspiration for your own big day look. Check out for our ultimate guide to celebrity wedding dresses.
1. Queen Elizabeth II
Queen Elizabeth II was just 21 when she married Prince Phillip in November 1946. The couple had met when she was just 13 years old at the wedding of his cousin, Princess Marina of Greece. Her Majesty famously saved up ration cards to purchase the material needed. The gown was made of ivory duchess satin and decorated with 10,000 imported white pearls, silver thread and tulle embroidery. Her bridal ensemble also included a 15-foot patterned full court train attached at the shoulders, and a silk tulle veil held in place by a tiara lent to the princess by her mother.
2. Jacqueline Kennedy
Jacqueline Kennedy wore a full-skirted dress by New York designer Ann Lowe when she married John F Kennedy at Hammersmith Farm in Newport, Rhode Island, in September 1953. She completed her look with little white gloves and a full veil. Kennedy went on to become President of the United States. He was assassinated in Dallas, Texas, in November 1963. Jacqueline then married Greek shipping magnate Aristotle Onassis in 1968, becoming known as Jackie O.
3. Grace Kelly
The dress that Grace Kelly wore for her April 19 1956 wedding to Prince Rainier was designed by MGM costume designer Helen Rose and was made from 25 yards of silk taffeta, antique rose-point lace and pearls by three dozen seamstresses, who worked on it for six weeks.
4. Queen Victoria
The wedding dress that Queen Victoria wore to marry Prince Albert in February 1840 sparked a trend for white wedding dresses that is still in vogue today.