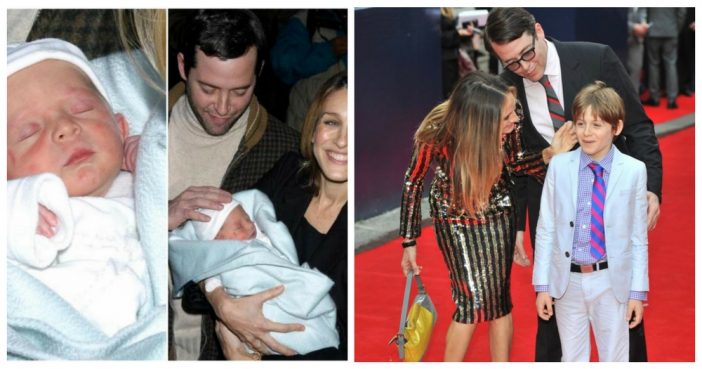 Sarah Jessica Parker is feeling the bittersweet pangs of motherhood.
On the one hand, she's proud of her son, James Wilkie, 14, who finishes the eighth grade this week. But on the other, this means he's ready to start high school!
The "Divorce" star took to Instagram on Thursday with a pic of her suddenly a grown-up-looking eldest child and shared her feelings in the photo's caption.
"Annual last day of school photo. A rising 9th grader waits for the bus. As Jim Croce sang, 'If I could save time in a bottle…X, SJ," Parker wrote.
It's a little hard to believe the handsome young man in the picture is the same little boy we've watched grow up over the years.
He looks so much more mature than he did on his 13th birthday — which wasn't so long ago.
Of course, some fans of the "Sex and the City" alum, 52, and her hubby, actor Matthew Broderick, 55, can remember when the dapper teen was just a baby.
And now, he's nearly as old as his famous mom was — 17 — when she was cast in her breakout comedy series "Square Pegs."
Not that mom would allow the teen, who's expressed a desire to act in the past, to start a career yet. "I don't want him to do it until after he goes to college," Parker told People magazine in 2011.
Matthew Broderick and Sarah Jessica Parker with their children: (l-r) James Wilkie Broderick, Marion Loretta Broderick and Tabitha Broderick.
Happily for the actress, she and Broderick still have two more adorable little ones at home, twins Loretta and Tabitha, 7.
Here's to time not flying by so quickly!
(Source: Today.com)
Click Link To Read Full Story: Sarah Jessica Parker posts tribute to son: 'If I could save time in a bottle'
RELATED:
Why Schools Can't Teach Sex Ed
Jim Croce's 'Time In A Bottle' May Have Outlived Him, But He Will Stay In Our Hearts For Eternity
TV's Most Memorable Sitcoms-Turned-Movies
Please SHARE this story with your Facebook friends and family! And we would love to hear your comments below!