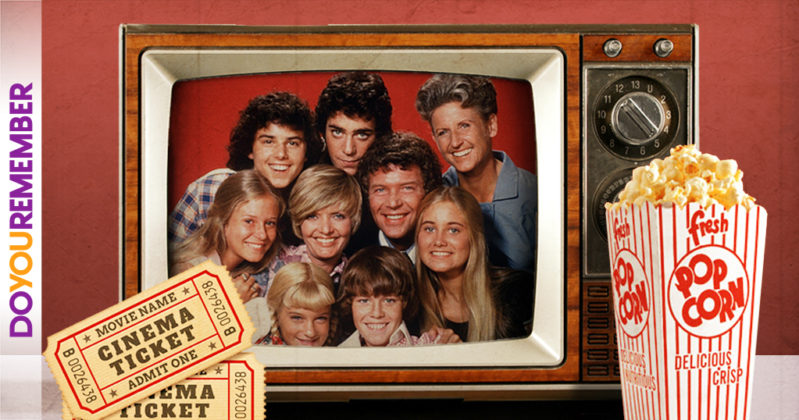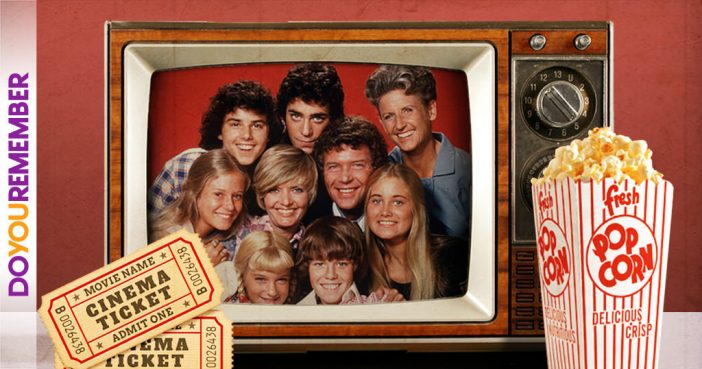 On this day in 1978, Rescue from Gilligan's Island, the first television movie to spawn from a sitcom or series, aired on CBS. In honor of Gilligan's brief return to the small screen, DYR looks back other shows that satiated our appetites for a reunion with a feature-length comeback.
A Very Brady Christmas (1988)
The Brady's reunite to celebrate the holidays almost 20 years after the show wrapped. Lots of PG-rated action happened in the two decades that followed: Bobby dropped out of college to pursue race car driving, Alice is single now that her husband, Sam (the Butcher), left her for another woman and Peter is wrapped up in a sexual relationship with his boss, Valerie. While the family is home reconnecting, Mike has to go deal with a building collapse at work. Trouble ensues—but only momentarily—as the Brady patriarch gets caught beneath the rubble. We won't spoil the ending, but the bunch eventually does engage in their share of caroling. Noticeably absent from all the excitement was Susan Olsen, the original Cindy Brady, whose role is reprised by Jennifer Runyon.
The Incredible Hulk Returns (1988)
Dr. David Banner is close to finishing up work on a Gamma Transponder, a machine he believes will keep him from transforming into the Hulk once and for all. But a former student in possession of a mystical hammer that can summon the ancient Viking god, Thor, soils his plans. The two titans battle it out but form an unlikely partnership when Banner's girlfriend goes missing.
Saved by the Bell: Wedding in Las Vegas (1994)
Having dated each other on and off since junior high school, Zack Morris and Kelly Kapowski finally decide to tie the knot after college with a not-so-quickie wedding in Las Vegas. The pair's impending nuptials reunite Screech, Lisa, Jesse, Mr. Belding and the rest of the Bayside High gang, as they make their way to Sin City.
Dukes of Hazzard: The Reunion! (1997)
Bo and Luke Duke return to Hazzard County to help their beloved Uncle Jesse, who finds himself at odds with a crooked developer intent on turning his farmland into a theme park. The only way for the boys to save the day is to dust off the General Lee and win a cross-country moonshine race, which won't be an easy feat now that the evil developer has kidnapped their cousin Daisy.
The Growing Pains Movie (2000)
Eight years after the series finale aired on television, the Seavers return to the small screen to celebrate Jason and Maggie's wedding anniversary. Older brother Mike has matured and is now married with kids, Carol is a corporate lawyer, and little sister Chrissy is a film student, while middle brother Ben is doing odd jobs and searching to find himself. The plot thickens when Maggie, at the urging of one of her grandchildren, decides to run for public office. Unfortunately for Leonardo DiCaprio fans, Luke Brower was nowhere to be found.
Get Smart, Again! (1989)
Legendary agent Maxwell Smart is reactivated as a counterintelligence officer to battle his old nemesis KAOS, which is attempting to extort $250 billion from the U.S. government by way of a weather-control machine. Realizing he can't take on the mission alone, Smart hooks up with his former CONTROL agents, including his wife, Agent 99.
I Spy Returns (1994)
Former secret agents Scott and Robinson are back on duty after more than 20 years away from the espionage game. Their children have followed in their footsteps and the pair must reenlist to protect them during their first mission, watch over a Russian scientist. The spies are thrust back into the action, as they find themselves in yet another espionage adventure.