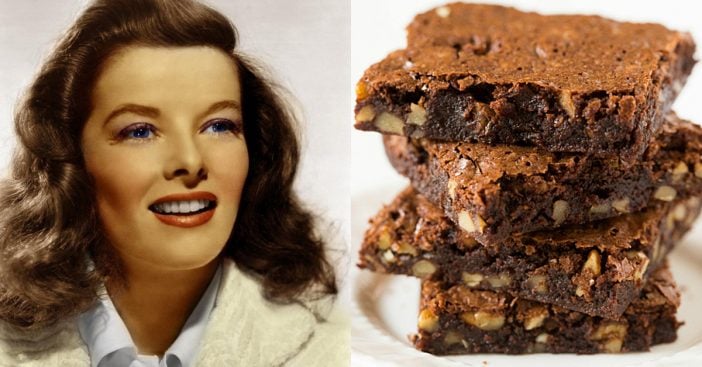 The Recipe-
Ingredients:
½ cup cocoa or 2 squares (2 oz.) unsweetened baker's chocolate
1 stick (1/2 cup) unsalted butter
1 cup sugar
2 eggs
1/4 cup flour
1 teaspoon vanilla
Pinch of salt
1 cup roughly chopped walnuts or pecans
Directions:
Melt butter with the cocoa or chocolate together in a heavy saucepan over medium low, whisking constantly till blended. Remove from heat and stir in the sugar. Whisk in the eggs and vanilla. Stir in flour, salt and walnuts. Mix well. Pour into a well buttered 8-inch square baking pan. Bake at 325 degrees for about 40 minutes till a toothpick inserted in the center comes out clean. Cool completely and cut into squares. These brownies are very fudgy and may be somewhat difficult to slice cleanly; use a sharp knife and a spatula to help them loosen from the baking dish.
PBS' History Kitchen also shared the story behind this recipe.
It was published as part of a profile on Hepburn in the Ladies' Home Journal in August 1975. However, many believe the following story is its true origin of its popularity which was part of an anecdote published in a letter to the editor of the New York Times.
According to PBS, in the early 1980s, the writer of the letter had been thinking of dropping out of women's liberal arts college Bryn Mawr. Knowing that his neighbor Katharine Hepburn had attended the school, her concerned father wrote the star a note imploring her to talk some sense into his daughter since he couldn't. At 7.30 a.m. the next morning, the daughter awoke to the voice of none other than Katharine Hepburn, who proceeded to lecture her on the importance of staying in school. The reprimand was followed up by an invitation to come over for tea and brownies.
Hepburn later shared her beloved brownie recipe with father and daughter, adding some crucial culinary advice: "Don't over-bake them! They should be moist, not cakey!"
Turns out that this recipe not only helped convince this girl to continue in college but was also an effective strategy to sweeten deals she made with directors as well. 
Tips/Techniques:
You will also need a 8×8 inch baking dish.
Click "Next" for more.