Happy National Beer Day! We know it's Thursday, but why not celebrate with a can of your favorite beer?
A delicious fermented beverage, beer has been consumed even in Ancient Iraq and Egypt. Archeologists believe beer was pivotal for the formation of civilizations. A beloved staple to socializing, beer consumption has improved the economy and saved humanity when water was scarce or unsafe to drink.
The early Dutch settlers in America used corn for beer, and a staple during Thanksgiving. Today beer is mainly made from wheat.
Here are a few of our favorite iconic beer scenes from beloved Movies and TV shows:
ALSO READ: ALL IN THE FAMILY, THOSE WERE THE DAYS
And after viewing the last goodbye on CHEERS, you might want to read, THE FINALES THAT ROCKED TV
Were you a Laverne & Shirley Fan? 1976: AMERICA FALLS IN LOVE WITH LAVERNE & SHIRLEY the American sitcom that ran on ABC from January 27, 1976, to May 10, 1983, starring Penny Marshall as Laverne DeFazio and Cindy Williams as Shirley Feeney? We all loved these single roommates who work as bottle-cappers in a fictitious Milwaukee brewery called Shotz Brewery.
What is your favorite beer loving character? Or beer scene in a movie or television show.
What's your favorite discontinued beer?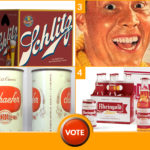 Share in the comment section below….