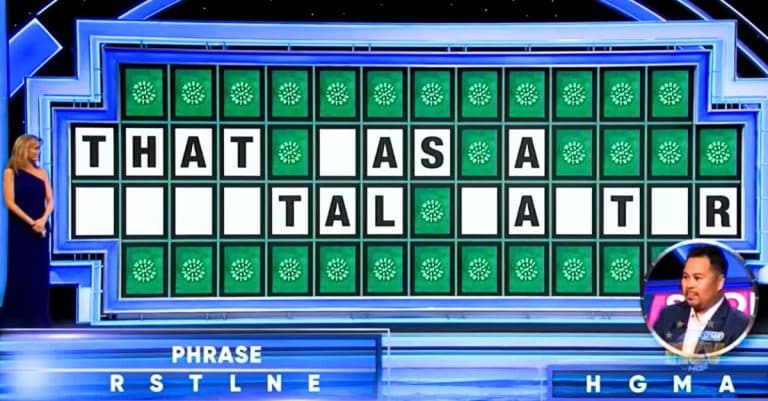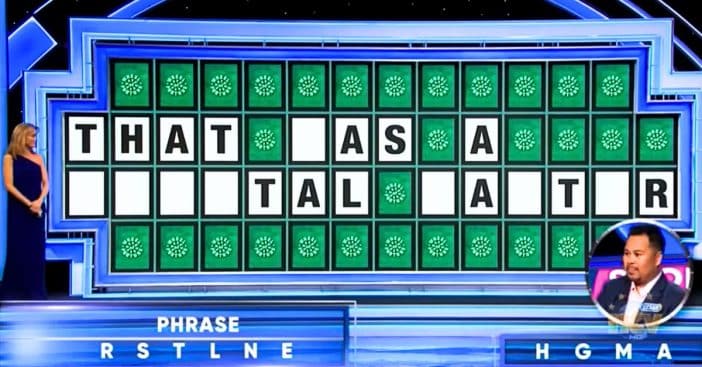 The very basis behind Wheel of Fortune hinges around solving word puzzles. Contestants are armed with the titular wheel, letters, hope, and some general theme or category the phrase falls under. But Wheel of Fortune fans were particularly indignant on behalf of a contestant when they read a phrase that left a lot of brows furrowed.
Pat Sajak hosted Wheel of Fortune as usual on Thursday, May 18, aided by Vanna White as contestant Cesar Redaja tackled a puzzle under the Phrase category. Unfortunately, Cesar did not solve the puzzle in time, but viewers at home place fault with the show, firmly arguing that the supposedly common phrase is not so common at all.
Viewers are dismayed when a 'Wheel of Fortune' contestant faced a pivotal phrase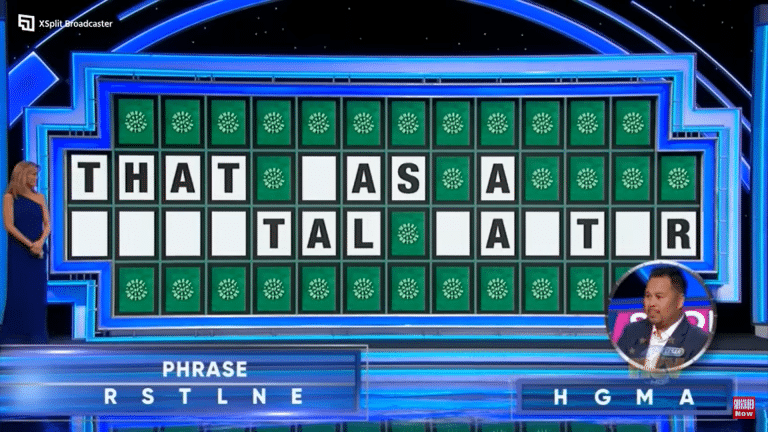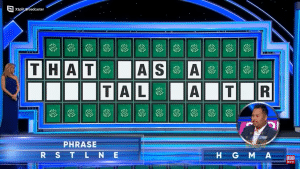 Meet Cesar, a pharmacist based in Tampa, Florida. Cesar made it all the way to the bonus round. As the process went on, Cesar guessed the letters G, H, M, and A. The puzzle read "THAT -AS A —-TAL -A-T-R." Cesar tried his hand at unraveling the clue, at one point trying, "That was a… That was a capital." However, he was unable to determine the correct answer – within the time limit and after the fact.
Sajak and White revealed the answer to be "THAT WAS A PIVOTAL FACTOR." Wheel of Fortune audience members were audibly dismayed by this phrase, and their emotional response only grew as the night progressed. Opening the bonus envelope, Cesar found out that he could have won $100,000 if he won. At home, viewers were indignant on his behalf.
'Wheel of Fortune' viewers don't believe this phrase was so pivotal in actuality
This game is called wheel of fortune.. Not family fued where they survey 100 ignorant peoples to receive common words. That was a tough puzzle to solve but well within their rights to put it up there. Especially if it was for 100k. Where you expecting " I buy that for a dollar"😂

— Mario Cartagena (@Shadowgamer00) May 20, 2023
Sajak, aware of the sting that last revelation must have caused, offered some comfort to Cesar and his supporters. "You know, Cesar did really well tonight," he praised, "I just wanna point that out. But see, this is fake money. This is just numbers printed on cardboard." However, Wheel of Fortune viewers went online to slam this phrase and how much it cost Cesar.
"Yeah, I'm always going around saying 'That was a pivotal factor!'" one fan slammed. "It's so common!!! How could he not get that?! What the hell is wrong with Wheel of Fortune?"
"That was a pivotal factor" no one says that smfh #WheelOfFortune

— 🇹🇹🇹🇹🇹🇹 (@CJG_TT) May 18, 2023
Another agreed, "'That was a pivotal factor' no one says that smfh." Yet another objected, @WheelofFortune 'That was a pivotal factor….that's a phrase?? Caesar got jobbed!!" However, a different viewer noted, "Yea people thats a common phase, i guess it depends on where you reside in this country, i hear it quite often on my life's journey." Another defended Cesar and slammed the answer, noting, "'That was a pivotal factor is not a phrase but a sentence. A phrase does not have the grammatically necessary structural parts such as a subject & predicate. I don't know the rules of this game. I do know a good deal about proper grammar. This puzzle was not a phrase."

Who do you agree with?
@WheelofFortune "That was a pivotal factor"….that's a phrase?? Caesar got jobbed!! pic.twitter.com/BIxjrawjdG

— Matthew Alan (@Hankdiggy) May 18, 2023