At 89, Joan Collins is defying aging. It's been a very frosty December in much of the U.S., but Collins spent Christmas turning up the heat in a leopard print swimsuit. She shared a photo of herself and husband Percy Gibson, 57, enjoying some fun in the sun for the holidays.
Collins's accomplishments could fill up several news articles on their own but at just a glance she's easily recognizable as the scheming, opulent Alexis Colby from Dynasty. Outside of that nefarious role, however, she's known for extensive philanthropic work. Christmas day was all about enjoying some much-deserved relaxation time.
Joan Collins brings the heat in Christmas swimsuit photos
View this post on Instagram
Yesterday, Collins took to Instagram to share a series of photos from her Christmas weekend. "Had a terrific #christmasday," she informed her almost 300k followers. "82F in #beverlyhills so was able to #swim and then a wonderful #lunch at the Bricusse's- thank you @adambricusse and Evie!" 82 degrees is a number not all parts of the country can imagine this particular December as unprecedented blizzard conditions slam several states.
But it was all sun and swimming in Collins's photos. She's seen in a sleek leopard print swimsuit that shows off her figure, and she's all smiles beneath sleek, stylish sunglasses and plenty of dazzling jewelry. Another photo features her beside her husband Percy. Another shows her opening a Christmas present – maybe another nice suit? All that swimming works up an appetite, so good thing the last photo shows a nice-looking meal!
Meet the Collins couple

Collins has been married five times in total. Her first husband was actor Maxwell Reed, to whom she was married for four years. Then was singer-songwriter Anthony Newley. Third was businessman and recording executive Ronald S. Kass, who she was with for a little over ten years. Collins was married to Swedish pop sensation and playboy Peter Holm for just two years. Then in 2002 came her marriage to Percy. The had met at a San Francisco book signing event in 2000. But it was 2020's lockdown that made Collins especially appreciative of what she has with Percy.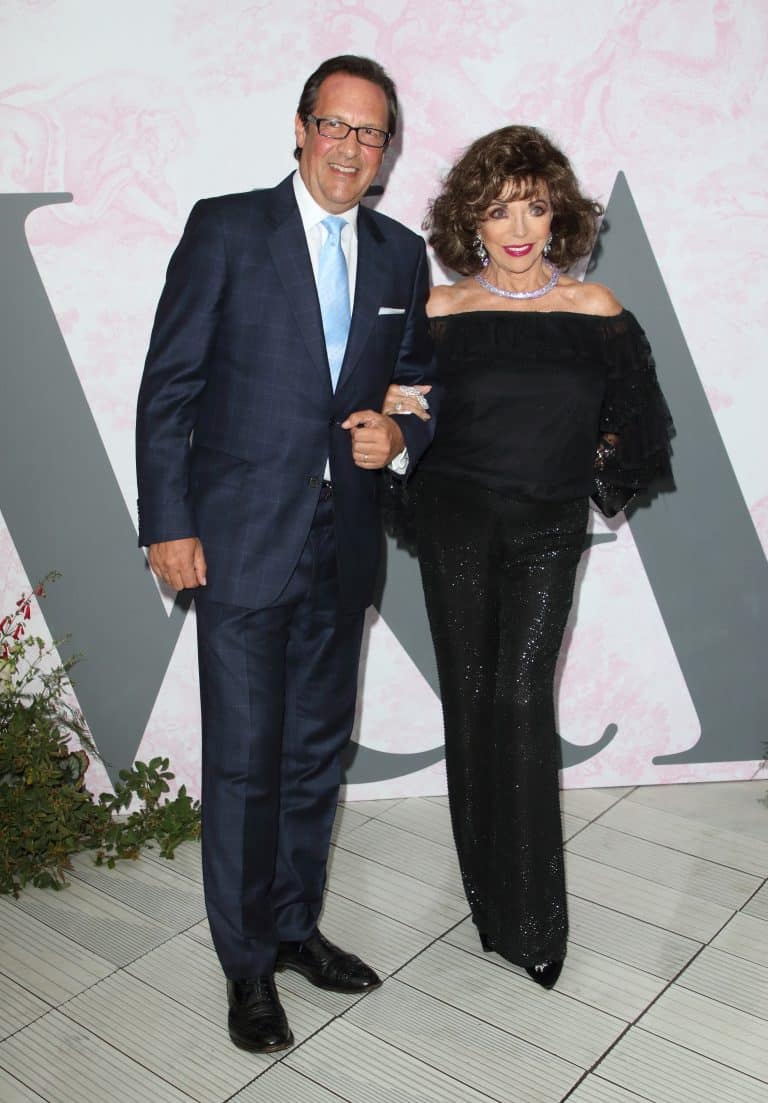 "Being in lockdown has made me realize how strong our relationship really is," shared Collins. "I love entertaining guests at the villa, traveling and socializing, but that changed and because of the restrictions it's just Percy and me. The great thing is we're partners in crime, accomplices."