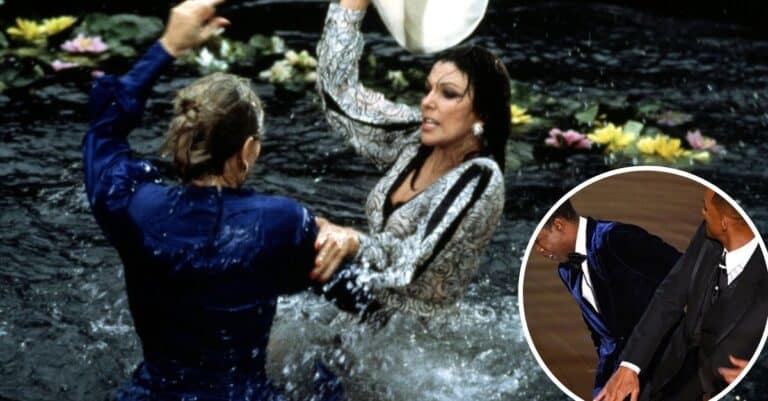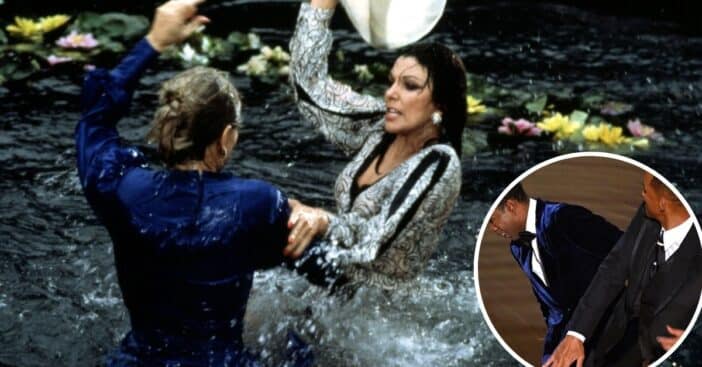 Joan Collins delivered and received plenty of slaps during her time on Dynasty so she had quite the opinion on the one Will Smith delivered to Chris Rock during the Oscars. The 88-year-old explained that while she did not have a stunt double for some of her epic fights on Dynasty, she was never hit quite as hard as Chris.
She talked about one fight scene with co-star Linda Evans on Dynasty. Joan shared, "That was not a [stunt] double that fell into the water. That was me. In fact, I think it's me most of the time because when I fell into the water, I had a big hat on and the hat flew off, which is slightly iconic. And that is the worst dress I ever wore on 'Dynasty,' it's just hideous, I think. And we had to have like six of them because we did so many takes in the water."
Joan Collins compares 'Dynasty' slap to Oscars slap
She added, "Luckily, it wasn't too bad. But it wasn't exactly Chris. It wasn't the one that Chris Rock received." After Chris made a joke about Will's wife, Jada Pinkett-Smith, Will walked onstage and slapped Chris. He ended up staying to accept an award for his work in the film King Richard, after refusing to leave the award's ceremony.
Now, Will is banned from attending the Oscars for 10 years. He can still, however, win an award but he cannot be there to accept it. The Academy added, "The 94th Oscars were meant to be a celebration of the many individuals in our community who did incredible work this past year; however, those moments were overshadowed by the unacceptable and harmful behavior we saw Mr. Smith exhibit on stage."
Will responded, "I accept and respect the Academy's decision." What did you think of the Oscars slap?