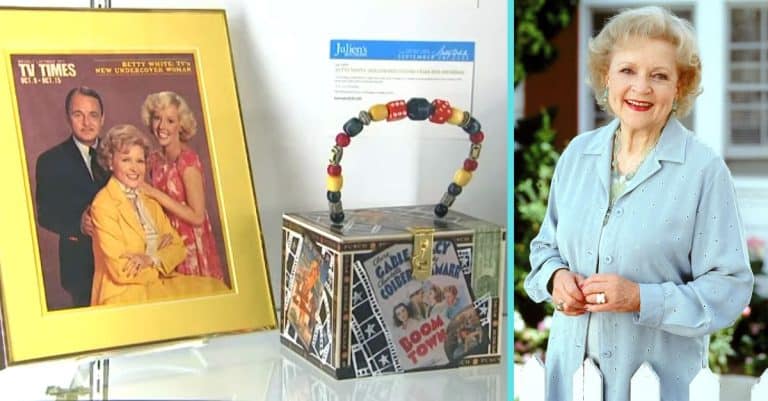 Betty White passed away on December 31, 2021, and left behind an immense legacy and some remarkable memorabilia. The idea of owning items from such a pioneer of early television has naturally sparked a lot of interest – even more than initially expected, the people running the Property From The Life and Career of Betty White auction found out this month, as bidders are ready to purchase White's possessions for more than anticipated.
The sale began on September 23 and will run until September 25. Some are related to property, like the front door of her Brentwood home. But other items are related directly to her trailblazing career. Julien's Auctions has overseen this historic sale that proves just how strong the Golden Girls alum's legacy still is.
Betty White's possessions are up for auction and selling for more than expected
@JuliensAuctions presents "PROPERTY FROM THE LIFE AND CAREER OF #BETTYWHITE" #auction takes place September 23rd, 24th & 25th in Beverly Hills.
Bid on printed gown with silver lame dots worn by Betty White to the 5th Annual Genesis Awardshttps://t.co/9UikQsiq30#GoldenGirls pic.twitter.com/G88CLkyEgO

— Julien's Auctions (@JuliensAuctions) September 20, 2022
The event's official page says the collection includes "over 1,500 lots featuring the Hollywood icon's awards, scripts, wardrobe and memorabilia from her iconic television shows and films, as well as furnishings, artwork, fine jewelry, household and personal items from her beloved homes in Brentwood and Carmel, California." White's beloved Brentwood home had sold for over $10 million after just a month on the market, shortly after her death. So, White's possessions and treasured items have a history of inspiring a lot of excitement.
Some other items are a little more obscure but were still met with enthusiasm, such as a nun doll that had been estimated at around $200 to $400. This ultimately sold for $1,024. Some other possessions were of the personal sort, like jewelry and gowns, and others are of a grand nature like "an early 20th century Wm. Knabe mahogany baby grand piano and bench filled with sheet music."
Betty White's possessions are also pieces of history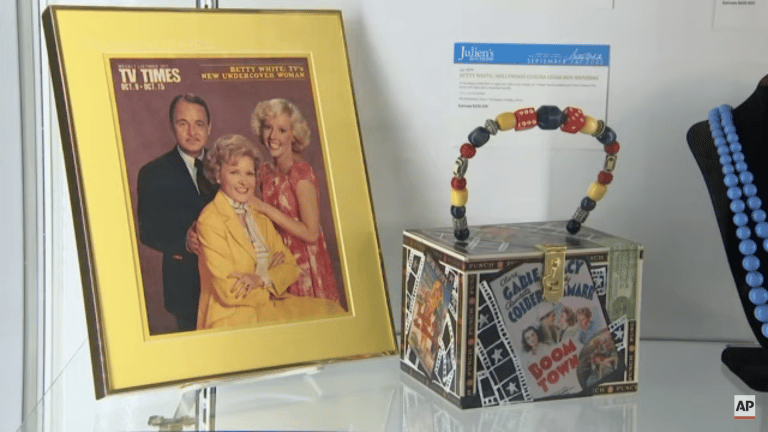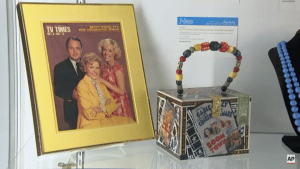 The event's site also provides a thorough list of the many accolades to White's name and props she used, and some of those are among the possessions either up for auction or that put into perspective what a formative powerhouse she was. In the collection is the pilot script for The Golden Girls, signed by White, an envelope from the 1976 Primetime Emmy Awards announcing White as a winner, White's Golden Girls directors chair, and more.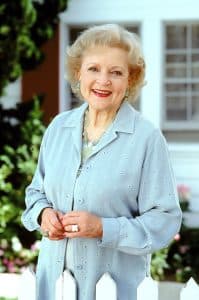 Given White's impact on television, to own any of her possessions would be to own a piece of history. With 1953's Life with Elizabeth, she became the first woman to produce a sitcom. She had been in the industry when movies were making the transition from silent films to talkies. When outside pressures wanted her to stop including a Black man in her show's cast, she disregarded these demands and continued dissolving racial divides. In her 99 years of life, White made sure she was a treasure herself.