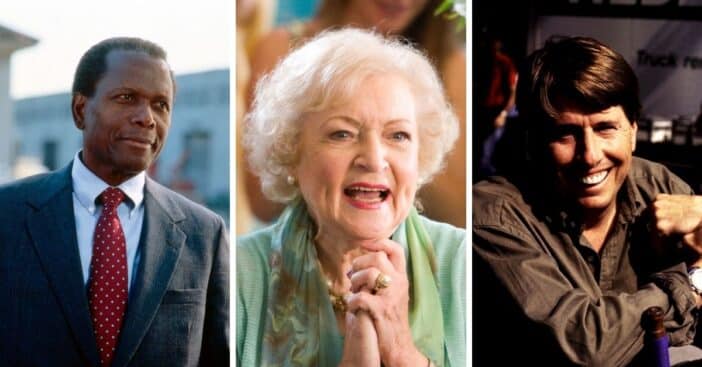 The Oscars aired last night and the show was full of fun and drama. There was one segment that brought the room to tears, though. The 94th annual award show had a special In Memoriam segment where they honored stars that passed away last year including Betty White, Ivan Reitman, and Sidney Poitier.
Actors who were close to the stars who passed away paid tribute to them during the segment. Tyler Perry came onstage to honor Sidney Poitier and talk about how he made history, especially in the Black community. He said, "Sidney Poitier was for far too long the only Black man to win an Oscar for Best Actor. When he stood on that stage, he did more than shatter a barrier, he stood there for all that came before him and sparked the dreams of all who followed."
The Oscars pay tribute to some incredible stars that we lost in the past year
Bill Murray talked about Ivan Reitman, who was the director for Ghostbusters, which Bill starred in. He shared how Ivan had overcome a lot in his life to become the man responsible for such incredible films. Bill shared, "When Ivan Reitman was 10 years old, his parents gave him a sleeping pill, wrapped him in a blanket and put him beneath the deck of a boat to escape Czechoslovakia. He made some movies, some really good movies, married a pretty girl and raised some children and they make movies too." Ivan's son Jason recently directed the newest Ghostbusters film.
Lastly, Jamie Lee Curtis talked about the beloved Betty White. To honor Betty and her love of animals, Jamie brought a rescue puppy on the stage with her. She said, "She was not only a Golden Girl, she was a legend. She brightened every room she walked in and brought a smile to all who watched her on the screen day in and day out, for almost a century. She was a woman who cared so much for not just her two-legged friends but for animals just like this one."
Jamie added that fans should honor Betty by adopting a rescue dog, like the one she was holding. The segment also paid tribute to other stars who recently passed away including Michael K. Williams, Ned Beatty, Sally Kellerman, Dean Stockwell, Jean-Marc Vallee, Peter Bogdanovich, and Richard Donner. The show also mentioned cinematographer Halyna Hutchins who died on the set of the film Rust during a tragic accident. Watch the segment below in case you missed it: