A Golden Girls-themed restaurant is now in Beverly Hills for a limited time! While the show has been off the air for quite some time, its popularity has never faded. So, fans are coming from near and far to experience the food and ambiance at the Golden Girls Kitchen.
For now, the restaurant is in Beverly Hills but will eventually make its way to New York City, Chicago, San Francisco, and Miami. An online events company named Bucket Listers organized the pop-up restaurant and it received an okay from Disney, who owns the rights to the sitcom, to replicate rooms from the show.
'Golden Girls' Kitchen opened up in Beverly Hills for a limited time only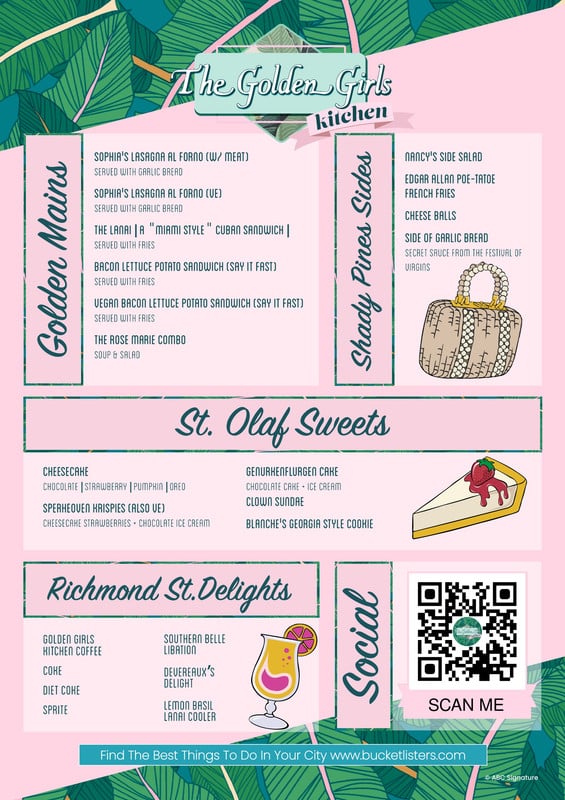 Inside the restaurant, there is a replica of the kitchen counter and phone wall from The Golden Girls. There is also a recreation of Blanche's iconic bedroom. The food is also inspired by the show, featuring a menu with lasagna, a Cuban sandwich, and of course, cheesecake and cocktails.
View this post on Instagram
As of now, you have to make a reservation in order to experience the food and nostalgia and tickets are going very fast. Derek Berry, Bucket Listers' director of experiences said, "I like all the St. Olaf items where you never knew if they were real or not. We threw a couple on there. It's so fun to see my staff and myself try to pronounce them."
If you're a big fan of the show, this experience seems like a must-do. According to the website, "Each ticket includes a 90-minute reservation as well as your choice of a Golden Main + Slice of Cheesecake (of course!). There will be additional sides, desserts, beverages, and even exclusive The Golden Girls Kitchen merchandise to add on arrival." Take a little tour of the pop-up restaurant and see a lot of the nods to the show below:
View this post on Instagram