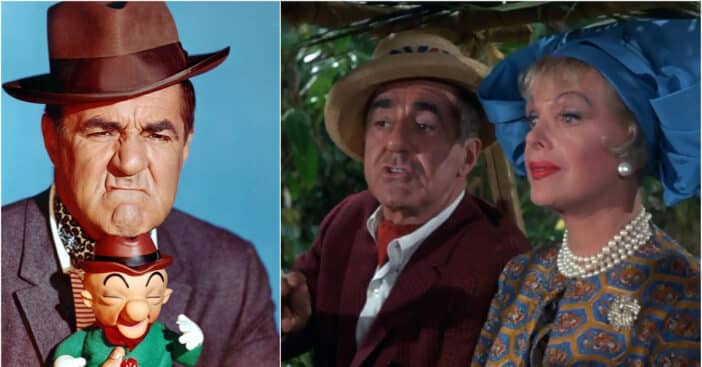 Unlike his fellow Gilligan's Island cast members, actor Jim Backus was actually very well known for two characters. Needles to say, stranded castaway, and millionaire, Thurston Howell III on that show is the one he's most famous for, but for many he was recognized (ironically) as the voice of cartoon character Mr. Magoo.
Jim was born James Gilmore Backus on February 25, 1913 in Cleveland, Ohio. When he decided to embark on a career in acting, he enjoyed great success on radio, television and in film. Radio listeners could hear his on shows like The Jack Benny Program, The Judy Canova Show and The Alan Young Show (Alan, of course, played Wilbur Post on the talking horse TV series, Mister Ed). From 1957 to 1958 he had a self-titled show. On top of that, there were many guest appearances on a wide variety of shows. Commented New York's Dunkirk Evening Observer, ""Jim Backus is a radio comedian who has appeared on as many as 15 radio programs a week under the name of the character he creates for specific shows. He's probably best known as Hubert Updyke of The Alan Young Show than he is as Jim Backus."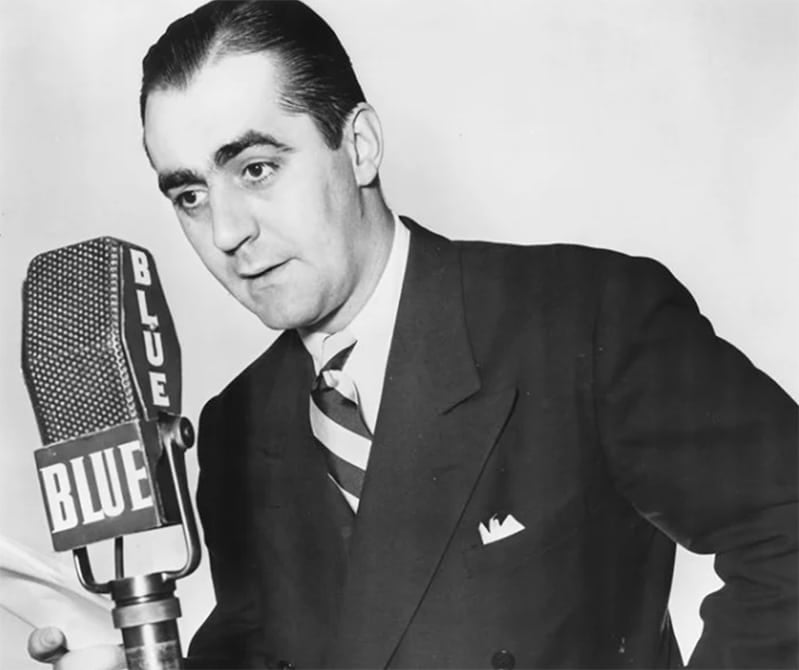 Jim's movie career spanned from 1949 to 1984, during which he starred in many films, beginning with 1949's One Last Fling and concluding with 1984's Prince Jack. Other credits include 1955's Rebel Without a Cause, where he played James Dean's father; and Marilyn Monroe's Don't Bother to Knock (1952). Memorably, during the making of that film, Marilyn got a message from him to visit her dressing room. Happily married (and with his wife's okay), he nonetheless did so, not quite knowing what to expect. As it turns out, when he arrived the screen legend excitedly asked only one thing of him: for him to do the voice of Mr. Magoo, which he was delighted to do.
Mr. Magoo
Making his debut in the 1949 animated theatrical short "Ragtime Bear," Mr. Magoo as voiced by Jim is an elderly, extremely nearsighted man who refuses to wear glasses and gets involved in all sorts of comic misadventures, somehow managing to survive just fine despite the chaos he causes everywhere he goes. The actor voiced Mr. Magoo in over 50 shorts. On television he was featured on the 1960 to 1961 TV series Mister Magoo, 1964 to 1965's The Famous Adventures of Mr. Magoo, and 1977's What's New, Mr. Magoo, as well as the TV movies Mister Magoo's Christmas Carol (1962), Mr. Magoo in Sherwood Forest (1964), Uncle Sam Magoo (1970).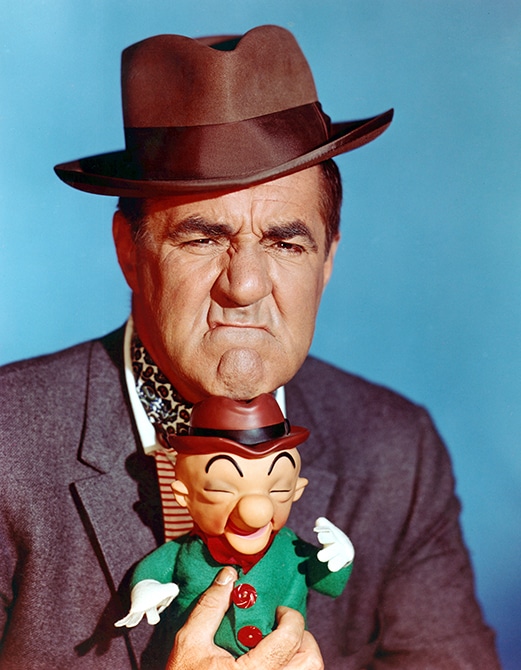 Speaking to the Independent Press-Telegram, Jim detailed his view of the character: "Magoo's voice was taken from the character I play in my nightclub act — the man in the club car [train where alcohol can be purchased]. You know, the loud-mouth traveling salesman who shows pictures of his family to everybody in the club car, belongs to all the clubs and tells dirty jokes. It was the same with Magoo in the beginning. He was a dirty old man. Half the time you couldn't understand what he was saying, he just used to mumble. I will say one thing for Magoo: he's saved a lot of marriages. In New York bars, guys who missed the last train to suburbia catch hell from their wives on the phone. Then they get me to say hello to the dames using Magoo's voice. The wives die laughing, the marriage is saved and the kids go to college."
He added to The Times of San Mateo, "You had to have a 'double' in radio days; a voice you used if you happened to play two roles on the same show. My radio double was similar to the voice that became Mr. Magoo. I added his laugh when I was entertaining friends at parties, then locked in on the whole thing when they asked me to do the voice for Magoo."
Jim's TV Series
Jim co-starred with actress Joan Davis on I Married Joan, which ran from 1952 to 1955. He plays Judge Bradley Stevens, who is married to the scatterbrained Joan, who finds herself involved in many I Love Lucy-like predicaments. By the time the show finished its run in 1955, it was obvious that the experience had been something of a turn-off to him for a number of reasons. "I'm not saying I wouldn't do a TV series again," he explained to Appeal-Democrat. "But I tell you, I wouldn't do one unless I owned it. A series like I Married Joan dissipates you as a personality. I played a judge on the show and after a while, every time my name would come up, everyone would think of me as just that — that kindly judge on the Joan Davis show. If I'd wanted the role of, say, the drunken father in Peyton Place, they'd say, 'Oh, no, not Backus. He's the kindly judge.' Or if I was in a movie like Rebel Without a Cause, which I was, when my face would come on the screen, you could hear the audience whispering, 'That's the kindly judge.' I was so lovable for a while there, it was kind of sickening."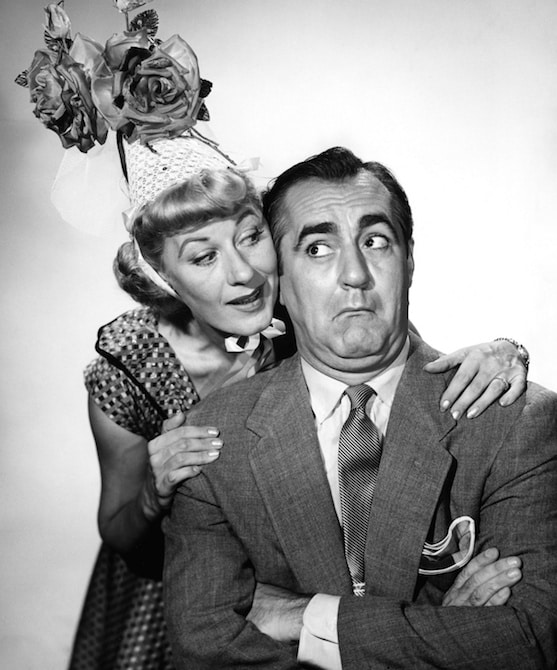 David C. Tucker, author of Joan Davis: America's Queen of Film, Radio and Television Comedy, comments, "I Married Joan gave Jim three years of steady work and made him better-known to television audiences, but in some ways, it was a frustrating experience. He wanted to be Joan Davis' full-fledged co-star in the series, but the scripts put the comic emphasis on her. Playing her wacky character's level-headed husband didn't allow him full range to be as funny as he could be. The reruns played for years afterward, and he worried that he would be typecast in a role that he wanted to move beyond.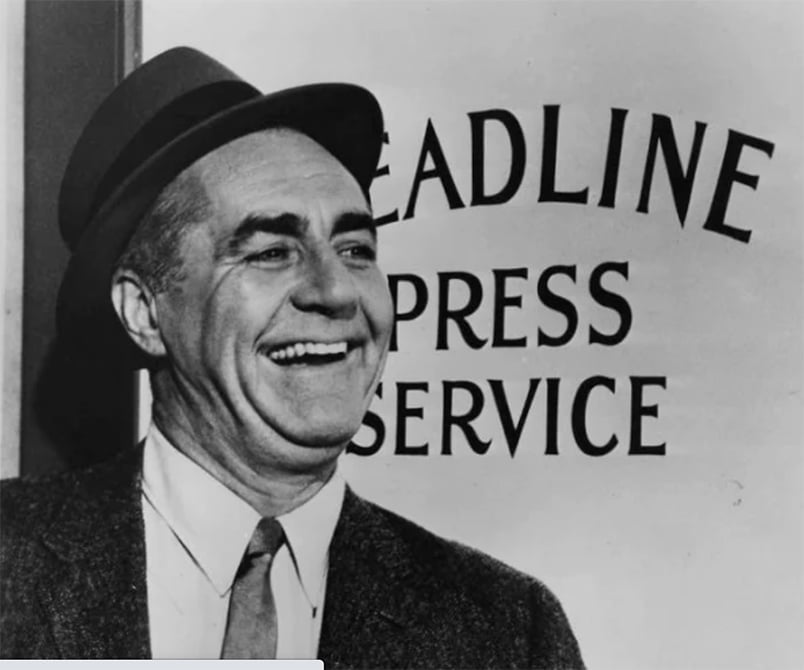 The Jim Backus Show aired for a single season between 1960 and 1961 and saw Jim as Mike O'Toole, editor/owner of a small wire service that struggles to stay in business. "It was syndicated around the country, not on a network," he related to the Oakland Tribune. "When I told my relatives I was syndicated, they thought I was tied up with the Mafia. They've changed their names and won't talk to me. He added elsewhere, "I swore I'd done my last television series even though they keep coming to me with parts like the lovable uncle who's a veterinarian and loves kids. Besides, I know all the storylines: the emcee for the ladies' club who doesn't show up, or the fellow who saves stamps and the wife mails the letter with a valuable issue, and do they get the letter out of the box? I'm like the gambler who says 'Just one more roll.' So now I'm back with the dice. One more series."
The Millionaire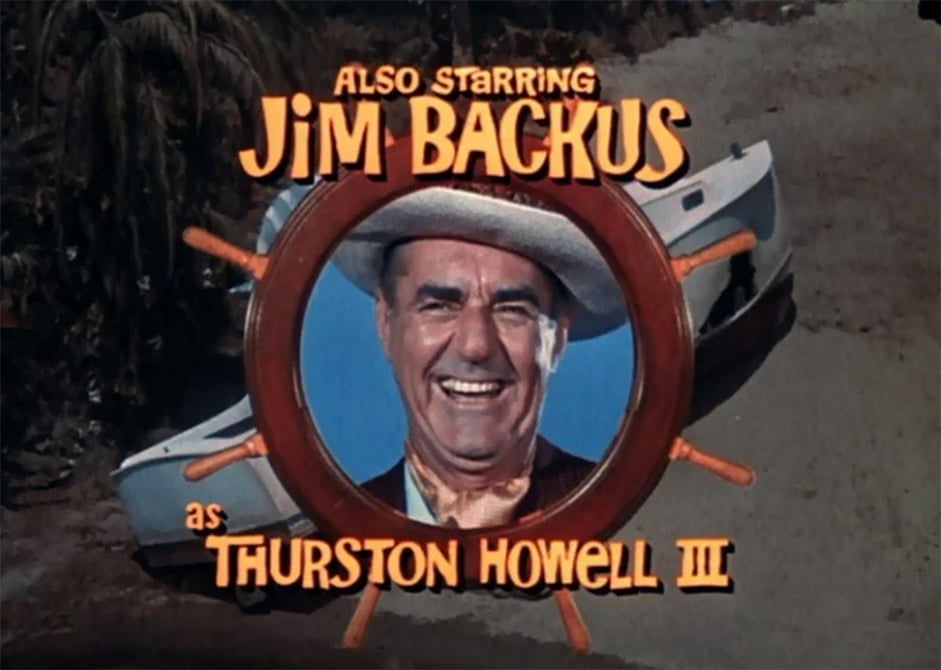 Lloyd J. Schwartz, son of Gilligan's Island creator Sherwood Schwartz, and producer of three Gilligan reunion movies found Jim Backus to be a really fun guy. "Dad had worked with him on the radio," he says, "and then he worked with him on I Married Joan. Dad sent him the script for Gilligan's Island and said, 'If you read the script, you're not going to want the part,' because at that time it was much thinner and there wasn't much Mr. Howell there, but Jim trusted him and took the part. I used to go up to him and do my James Dean because he played the dad in Rebel Without a Cause."
"He was right, I didn't like the script," Jim said, "but his description of the series sounded so ridiculous, I figured it couldn't miss … We succeeded against some of the worst reviews of all time. They weren't reviews, really; they were character assassinations. What the reviewers didn't realize was that our show was a put-on. Critics were accustomed to the Ozzie and Harriet/Donna Reed Show sort of thing. They took us literally."
As to the show itself, he mused, "I've got ties older than Bob Denver. A very talented boy. I only saw him on Dobbie Gillis once or twice, and all I remember is they dyed Dwayne Hickman's hair so white, I thought he was Hopalong Cassidy. And Mr. Howell, he's a rich, idiotic jerk. He wants to subdivide the island! But if you get angry at him, we've lost the point of the whole thing. There are only seven of us, nobody else. In a way, it's a relief. None of that, 'Guess who's stopping by next week?' stuff."
Outside Interests
Jim managed to stay very busy over the years, appearing in quite a number of TV commercials, writing several books, and recording a number of comedy albums, including two as Mr. Magoo. During it all, he was very much aware of the continuing impact of Gilligan's Island. "It may be the most popular children's show ever made," he suggested to the News-Pilot of San Pedro, California. "My wife says I'm very big with the ruled-paper set. I'm sort of a Pied Piper. The letters are always very polite, mostly requests for pictures. It's strange, but the fans all seem to have gotten my home address and write me there."
And Gilligan remained an important part of his life. He voiced the character in the 1974 to 1975 Saturday morning animated series, The New Adventures of Gilligan, and then again in 1982 for Gilligan's Planet. On top of that, he played Thurston Howell III in three TV movies, Rescue from Gilligan's Island (1978), The Castaways on Gilligan's Island (1979), and (in a cameo due to illness) The Harlem Globetrotters on Gilligan's Island (1981).
In his private life, he married Henrietta Kaye (aka "Henny") in 1943 and was with her until he died on July 3, 1989, following a long battle with Parkinson's disease. But for Lloyd, one of the most touching moments involving Jim came during the making of the third and final Gilligan's Island reunion movie, The Harlem Globetrotters on Gilligan's Island.
"Jim was very ill at the time and he couldn't do it," he details. "We recast with a guy who played Thurston Howell's son, David Ruprecht. Jim called my dad during the filming and said, 'Can I do a day?' So we rewrote the script so that Mr. Howell came to the island and had a few lines. He didn't have the energy to do any more than that. After that, he came up to Dad and said, 'Was I okay?' 'Yeah, you were fine.' And Jim said, 'But was I funny?' 'Yes, Jim, you were funny. It's good.' And they walked off together and everybody on the set was crying, because they knew that this was probably the last time they would see Jim. He died shortly thereafter."