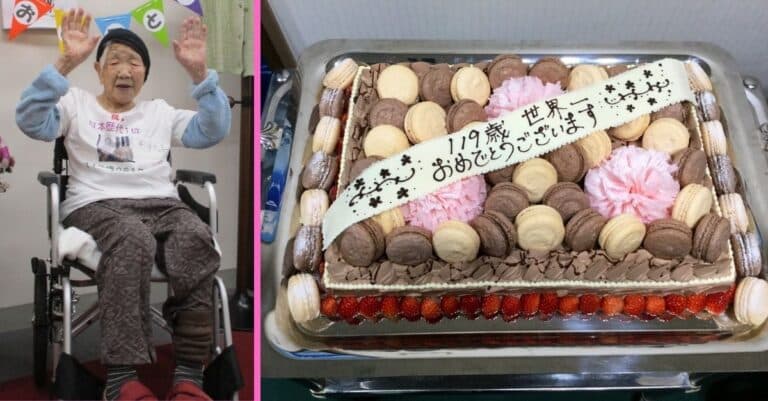 On April 19, Kane Tanaka passed away as the oldest living person at the formidable age of 119. So far, the oldest person ever was Jeanne Louise Calment, who died at 122 back in the '90s. But Tanaka's life, which spanned numerous major world events, offers a look at what modern lifestyle choices a supercentenarian made and lived so long to enjoy them.
And enjoy them she did. Tanaka, based on accounts from her family, lived life fully even into her advanced years, starting her days at the crack of dawn to do calligraphy and mathematics. As for food, Tanaka was a big fan of sweets and she did not shy away from them. Just what did the oldest person of our time eat?
Kane Tanaka loved sweets
【誕生日会】
おめでとうコメントを下さった皆さんありがとうございます。
予想以上に反響が大きく、一件一件返せなくてすみません🙇‍♀️

先日、施設で誕生日会を開いて頂きました🎂施設の方々が、飾り付けもして下さいました🎊大好きなオロナミンCの119も😲🥤

退院後の元気な様子に安心しました😌 pic.twitter.com/bwhtuZTemU

— 田中カ子 (@tanakakane0102) January 8, 2022
Tanaka did not just fill her days with enrichment of the mind; she treated her taste buds to fun snacks. "There isn't actually really anything I don't like," she shared, then further specified, "My favorite things are fizzy drinks (especially Coca-Cola), but also coffee and chocolate." It is revealed just how frequently she consumed these foods and drinks, but she listed all of this when the Japan National Tourism Organization asked her to introduce herself to the organization, implying it was significant to her.
When she was asked what things she couldn't resist, Tanaka doubled down, "that would be fizzy drinks, coffee, and chocolate for me." When celebrating one of her many birthdays, staff members at the nursing home where she lived made sure to help feed her cake, which she deemed "tasty" and said "I want more." All the while, she had no teeth.
The secret at the heart of living long and well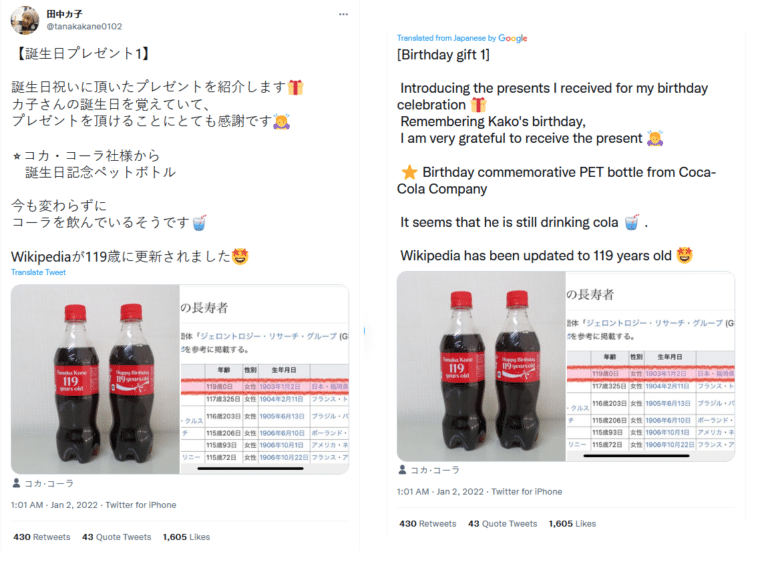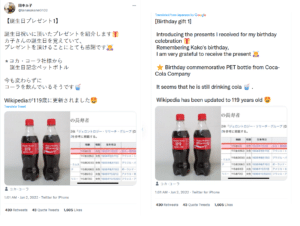 Food is not the only factor Tanaka attributed her long life to. It was her positive mindset, getting plenty of rest, staying mentally stimulated, and having support. Additionally, through it all, she advised "to do the things that you like." For her, that meant, "eating the things I like, doing the things I like, I've been able to enjoy each and every day." A well-rounded diety with nutrients, vitamins, and diverse ingredients is important for the body's health and she recommended many dishes that are less sugary, such as "Hakata ramen, motsu nabe (offal stew), mentaiko (fish roe), mizutaki (chicken hotpot)," and getting food from "the yatai food stalls." But she also emphasized the importance of happiness.
お久しぶりです!
忙しくて更新出来ておりませんでした🙇‍♀️ 🙇‍♀️
これから、ちょこちょこ更新出来ればと思います🙌

本日、「日本歴代1位」になってから1年が経ちました🎉
中々会いに行くことが出来ず寂しいです🥺

DM頂いていた方、返すことが出来ずにすみません。 pic.twitter.com/UGhfIU21F0

— 田中カ子 (@tanakakane0102) September 19, 2021
Filling each day with things that make a person happy is a crucial ingredient, Tanaka asserted. She had plenty of help doing that, celebrating her 119th birthday back in January with commemorative bottles sent by Coca-Cola bearing her name and age on the label. At the Guinness World Records ceremony naming her the oldest living person, she also received a box of chocolates. Now passed, she leaves behind five grandchildren, eight great-grandchildren, and a lot to still feel inspired about.