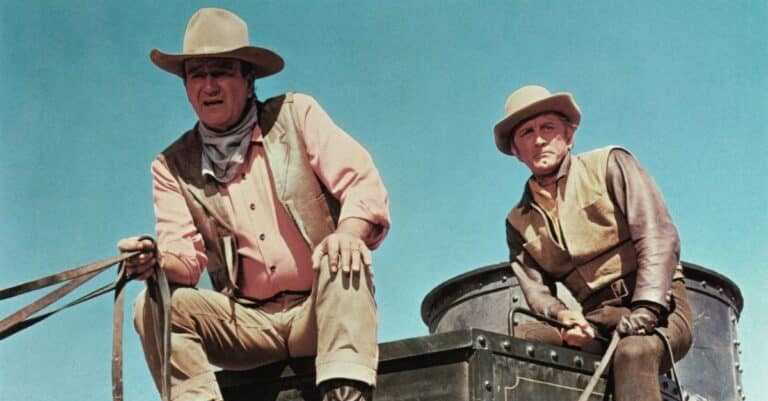 John Wayne and Kirk Douglas starred together in The War Wagon. Kirk was not the first choice to play Lomax in the film but the director ended up giving up half his salary to secure Kirk for the movie. Turns out that the two big stars had very different political views and butted heads a few times during filming.
During production, Kirk was late one day because he had been filming a commercial to endorse Edmund G Brown, a Democrat, as Governor of California. Of course, John was a lifelong conservative and republican who had just filmed an endorsement for Ronald Reagan.
John Wayne and Kirk Douglas often fought about politics
With their extremely different political views, they would often bicker. However, their respect for each other never wavered. Kirk once shared on The Dick Cavett Show, "I don't want to get involved in a conversation about John Wayne. I've made quite a few pictures with John Wayne and, by the way, I've always called him John. Everybody calls him Duke. We have never seen eye-to-eye on a lot of things."
He added that John was "one of the most professional actors I've ever worked with. We get along well, we never discuss politics. But he's the first guy on the set, the hardest worker I've ever worked with, and I think he's quite a character."
Dick then joked that of course, they wouldn't see eye to eye because John was a tall 6'4″ while Kirk was only around 5'9″ then. During filming, Kirk would have to wear lifts in his shoes so that they would appear to be around the same height.