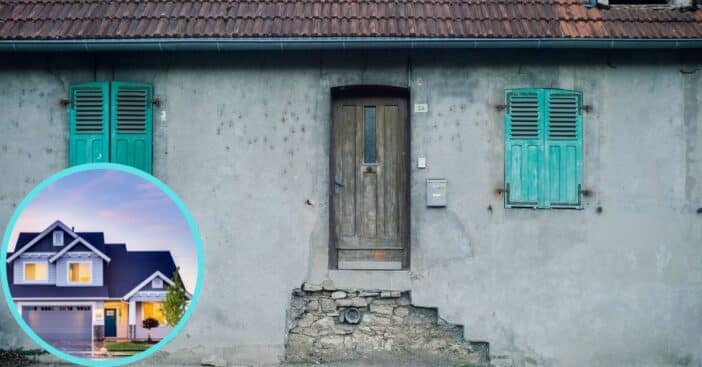 The foundation of a home does not have to be a limiting factor in its future. HGTV's series Fixer to Fabulous proved just that in its latest episode starring a 1,100-square-foot Arkansas ranch that turned from dense to dreamy, from stifling to spacious.
Fixer to Fabulous, which debuted back in 2019, follows designers Dave and Jenny Marrs as they rehabilitate older homes into modern, comfortable abodes. For this project, the house dates back to the 1970s and made for a stunning before-and-after transformation.
Jenny and Dave breathe new life into this '70s ranch
Rob and Angie Nelson became the owners of the '70s ranch after moving throughout the country for years. This final move put them right near family, which reportedly included Dave and Jenny. So, they were in the perfect position to help make their home the best it could be.
The group was armed with a $300,000 budget and a home in desperate need of work inside and out. The inside had a walled-off, closed floor plan the Nelson family was not a fan of, preferring an open concept. They also wanted another bedroom to accommodate themselves and their two teenage sons. The exterior was in need of work, with the wood decking misaligned. After a round on Fixer to Fabulous, though, it was unrecognizable.
A ranch home goes from a fixer to a fabulous home for four
CAMEO ALERT! 🤩 If you watched Season 3 Episode 13 of Fixer to Fabulous on HGTV, you may have caught a glimpse of a Yoder Smokers YS640s on a silver comp cart as part of the patio renovation. We're sure many great meals will come off that YS640s! 🥩 🍔 🍗 #fixertofab pic.twitter.com/ZVRJucFrLp

— All Things BBQ (@atbbq) March 10, 2022
Outside, the horizontal green detailing was replaced with vertical white slats "to add a little bit of warmth and texture, just that modern feel," explained Jenna. They needed some extra resources for that project since the whole house was expanded to accommodate the Nelsons' wishlist. By the time the duo was finished, the ranch home consisted of 2,800 square feet.
Before and After: HGTV's "Fixer to Fabulous" Supersizes This Small '70s Ranch https://t.co/MX0X5OrEzp pic.twitter.com/W6Pvd3Lqmn

— SwaveDigest (@SwaveDigest) March 9, 2022
Within those walls is a more open concept floor plan, another bathroom, and a whole additional floor for bedrooms. The family also has a new garage off the side of the house. All the darker detailing in the house was replaced with lighter shades. Of all the places the Nelsons have lived none felt quite like this one. "So now we're here and it's home, and we're happy," Angie shared. Apartment Therapy has more photos of the unrecognizable transformation.
What kind of big overhaul would you dream of for a home?