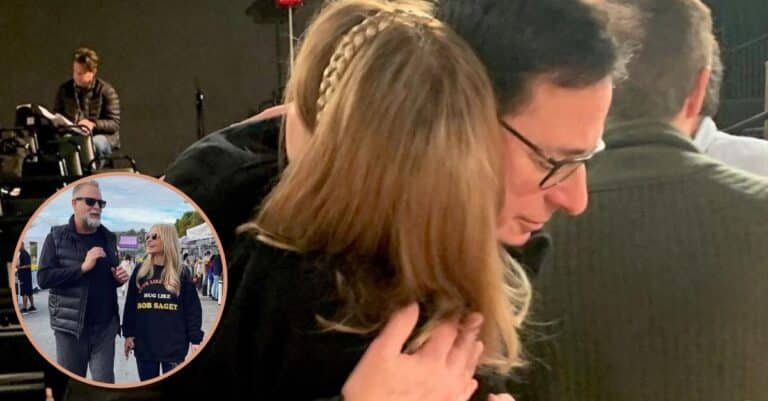 Candace Cameron Bure and Dave Coulier of Full House were recently sporting "hug like Bob Saget" sweatshirts together. Saget recently passed away suddenly at the age of 65 and everyone, including his Full House family, is struggling to cope and process the news.
To keep his memory alive and celebrate his life, Candace is selling these sweatshirts, and 100 percent of the proceeds will be going towards benefiting the Scleroderma Research Foundation.
Candace Cameron Bure encourages people to buy "Hug Like Bob Saget" sweatshirt
View this post on Instagram
"This has been one of the hardest weeks of my life and yet, incredibly beautiful because of family and close friends," Candace shares on Instagram. "Yesterday was a better day. We walked, we laughed, we reminisced. @dcoulier and @melissacoulier , I ♥️you. I think that's all you'll hear from me again. I love you. Don't be annoyed 😂."
She continues, "I had this sweatshirt made. Thanks @erinnoella for the design and help. I think it sums everything up just right. Love like Jesus, hug like Bob Saget. @eattravelrock , I have one for you and your family ♥️♥️♥️."
View this post on Instagram
The entire Full House cast has been posting about Saget pretty much constantly since the actor's sudden death. One actor from the cast who is especially struggling is John Stamos, who famously played Uncle Jesse on the hit sitcom, and had been close friends with Saget ever since. "I'm not ready to accept that he's gone – I'm not going to say goodbye yet," Stamos posted on Instagram recently.
"I'm going to imagine him out there, still on the road, doing what he loves with all his heart and humor. He's standing on stage, killing! Another two-hour set in front of a couple hundred of the luckiest people on the planet."