Sex and the City star Kim Cattrall took to social media to honor her late brother Chris Cattrall on his heavenly birthday, when he would have turned 59. Cattrall, herself 65, took to social media over New Year's weekend in a post that also raises awareness for suicide prevention.
By time of writing, Cattrall's post shared with her one million followers has received 70k likes and over a thousand comments, all of which express sympathy and send love. Others share that the viewer also knows someone whose life was cut short.
Kim Cattrall remembers her late brother Chris on what would have been his 59th birthday
View this post on Instagram
On Sunday, January 2, Kim Cattrall shared a photo of herself and her brother Chris side-by-side one another, her smiling at the camera while he stares to the side with his mouth slightly opened. In the picture, Chris appears to be wrapped in a blue towel while Cattrall wears a white top.
"Today would have been my baby brother Chris's 59th b'day," the caption reads. "Happy Birthday, sweet "Topher". We miss you today and everyday. RIPx #suicideprevention." Christopher is reported to have died in 2018, which would have been when Cattrall was around 62 years of age.
Kim Cattrall opens up about loss

It is with great sadness that myself and my family announce the unexpected passing of our son and brother, Chris Cattrall. At this time we ask for privacy. We want to thank you all on social media for your outpouring of love and support in this trying time. pic.twitter.com/n4dQAMrTvS

— Kim Cattrall (@KimCattrall) February 4, 2018
Almost four years ago, Cattrall reached out on social media for the grave task of asking followers to help find her brother after he went missing. Daily Mail reports that it took less than a day before authorities found Chris, deceased as of February that year, at his Blackfalds, Alberta home. Cattrall shared updates on her social media as she gained new information.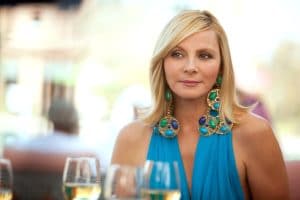 As events unfolded, she asked for privacy and wanted "to thank you all on social media for your outpouring of love and support in this trying time." Though she has maintained this precedent for privacy, in 2019, Cattrall shared how the experience impacted her everyday life. "I think recently the thing that has taught me the most is loss," she said. "I've lost two family members and I think what it teaches me, I'm not there yet, but to really enjoy what you do, your family, your friends, to really appreciate … when I say goodbye to somebody I'm not going to see for a while." The other individual Cattrall lost was her father Dennis, who died of Alzheimer's Disease in 2012.
The National Suicide Prevention Hotline can be reached at 800-273-8255.