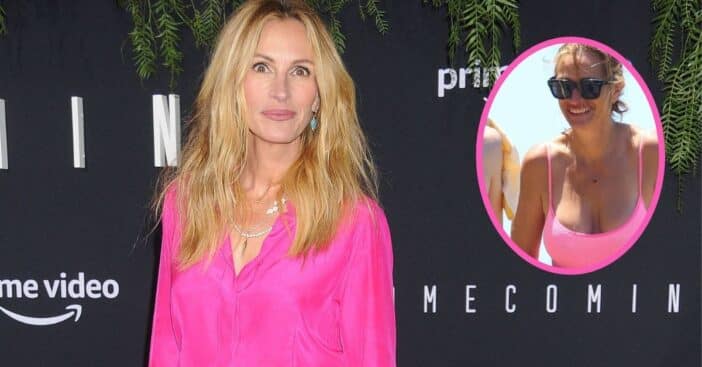 Julia Roberts and her family hit the beach in Australia for the holiday weekend. On Christmas, she was spotted wearing a vibrant pink one-piece swimsuit walking along the sandy banks of Sydney. The 54-year-old was all smiles for the occasion.
Roberts was joined by her husband, Danny Moder, 52, who was also dressed to best enjoy the warmth in the land down under. The two have been married since 2002 and share twins Phinnaeus and Hazel and son Henry Daniel, all teenagers.
Julia Roberts and Danny Moder enjoy the Australia beach for Christmas
Julia Roberts, 54, wows in pink swimsuit as she hits the beach with family https://t.co/j6J1lH9KGU pic.twitter.com/ZUoehGLkQe

— Page Six (@PageSix) December 27, 2021
On December 25, Julia Roberts was spotted on the beach in Sydney, Australia wearing a bubblegum pink bathing suit with large sunglasses and her hair tied back in a low, messy ponytail that prominently showed off a broad smile.
Both she and husband Moder walked side-by-side along the beach, with him wearing similar beachwear attire in the form of dark sunglasses and trucker hats. At one point, Roberts gave Moder a kiss and hug as they continued basking in the sunny rendition to the holiday weekend. So far, these are the only photos of the family during their Christmas vacation.
Parenthood and vacation
Julia Roberts Dons a Bright Pink Swimsuit During Christmas Day Outing AT THE BEACH IN SYDNEY! https://t.co/FDzewxjMAB #Christmas #JuliaRoberts #Swimsuit pic.twitter.com/bjH3XdlhPL

— Aaron Fernandes (@AaronRFernandes) December 27, 2021
The couple was joined by their three children; the twins recently celebrated turning 17, which Roberts has called the best years, while Henry is 14. For the most part, Roberts keeps her personal life private, with only a few exceptions arising on special occasions like birthdays. She is also forthcoming but not blatant about her work, as her own children asked about her job and, after she explained it to them, added, "You're famous?"
EXCLUSIVE: An Aussie Christmas! Julia Roberts, 54, wows in a pink swimsuit as she spends the holidays on a sunny Sydney beach with husband Danny Moder and their three children https://t.co/Weo0zaM9DP pic.twitter.com/dWobfGpmwn

— Showbiz (@showbiznotices) December 25, 2021
Roberts is very passionate about parenthood. By time of writing, Roberts herself has not posted any pictures from her beach vacation; her last Instagram post was back at the end of November, and that likely won't change, as she wants to keep her kids at arms' length from social media. Parenting demanded a lot of her free time, but she calls it a "terrific trade-off" and adds, "I sure am happy."