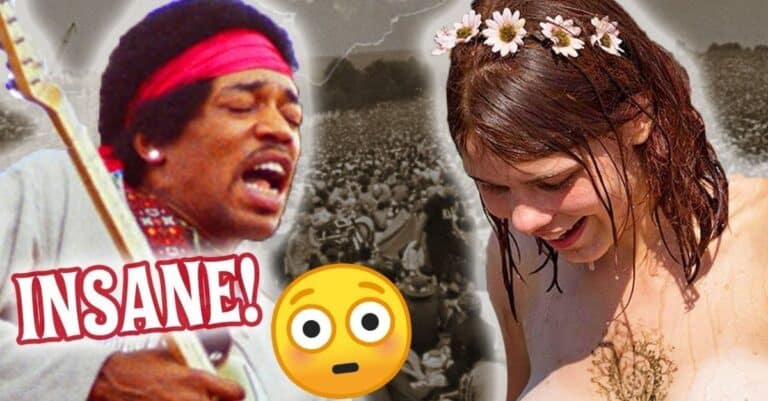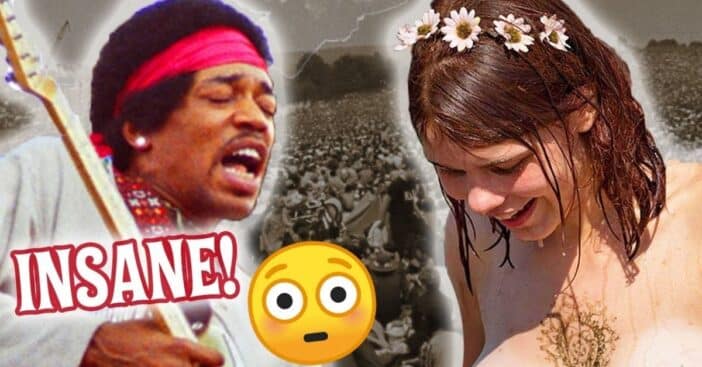 Peace, love, drugs, and rock-n-roll. The sixties and seventies were a wild time. Some of the best artists of all time were just getting started. And after The Vietnam War had successfully polarized much of the United States, A simple music festival was planned to promote peace and love.  Well, maybe not simple. Woodstock would become an idyllic hippie paradise, and unmatched in cultural impact. 
The Woodstock Music and Arts Fair – simply just called 'Woodstock' would go down in history as one of the best concerts of all time! Hundreds of thousands of people converged on upstate New York for an unforgettable experience. Today we're revisiting one of the best, wettest, truest counterculture musical festivals of all time. Without further ado, let's go to Woodstock.
Organizing the Festival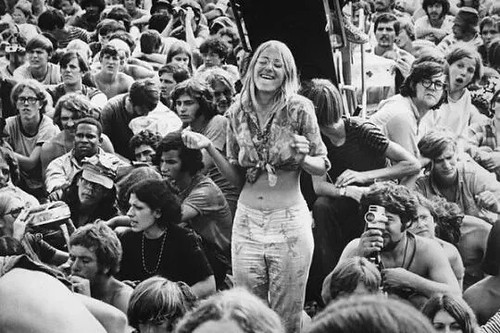 The original Woodstock festival was held from August 15 to the 18th in 1969. It was the brainchild of four men in their 20s, highlighted by Michael Lang and Artie Kornfeld. Lang had recently organized the successful Miami Music Festival in 1968 and Kornfeld was the youngest vice president at Capitol Records. 
Surprisingly, it occurred in not Woodstock, New York, but in the neighboring town, Bethel, New York. That's because Woodstock wouldn't issue festival organizers a permit. Lucky for them, and for everyone, a 49-year-old dairy farmer named Max Yasgur granted them access to his 600-acre dairy farm in Bethel. And just a month away from thousands of hippies swarming the upstate, the four men finally had a location for the infamous event. Creedence Clearwater Revival – or CCR – was the first big-name to sign on and lent this hazy festival the credibility it needed to attract other well-known acts.
Woodstock also wasn't supposed to be a free festival. The festival organizers sold thousands of tickets for $18 each for the three-day pass, or seven dollars for a single day. But throngs of people just kept showing up, and eventually piled over fences and found entry. Organizers didn't even have all of the fencing up yet, again just a month past they found the land. So it was a conscious decision, partly for safety, to blanket Woodstack a free event. An additionally estimated two hundred thousand people showed up! It is assumed that half a million people attended Woodstock. With another half a million unable to reach the final Bethel destination. And getting there was kinda like the movie Trains, Planes, & Automobiles. 
The People, the Traffic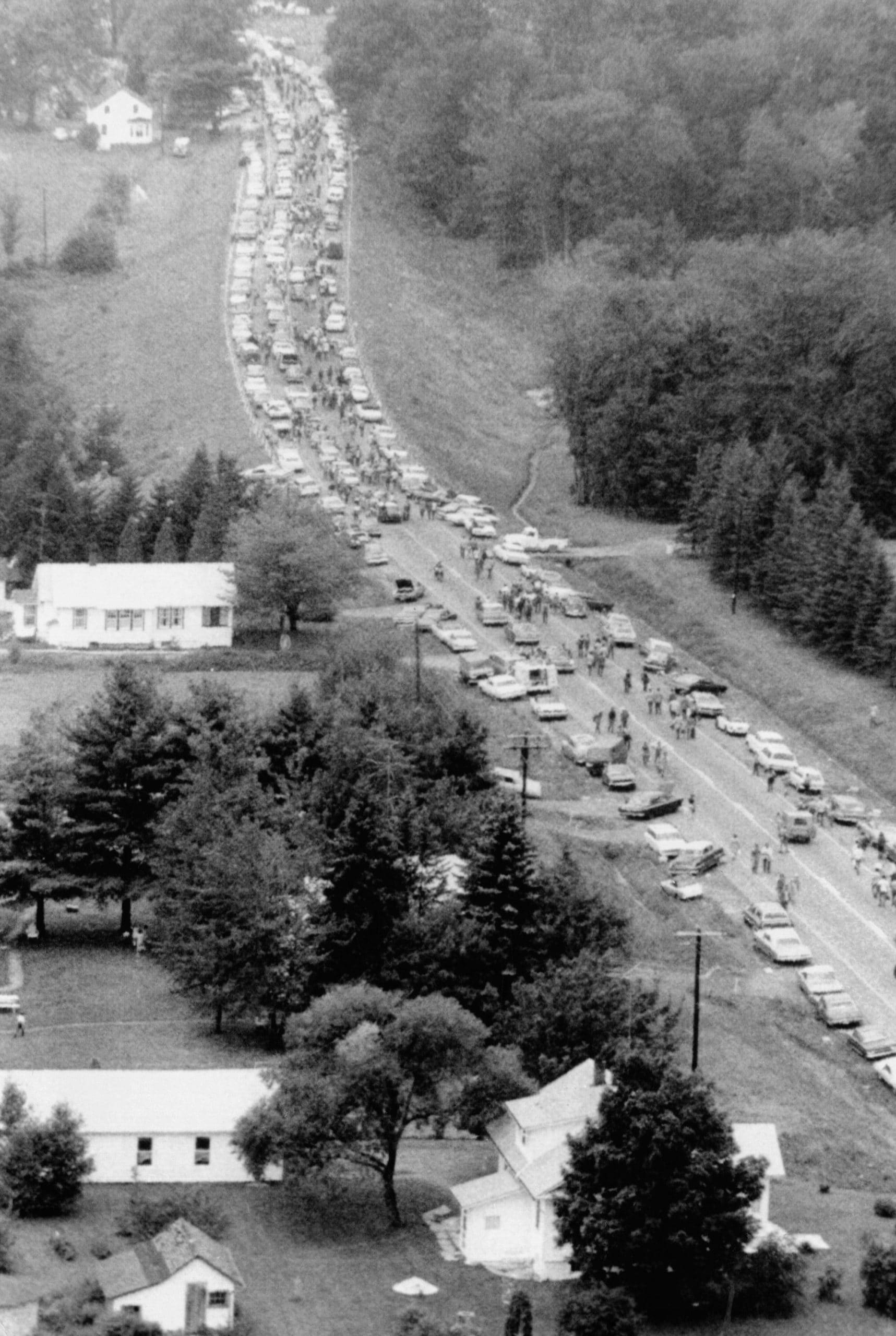 Getting to the festival was a challenge, to say the least. There were traffic jams sprawling, with some places being backed up for over 20 miles causing the police to divert traffic. Since the cars weren't moving, some people decided to abandon them, right there on the side of the road, and caravans of automobile-freed individuals began marching towards the smoke. The freeway was basically just a big parking lot. Locals were trapped in their homes because they couldn't get out of their driveways. It is reported that the Woodstock traffic log was in the top 10 worst traffic jams ever… in the world. The musicians all had to be flown in with helicopters because limos are useless behind 200,000 ford mustangs and Pontiacs. 
But people didn't freak having to wait undisclosed amounts of time for the talent, or having to abandon their car by the exit. There was plenty of free love, nudity, and drugs to go around for all. People wandered around naked – skinny dipping in the pond was a hot commodity. And the free love was going around – I mean, ya can't have rock n roll without sex, right? But even more than the sex, there was more drug use at Woodstock. There were smoking camps with signs pointing you in the right direction. 
Even torrential rain couldn't dampen the spirits. It rained a lot. It was nearly impossible to stay dry, camping out under large pieces of plastic. Others chose to accept the rain as God's gift to the festival, playing in the mud pit that the festival grounds turned into. But the energy, above all, was peaceful. Announcers would get on the mic and politely ask the 'guys on the light posts' to come down, the fear of a lightning strike too delicate at this time. But it was all in the name of safety. The vibe was harmonious, and some credit the lack of violence to the large number of psychedelic drugs being used. The number of iconic images from Woodstock is vast, some wonderful ones feature couples who met at the festival, many of which are still together today. The images illustrate the peace, fun, and camaraderie felt by the majority of the festival-goers. 
The Dirty Parts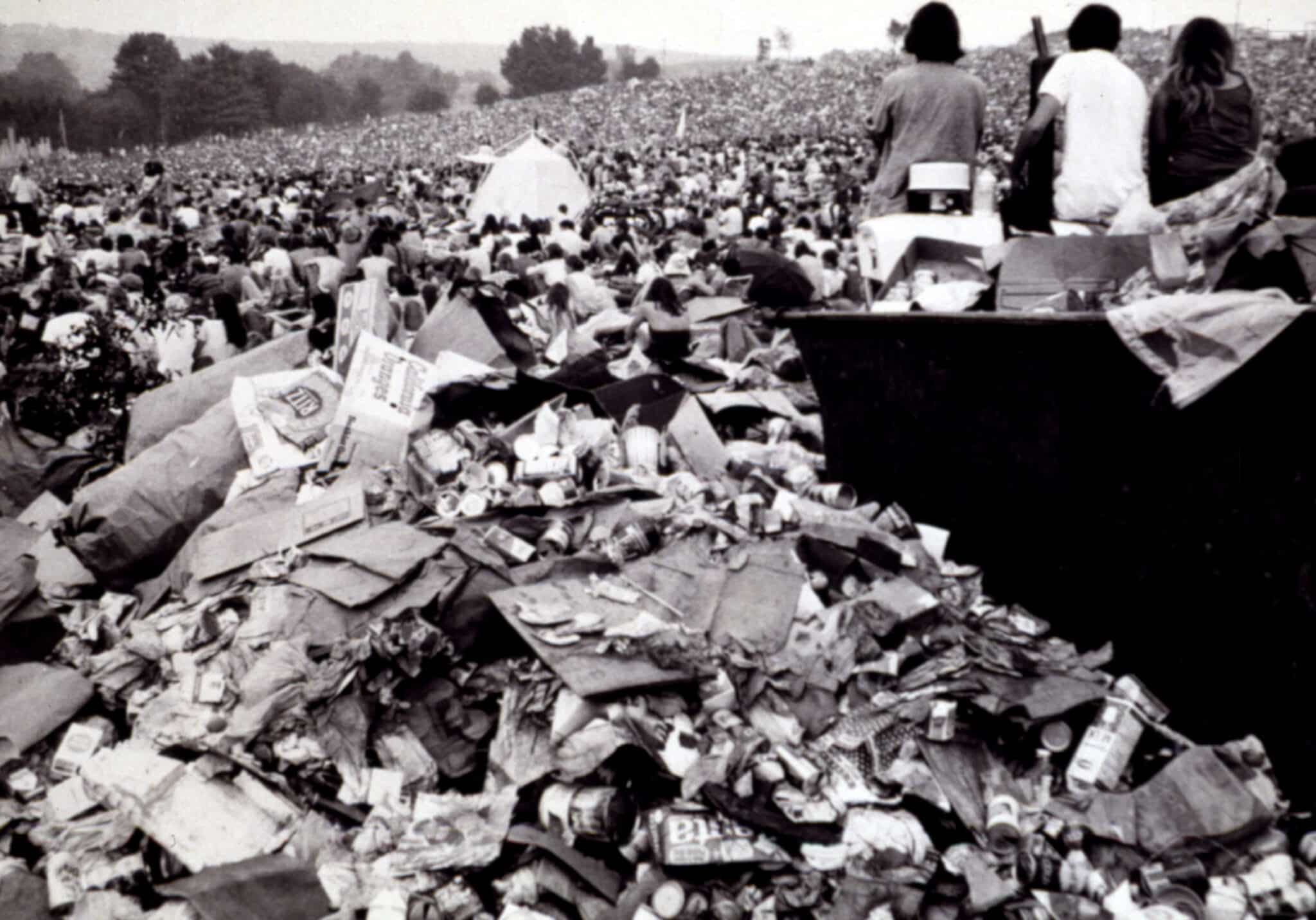 Woodstock wasn't all peace, love, and happiness, of course. Some pretty messed up things happened, too. People formed massive lines to use the portable toilets. There was roughly 1 toilet for every 800 attendees. Better get in line early… and those precious toilets soon overflowed with sewage and it flowed throughout the festival grounds, which created even more mud in addition to the rain… But at least the dairy farmer wouldn't have to fertilize the ground for several years after that. 
The food vendors, "Food for Love" actually ran out of things to eat, which makes sense when you add on all the unexpected attendees. They began price gouging, for simple things like hot dogs – the prices were quadrupled! Two of their tents were burned down because people got quite upset about such long lines paired with steep unfair prices. Soon, a group called "The Hog Farm Collective" began passing out granola to the hungry festival attendees. And granola has never looked back. They also set up a tent to help out with the next problem on this list. 
The drug use. Let me clear that up, specifically the UN-intentional drug use. Some of the food being given out at Woodstock was laced with – hmm, who knows what. Some got sick from drinking laced beverages. Michael Lang, the organizer said he was very particular about everything he consumed that weekend. Good for him he probably had a less-rad time. 
And the worst part, which kind of pales in comparison to many high-trafficked tragedies, three people were killed during the Woodstock festival. Two from drug overdose, presumed to be heroin, and the other was unceremoniously crushed by a tractor while sleeping. Absolutely terrible. But when compared with the Travis Scott Astroworld fiasco that happened in 2021, eight people were crushed to death by absolutely abysmal planning and control. Let's just agree to go for zero deaths at all festivals from here on out. Deal?
The Artists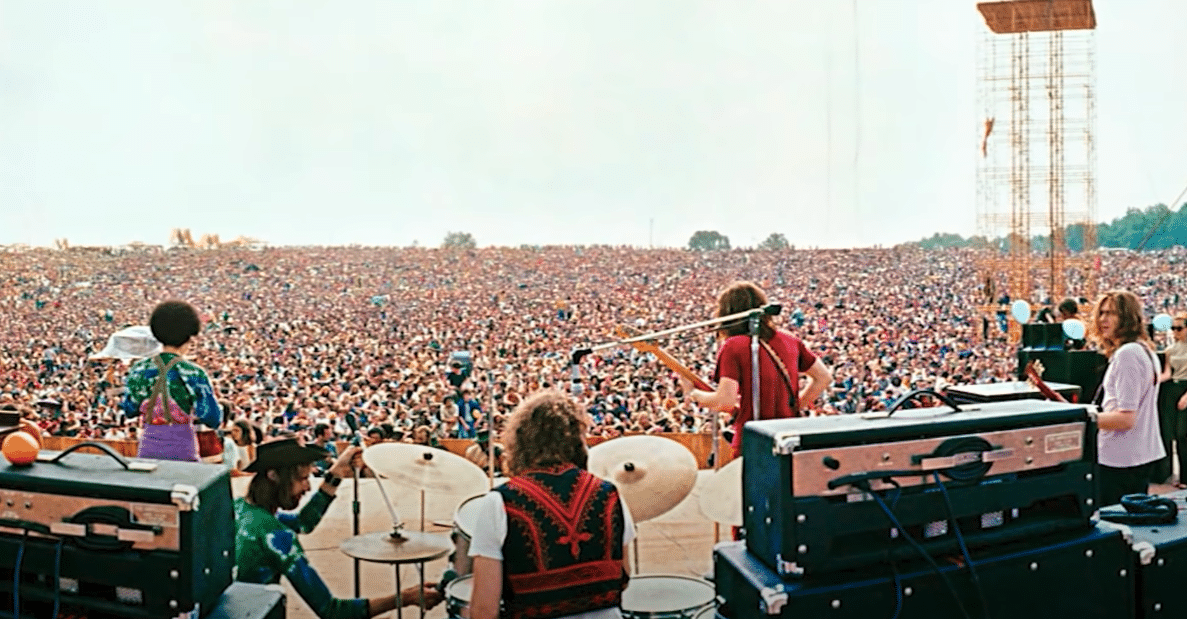 As we mentioned, Several of the artists scheduled to perform had difficulties getting to Woodstock. While the organizers were trying to coordinate flights, they had Richie Havens take the stage and he played for a very, very long time. He would try to stop playing and they would tell him to keep going man, they love ya! In all, 32 musical acts performed during the iconic festival. 
On Friday, August 15th, the following musicians appeared: Richie Havens, Sweetwater, Bert Sommer, Tim Hardin, Melanie, Arlo Guthrie, and Joan Baez. On Saturday, August 16th, things got even more exciting, highlighted by Santana, Grateful Dead, Creedence Clearwater Revival, Janis Joplin, Sly & the Family Stone, The Who, and Jefferson Airplane. Ridiculous. Some say The Grateful Dead's performance was the worst of the festival… But one of the band members has said that the stage was literally collapsing beneath their feet and that the rain was still pounding. And of course, if you're a deadhead or actually were at Woodstock, please shout at me in the comments, I wanna know the truth.
Sunday, August 17th, welcomed Joe Cocker, The Band, Johnny Winter, Blood, Sweat, & Tears, and Crosby, Stills, Nash, & Young. The festival finished on Monday, August 18th with performances from The Paul Butterfield Blues Band, Sha Na Na, and finally, Jimi Hendrix. Jimi was the highest-paid performer of the entire festival. He insisted on playing last and the festival organizers said this was okay because they really wanted him to play. He was supposed to go on on Sunday night, but delays caused some pushbacks, some Hendrix played a 2-hour long set, one of the longest performances of his entire career. It was legendary, to say the least. It was during this set that he, pardon my words, but destroyed the National Anthem. He just shredded and stopped the world on its axis for three minutes and 43 seconds. Hendrix thought his performance was beautiful, and I think it was, he wasn't trying to spark controversy, just making history.
Woodstock's Legacy
Many of the people who attended the Woodstock festival are still alive and have fond memories of their experience. They know it was truly a once-in-a-lifetime kind of event. Today, there is a museum that promotes the history of Woodstock in Bethel, New York, called the "Museum at Bethel Woods." It features 1960s history, but largely focuses on Woodstock, duh. The original festival site is also listed on the National Register of Historic Places so it is protected for many generations to visit and enjoy. To try and hear the faint reverberations of Hendrix's Fender Stratocaster. 
So let's discuss. Who was your favorite artist that played Woodstock? Did you get the 1970 3-vinyl set, that featured some incredible moments, like Sly's medley, or Hendrix's "Purple Haze?" Or did you not need the records 'cause you had a faint memory of attending? Please get in the comments below and tell us all memories related to Woodstock.