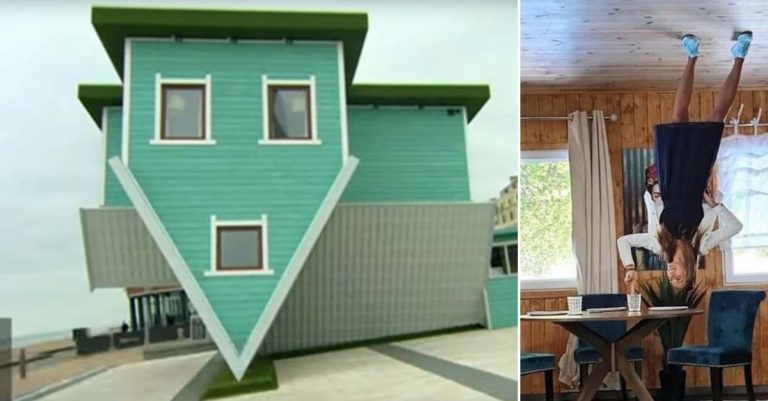 There is a really cool attraction in England that is getting a lot of attention on social media. It is an upside-down house! Everything inside is upside down too, including the toilet! Obviously, it is not livable, but it is a fun place to visit. The best part? The house changes with every season and they add different decor. There are more and more upside-down homes popping up in the area too.
The home looks like it is sitting on its roof! It has a bathroom, kitchen, living room, bedroom, and children's play area. It even has furniture… but the kicker is that everything is upside down! When you take a photo, all you need to do is flip it upside down and it will look like you are literally on the ceiling!
See photos of this crazy upside-down house
https://www.instagram.com/p/BxUVDMJDWLj/
There are actually several different upside-down houses in England. They have a small fee to visit, but it seems worth it for that perfect photo, right? The CEO of the project, Tom Dirse, said that they just wanted people to experience walking upside down.
https://www.instagram.com/p/ByZqhTZH3rI/
Tom said that the most popular areas are the kitchen and the bathroom. He said that people love to climb on the kitchen cupboards and dive into the toilet! Can you even imagine? These photos look so cool, I definitely think it would be worth a visit. Kids would especially get a kick out of an upside-down house.
https://www.instagram.com/p/BxFHiwVDLA2/
They change the decor based on the seasons. They add snow, lights and holiday decorations around December, Easter decorations in the spring, and make the house really spooky for Halloween. 
https://www.instagram.com/p/BwHCpeSDwCX/
The people involved in the project work with local councils and private landowners nearby to make sure that the inside and outside of the house stay in tip-top shape.
https://www.instagram.com/p/Brca4MBDNsf/
If you're visiting England soon, learn more about the upside-down houses and where to find them here. What do you think about these incredible photos of an upside-down house? Would you like to visit them and take cool photos of your own? I sure would!