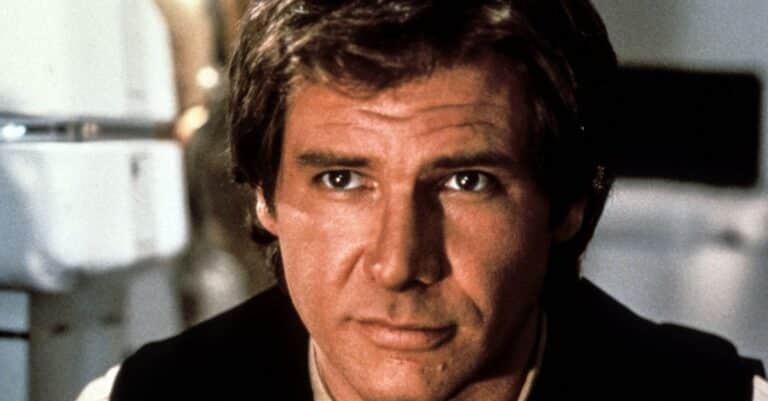 It has been reported that Harrison Ford is allegedly returning as Han Solo. It's not entirely clear which Star Wars project he will be returning for, but sources claim it may be The Mandalorian series or The Book of Boba Fett.
Fans of the Star Wars saga may remember when Han Solo was killed by his own son, Ben Solo—also known as Kylo Ren—who turned to the dark side to "finish what Darth Vader started." This was in 2015's The Force Awakens. So, to find out that Han Solo may, in fact, return for one of the spin-off series is exciting to many.
Will Harrison Ford return as Han Solo for an upcoming 'Star Wars' project?
The 79-year-old actor has currently been preoccupied with filming for the 5th Indiana Jones movie. From some of the on-set photos that have already been released, it appears that the use of de-aging CGI may have been used. Should this be the case for Ford's return to the Star Wars saga, it won't be a surprise as Mark Hamill returned for the end of The Mandalorian season 2 as Luke Skywalker as his younger self from the original trilogy in the '70s. Anything is possible with de-aging CGI!
Will Luke Skywalker be making a comeback, too?
With the brief appearance of Hamill's character at the end of The Mandalorian season 2 and now Ford potentially returning as Han Solo, it begs the question; will fans be able to see Luke Skywalker and Han Solo reunite in one of the spinoff series? Only time will tell, but fans certainly are excited as they did not expect to see Han Solo ever again after being killed in The Force Awakens.
It's also worth noting that Hamill's character had his own ending, too. After using all of his power to project his appearance from a whole other religion in The Last Jedi, his body can no longer go on and Luke finally dies. So, with both of these characters gone, it seems that Hamill and Ford were both set on not returning to Star Wars ever again. Now, it seems this may not be the case.