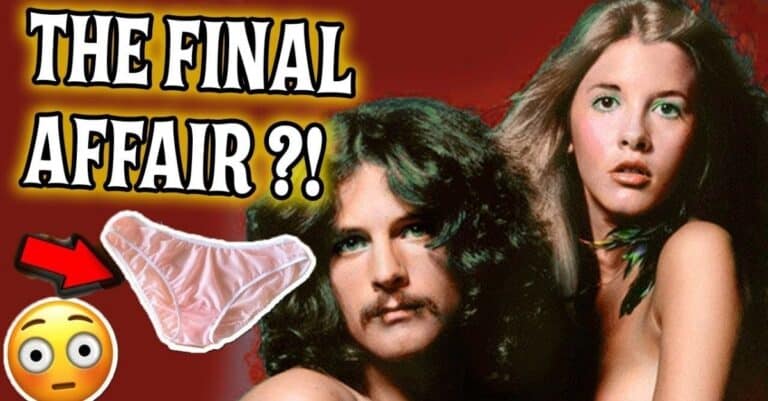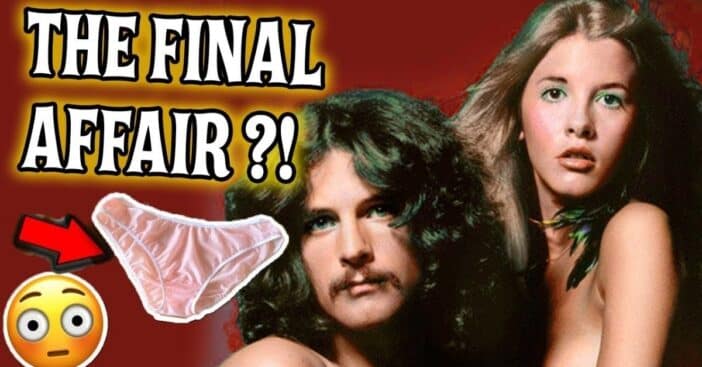 The British invasion had some dominating troops in its forces, from the powerful guitars of Led Zeppelin to the psychedelic rock of Pink Floyd, and of course, we were all seeing red doors thanks to Rolling Stones. But this is about the standout gritty, against-the-odds enduring music of Fleetwood Mac, one of the most prolific bands of all time.
Over a hundred million records sold, venues alongside actual world leaders, awards for contributing to the very nature of music itself – all this success is even more astounding when you know the inner turmoil and shakeups that Fleetwood Mac endured over the years. but Without further ado, let's find some dreams to sell.
Fleetwood foundations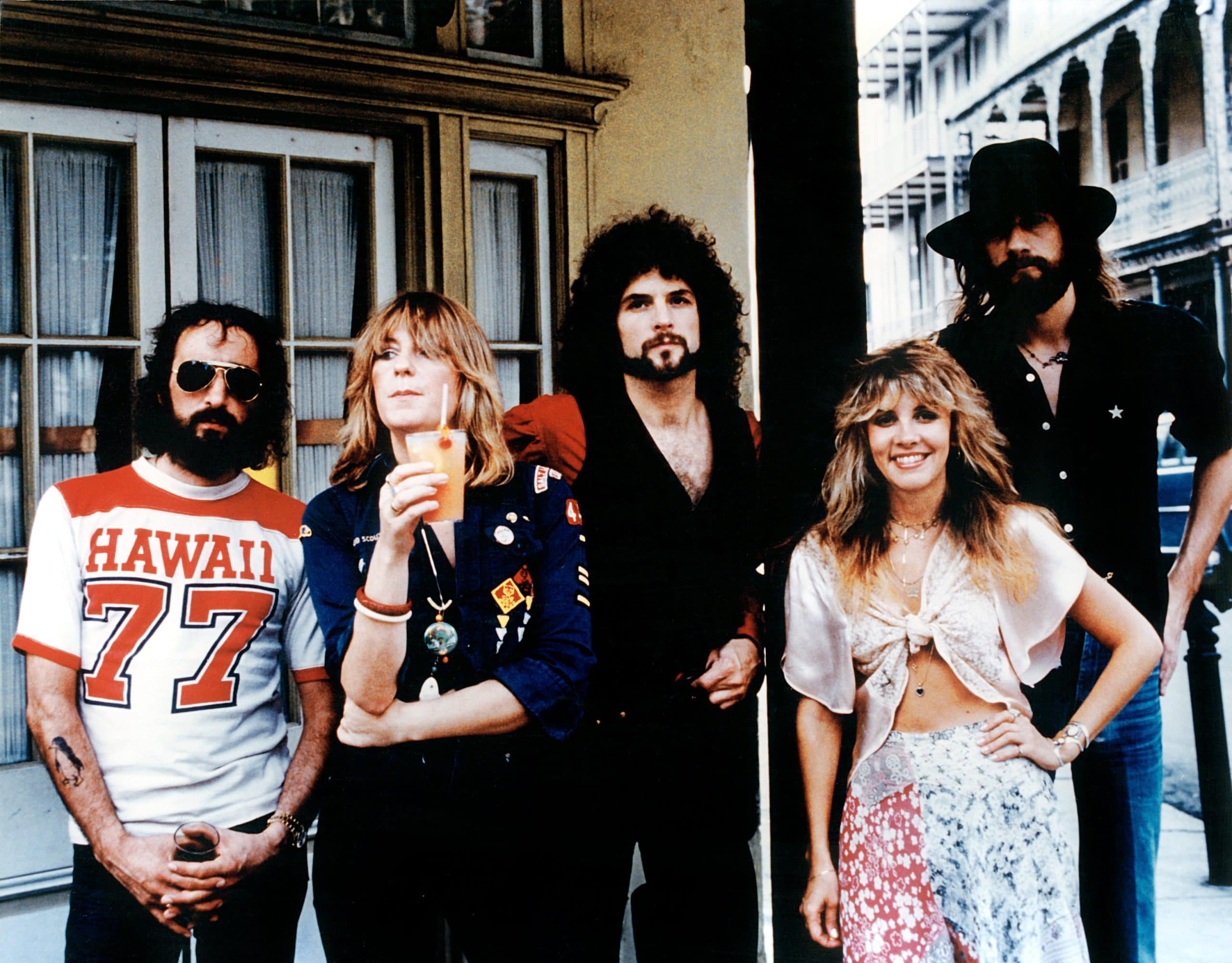 1960s London. The Fleetwood Mac of this time looked VERY different from what most of us know. It all began with Mick Fleetwood, and bassist John McVie, the rhythm section that would be the constant for the band over the many changing years. When guitarist Peter Green's band the Bluesbreakers went through membership changes of its own, he was set on working with Mick and John, and even suggested the band's name, ready to overlook himself. Then the three added slide guitarist Jeremy Spencer which laid the very foundations for Fleetwood Mac.
RELATED: Stevie Nicks Shares Her Side Of The Story About Lindsey Buckingham's Firing From Fleetwood Mac
Staying true to their roots, the band started by hitting it big with a number of blues songs, the biggest being "Albatross," in 1968 and "Black Magic Woman." The second is a great example of artists helping artists since by 1970, guitar legend Carlos Santana further propelled it into fame with singer Gregg Rolie. 
Not long into the band's formation, the old guard started switching out. The first hit came in the spring of 1970 when primary songwriter, Peter Green, walked out. He was behind those early hits like "Black Magic Woman" But success didn't ease his inner turmoil, and a heaping portion of LSD and a growing fear of money and greed led to his quitting the band and disappearing from the public eye.  
Then in '71, Jeremy Spencer disappeared from the lineup. Literally, he just didn't show up to a performance and wasn't seen for days. When he resurfaced, he had joined the Children of God cult and actually formed a new band of his own, but it never sparked a lot of commercial success. Probably the whole cult thing. Much of his life since has been a mystery; it's only known that he kept making music for the cult and moved country to country. Thankfully, he did resurface, just in time to take up his rightful place in the Rock and Roll Hall of Fame with the rest of the group.
Curse of Kirwan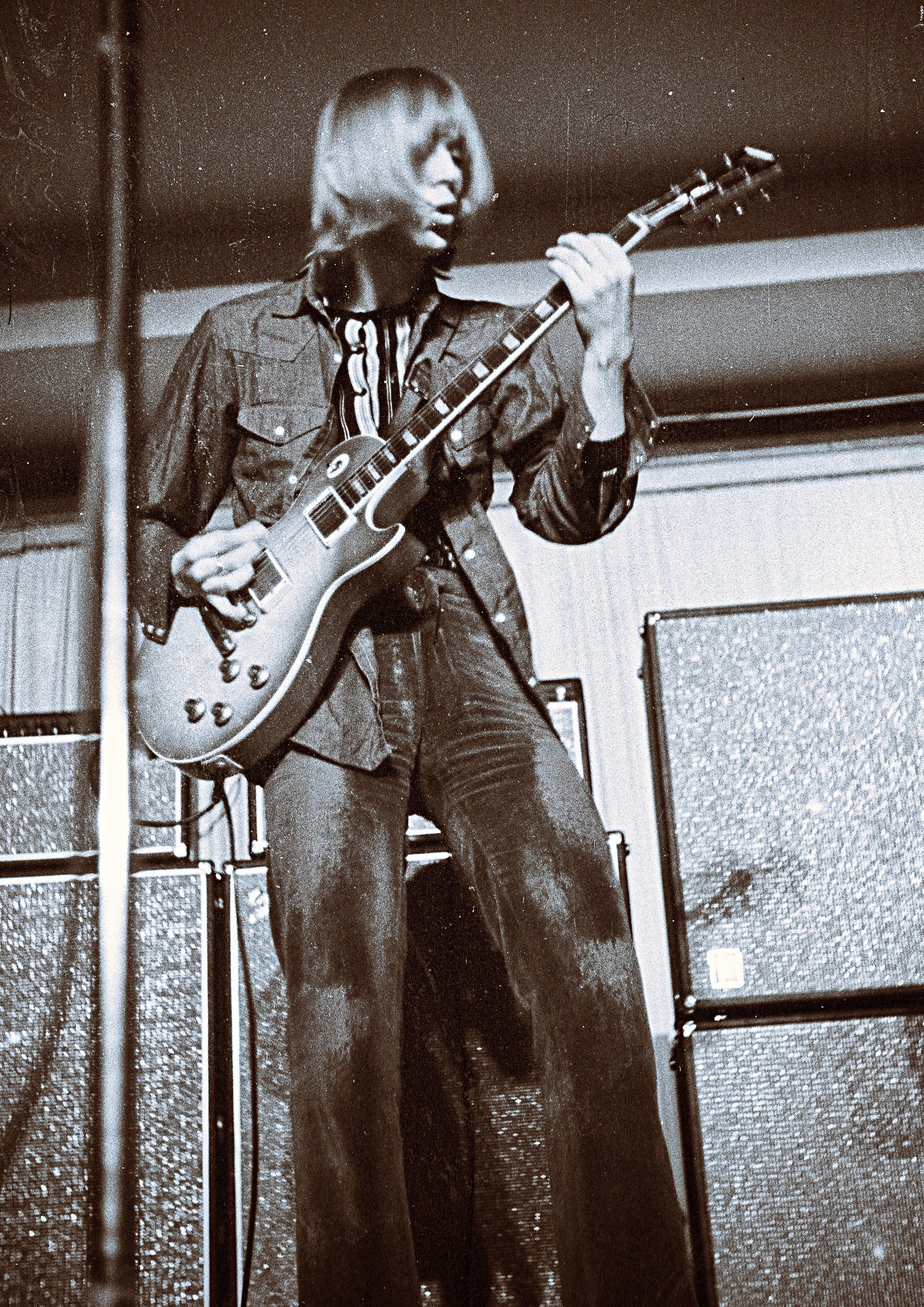 The memorable tenure of guitarist Danny Kirwan began in the late '60s when Peter Green was drifting further and further from the band. He was just 18 when he joined, quickly became a protege of Peter's, and brought a lot of fresh sound to their tracks. Peter Green himself credited Kirwan with the success of "Albatross."
It's also thanks to Kirwan's unique depth and range that Fleetwood Mac could branch out from being strictly blues. Cue the release of "Man of the World" and the truly definitive "Somebody's Gonna Get Their Head Kicked In Tonite." Kirwan leaned into Fleetwood's new rock n' roll sound keeping Fleetwood a household name. Except, they weren't always the people you'd want in your house.
Over time, Kirwan fell into alcoholism and became distant from his bandmates. Then came the summer of '72. Kirwan had a major breakdown, ran into the bathroom, beat his own head against the wall, and smashed his Les Paul guitar to pieces. All this right before a performance. Fleetwood said the breakdown was a result of the daily pressure Kirwan faced, but it was just one more sad curve on this wild ride. 
In the Nicks of time
By the mid-'70s, Fleetwood Mac relocated to California, had added the songwriting of pianist Christine McVie, John's wife and had a solid following but For the first time ever, they only had one guitarist, and had decided to be their own managers, definitely uncharted waters for a band of that size.
Then came a Gold Dust Woman, and man, to revitalize them. Fleetwood met Lindsey Buckingham while he was recording demos and Mick loved what he heard he asked Buckingham to join the band. Lindsey agreed, as long as his musical partner and girlfriend Stevie Nicks could come, too. And so four weeks after the last version of Fleetwood Mac broke up, a new Songbird had arrived.
Not a year later, Fleetwood introduced us to a song about a Welsh witch, titled "Rhiannon." This was a song Stevie wrote months before joining the band. It would be too romantic and frankly inaccurate to say Fleetwood's problems were magicked away with Stevie and Lindsey, but "Rhiannon" did work her magic. During a particularly memorable 1976 performance, the new team played together like they were all born for it, and they made it onto The Midnight Special, essentially the best of the best in music. I know they've done some wild performances of "Rhiannon" over the years, too, so if you've seen one, detail it in the comments.
Charisma check
We like to think the people behind our favorite songs got along as well as they performed musically. Sometimes that's even part of their draw –  ABBA is a great example. And with John McVie playing alongside his wife, keyboardist Christine, who painted some of the band's trippy artwork, this was the case. And of course, there's the famous, turbulent partnership of Lindsey Buckingham and Stevie Nicks.
Only problem is, that can backfire if that chemistry turns sour. Behind the scenes, it was a cesspool of drugs and drama. Stevie and Lindsey were supposed to be together, but Stevie was having an affair with Mick while he ended his marriage. Keyboardist Christine started sleeping with the band's lighting director while married to John. To which John would call, to quote his tone, "Drama. Dra-ma."
The higher they flew to the sun, the more interpersonal happiness melted away. John and Christine only interacted during work hours. Stevie and Lindsey only stopped shouting at each other during work hours. On top of all this, everyone felt HUGE pressure to release bigger hits, and before long they all relied heavily on drugs. It got to such an extreme, bandmates would hum the theme song to Chariots of Fire when they needed a hit.
Addictive personality
Stevie Nicks had one of the worst times with drug addiction, specifically cocaine. It got so bad Nicks not only spent more than $1 million dollars on cocaine over the years, but she didn't just burn through money, she burned through her nose. She would have blackouts and nosebleeds, but that wasn't even the worst it COULD have gotten.
Her doctor told her, quote, "The next toot you do could be your last. The tissue in your nose is very delicate. It could go straight up to your head, and then you could drop to the floor and die a lousy, two-hour death." Yikes. So, she went into rehab, but she then needed psychiatric treatment and picked up Klonopin, a tranquilizer.
Fakewood Mac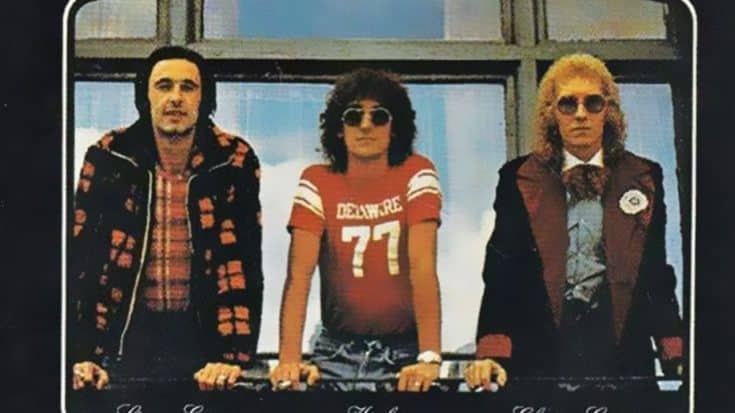 On top of everything else, Fleetwood couldn't even trust their manager Clifford Davis during one of THE most hectic times for them. Their 1974 American tour wasn't going smoothly, to say the least. So, Davis pulled the first-ever Deep Fake and hired a second, fake Fleetwood Mac to play at venues. And of course, who profit from this? Davis.
Shocker, This dissolved into one of many lawsuits in the music industry over who has the most power in the band-manager relationship. Because making the art and being the face of it doesn't guarantee a musician anything.
Art imitates life
Even though most of the group kept the drama a secret, it still found ways of seeping through the cracks… sometimes deliberately. Their woes turned up in quite a few song lyrics. "Go Your Own Way" is a melancholic response to Buckingham's dissolved relationship with Stevie. "Don't Stop" is a reminder that yesterday's gone was how Christine kept the past in the past so she'd look forward to a future without John, and that would pay off with "You Make Loving Fun," a celebration of that promise realized.
And everyone came together for "The Chain," with everyone reminding everyone I can still hear you saying / You would never break the chain. Oh, did it break, and those songs were something of a coping mechanism for everyone, let alone awesome tunes. I mean, the chain is still rad today. Christine remembers Mick as the voice of reason telling everyone to be mature and sort it all out.
Making use of everything
Just how Fleetwood's music spanned multiple genres, its style was something of a patchwork, too. They improvised and repurposed a lot. "Never Going Back Again" was just one of many songs all about soured relationships, and had an equally grueling process to record it. Sound engineer Ken Caillat, who co-produced and co-engineered Mac's 1977 album, Rumours, won the GRAMMY for Album of the Year. Well, Ken noticed that Buckingham's guitar sounded different 20 minutes after playing it. So, he had him restring the guitar three times every hour.
Contrast that perfectionism with "Second Hand News," using a faux leather chair as a percussion instrument, it doesn't get much more different! Other makeshift drums include a spatula against a lamb chop and a box of tissues. Inventive to say the least.
"Go Your Own Way" boasts some pretty memorable drum beats, too – this one from an actual kit. But with a shocking origin. Mick lives with dyslexia, and truly believes it shaped the way he thinks about rhythm. And it is a pretty unique style, one that other drummers liked to watch… only to get totally lost and confused.
The Buckingham Breakup
Fleetwood Mac Walked a Thin Line staying together. And when the LP Mask flopped in 1990, partly due to Lindsey Buckingham only playing on the title track, Stevie saw the writing on the wall and left to focus on her solo career. Thankfully, reunion tours were all the rage, and Nicks came back and stuck around for the long term.
So did Buckingham, mostly. And that was always a bit awkward for them. Nicks and Lindsey bonded over music when they were first in the band Fritz together, but Nicks would later share they probably only got together because they left that band. When they moved to LA, fans basically assumed they had to be a couple. And they did work well as a unit, but whenever times got tough, they fought hard.
When he and Nicks split, Lindsey chased what he had with Nicks in other women, but none saw the real him. Nicks knew him before the fame. And maybe he took that for granted when they were together. Biographer Stephen Davis alleges in his book Gold Dust Woman that Lindsey would actually hit Nicks, and references a New Zealand performance of "Rhiannon" when Lindsey tried kicking Stevie onto the stage. Nicks is rumored to have called her mom saying Lindsey pushed her down a flight of stairs. And when Lindsey started dating reporter Carol Ann Harris, Harris reportedly got similar treatment.
Fleetwood Mac added one more change in the lineup to its long tally in 2018 when they officially fired Buckingham. Stevie issued an ultimatum, she couldn't work with him anymore, and Lindsey sued the band for his estimated tour gains.
After all this, Nicks still wrote to Lindsey after a year of silence and asked that he take care of himself in the face of heart surgery. So what do you think, will there ever be yet another Fleetwood breakup? Our core lineup is Mick, John and Christine McVie, and of course Stevie. So here's to many more Silver Springs with them.
They've given us a lot over the last five decades – so now it's your turn, get in the comments and tell us, everyone, what your favorite Fleetwood Mac song is? Is Rumours the best record from the 1970s, start to finish? It's quite impressive so please tell me any more albums that compete. We wanna hear from you.