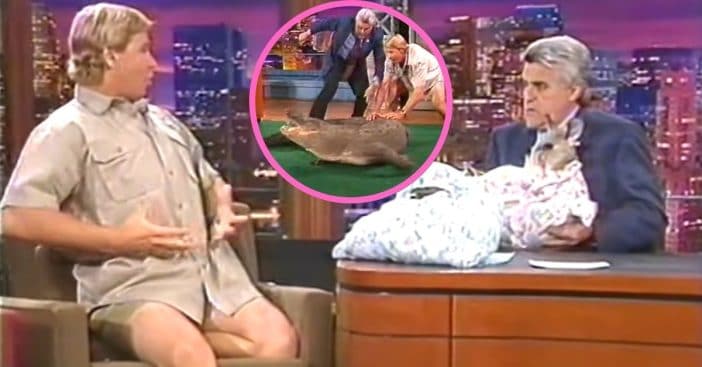 Late-night host Jay Leno has interviewed and performed sketches alongside a variety of stars and personalities. One of the most memorable remains when the late Steve Irwin appeared on The Tonight Show with Jay Leno, though he was not the only outside attended; he was joined by an alligator.
A 12-foot, six hundred pound alligator, specifically. And while Irwin adhered to the usual guest protocol, the alligator, a colossus named Morris, was not always so friendly. It got to the point where Morris nearly bit Leno while on stage. Learn more about the near miss here.
Steve Irwin on 'The Tonight Show with Jay Leno'
Back in October of 2002, Irwin appeared on The Tonight Show with Jay Leno and brought along two baby kangaroos, including one albino, a King cobra, and an alligator twice the length of an average male human. The kangaroos lapped up audience love when they lapped up milk from a bottle. But Leno's defenses were raised when the "particularly aggressive" serpent was confirmed to be "not happy," and Leno engaged in a round of keep-away between himself and the cobra.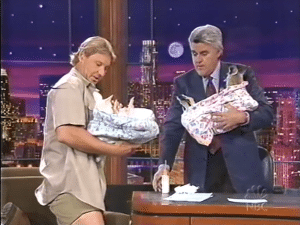 RELATED: Bindi Irwin's Daughter 'Lights Up' When She Watches Videos Of Late Grandfather Steve Irwin
Several helpers then brought out Morris, essentially a window to the past, since alligators started appearing in Earth millions of years ago and survived two extinction level events to remain around today.  Maybe part of that is their uncanny speed, which Irwin warned Leno about during his visit. "The only thing you gotta watch out for, Jay, is when he swings," Irwin cautioned, referring to when the alligator would swing his neck to one side suddenly, usually in the direction of some disturbance. "He'll actually swing around with such speed that he could actually grab you before you even know what's happening."
The jaws of an alligator can close at 30 miles per hour with a force of almost 3,000 pounds per square inch (psi).
Gotta be fast!
While Leno continued engaging with Irwin, Morris did not want anyone to forget he was there, and performed some prophesied swings and hisses, and all the while inched closer to the front of the stage – and more humans. Irwin led the efforts to pull Morris back and recruited Leno to help; together, they tug Morris back to a more acceptable spot.
While Irwin held Morris secure, the animal advocate asked Leno if he wanted to feel Morris a bit. When Leno did, however, Morris pulled another of his fabled swings, his jaw shoving right to where Leno's limbs had been off to the side. Leno chanted "Gotta be fast, gotta be fast, gotta be fast," while making good on that vow, and giving Morris a wide berth.
As the night's events unfolded, Leno had one final question for anyone who might listen: "How did I get this job?" Watch the iconic, heart-pounding scenes below.