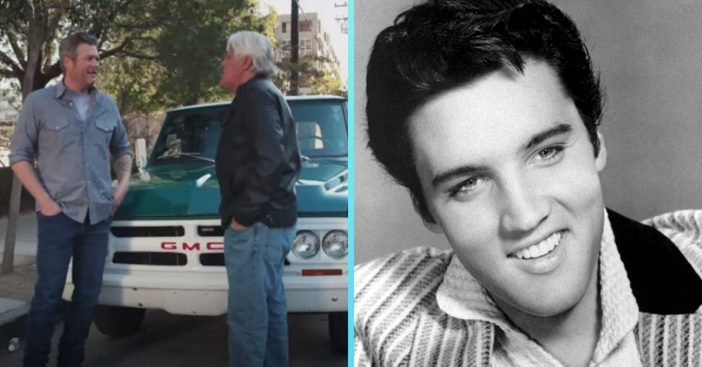 The show Jay Leno's Garage is returning. In Wednesday's episode, country singer Blake Shelton will appear and get an incredible opportunity! In a sneak peek clip, Blake gets to drive a 1967 GMC truck once owned by Elvis Presley himself.
In the episode, it appears Blake is driving while Jay tells him that the truck was owned by Elvis! Blake is stunned by the news. Jay says that they had it shipped out there for him to drive it. Blake had no idea that Elvis even owned or drove a truck, but Jay assures him that he had a lot of vehicles and he did drive that exact truck.
Blake Shelton gets to drive Elvis Presley's truck
Of course, knowing that he was driving a priceless truck made Blake a little nervous! He said, "Now I'm getting nervous. That is literally unbelievable. I never would've dreamed that Elvis Presley even owned a truck."
RELATED: Blake Shelton Hosted A Tribute To Elvis's 'Comeback Special'
View this post on Instagram
In the episode, Jay also told Blake about the other vehicles that Elvis owned. They also break the law while driving the truck! Blake pulls up to a red light and Jay tells him to drive right through it. No one was around. Jay joked, "You see, when you are driving Elvis' truck, you can go through red lights. That's one of the superpowers you get."
Jay Leno's Garage returns Wednesday (10 p.m. ET) on CNBC.