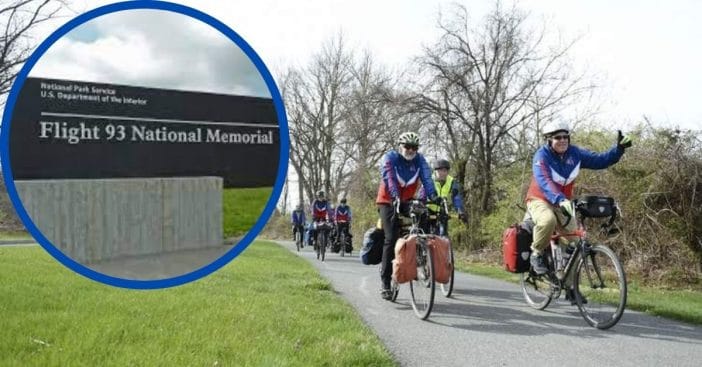 This September marks 20 years since the shocking terrorist attacks of 9/11, which hit the Twin Towers, Pentagon, and a lonely Pennsylvania field that became the gravesite for brave passengers that redirected their hijacked plane. Thousands lost their lives that Tuesday morning, and it is for those victims that the 9/11 National Memorial Trail Alliance will ride for this September, on the 20th anniversary.
The ride is the third of its kind now to honor all who lost their lives on 9/11, though the event itself will take place on September 18. The 9/11 National Memorial Trail Alliance put together "a 1,300 mile multi-use route that links the World Trade Center, the Pentagon, and the Flight 93 Memorial." It seeks to help people "remember, discover, and connect."
On the 9/11 National Memorial Trail
Board members of the September 11th National Memorial Trail Alliance visited #Berks this weekend to ride a section of the roughly 1,300-mile trail that connects the three 9/11 memorials. https://t.co/9OxqvBbFpO pic.twitter.com/G7hvqtFkuP

— The Reading Eagle (@ReadingEagle) April 22, 2018
The 9/11 National Memorial Trail is 24 miles long. The bike path begins in Berlin, Pennsylvania and ends in Stoystown, Pennsylvania, the crash site of Flight 93, which now houses a memorial to the passengers and crew, all of whom were killed on 9/11. When they knew the hijackers planned on weaponizing their plane, passengers and crew members rushed the cockpit to redirect the flight, ultimately crashing in Somerset County.
RELATED: Families Of 9/11's Flight 93 Victims Begin Annual Heroism Award To Honor Their Bravery
New York City firefighter Tim Brown explained of the trail, "This is where anyone can join a bike ride, take a private walk, or just sit, remember, and connect history with memories." Hundreds of emergency response crew responded to the attacks on 9/11, and almost as many died that day, or else suffered effects in subsequent years from inhaling so much debris. "I think the Trail reminds us of the heroes lost, but for those of us who continued on, it reminds us of the courage to live more fully, more purposely."
Honoring the fallen on the 20th anniversary of 9/11
The ride begins on September 18 at 9 am and is open to anyone who wishes to participate. It will be the third annual event of its kind to honor victims of 9/11 on the 20th anniversary of the tragedy.
In a similar vein, Frank Siller is taking up a daunting trek to honor his late brother Stephen Siller. Stephen had been a first responder who ended up perishing when the towers collapsed. Frank's own walk will begin at the Pentagon and end at the Pennsylvania crash site. May all who lost their lives that day always be remembered.