The boogeyman checks under his bed for Chuck Norris, resident martial arts expert and action star in real life. So, who better to join in celebrating earning a black belt in karate? One grandma managed two major feats by earning her final karate belt and attention from Norris himself.
83-year-old Carole Taylor started taking karate lessons a decade and a half ago. Inspiration struck after she took her 11-year-old granddaughter to lessons. Back then, Taylor was 68 and saw karate as the perfect activity that would engage her mentally and physically.
Taylor rises in the ranks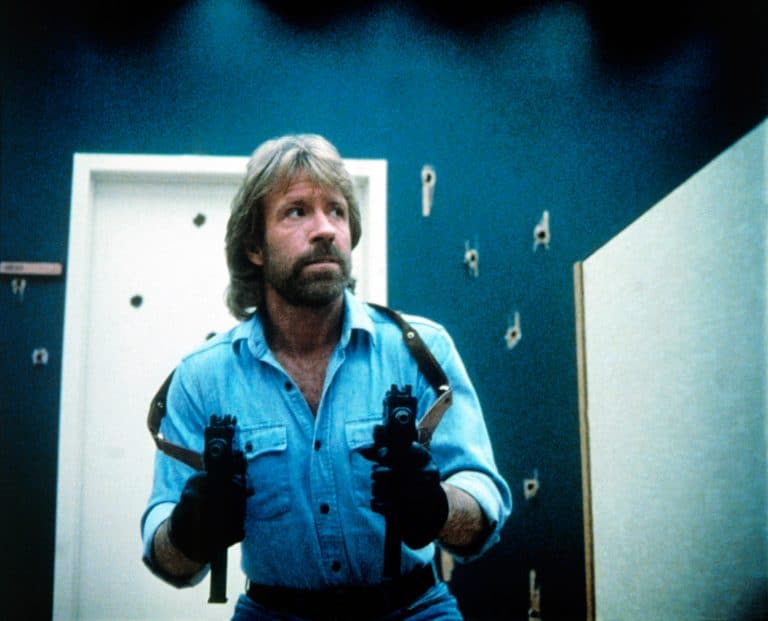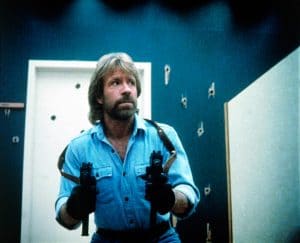 "I thought: 'Wow, this is mental and physical," new karate expert and grandma Taylor explained. "This would be a good thing for someone my age to do…. So I asked the teacher if it would be all right if I joined the class, and so that's why I did it."
RELATED: 102-Year-Old Woman Joins Great-Grandson's Virtual Gym Class, Becomes Viral Sensation
Each year, Norris has a United Fighting Arts Federation International Training Convention, which takes place in Las Vegas. Taylor attended the event on Saturday, and so did Norris, who witnessed Taylor put on quite the show, playing up her status as an elderly grandma. First, she hobbled to the stage before theatrically straightening and beginning her routine.
Grandma gets a black belt and a hug from Chuck Norris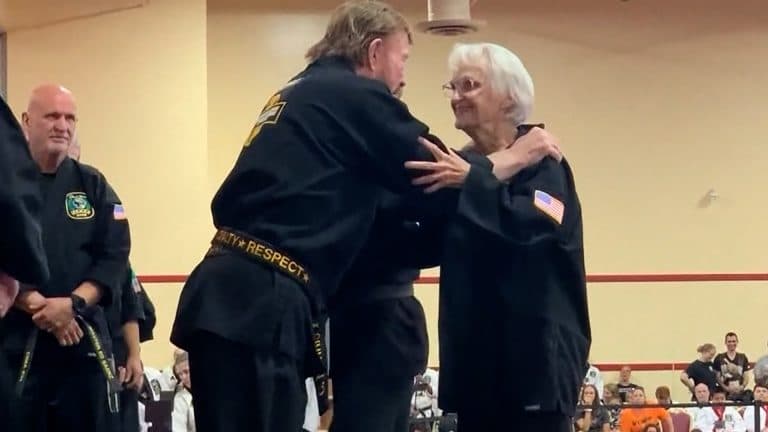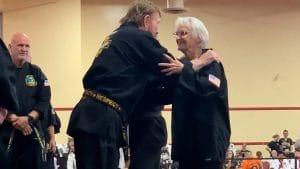 Taylor showed her stuff in front of dozens of spectators while "Little Old Lady from Pasadena" by The Beach Boys played. When she finished, Norris was among those giving Taylor an enthusiastic standing ovation. Thinking back on it and him, Taylor shared, "(Norris) was so kind, and he's 81, and he made some comments about that he had not been exercising all that much recently and that I had inspired him to go back and to begin to train again, and that made me feel very, very good."
So, it was an honor for them both when Norris personally bestowed upon Taylor her fifth degree black belt. On its own, a black belt takes a long time to earn, granted when the student displays discipline of the body and mind, and from there, it breaks off into ranks – or degrees – to show even more skill. That was just what Taylor set her mind to, and even Taylor's daughter Lacey Owens said, "It helps her mind to stay calm, to be able to focus on all the forms they have to learn, and that really has kept her brain fresh, I would say. It helps her to remember things, to memorize things." It also gave her "some purpose" after the coronavirus outbreak and subsequent turmoil.
Next up, sixth degree black belt, a new feat several years down the line. According to Taylor, she's very ready and willing to reach it!