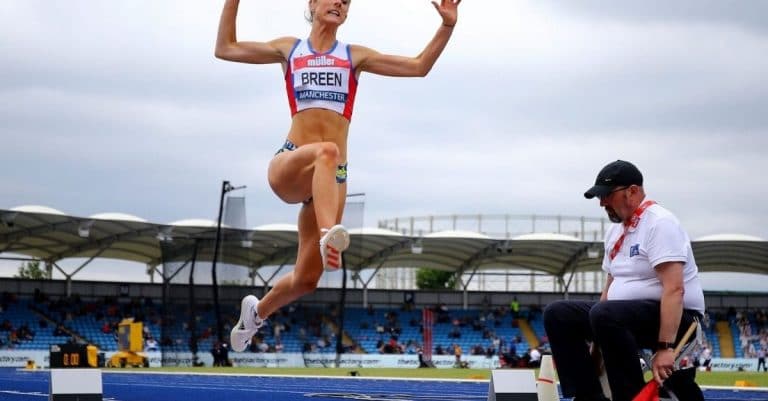 To compete on the world stage of the Olympics means representing the best of the best. For Paralympian Olivia Breen, she has proven herself as a sprinter, yet faced shocking criticism from an official who said her sprinting shorts did not look proper.
While participating in the English Championships running late this July, Breen was told her shorts were "too short and inappropriate." The comment left Breen shocked and she responded by outlining the situation on Twitter on Sunday. Here is how everything unfolded.
Olivia Breen calls out an official's comments
Here something I felt like sharing that's happened to me today at my competition @EnglandAthletic pic.twitter.com/QlYfPDmxEV

— oliviabreen (@BreenOlivia) July 18, 2021
"Here something I felt like sharing that's happened to me today at my competition," Breen tweeted on Sunday, tagging @EnglandAthletic, the event's Twitter username. "I am always grateful for the incredible volunteers who officiate at athletics," her statement went on.
RELATED: Bodybuilder Banned From American Airlines For Shorts Being 'Too Short'
"They do an amazing job and make it possible for us to compete. However, tonight I feel quite disappointed because just as I finished my long jump competition at the English championships, one of the female officials felt it necessary to inform me that my sprint briefs were too short and inappropriate. I was speechless. I have been wearing the same style sprint briefs for many years and they are specifically designed for competing in. I will hopefully be wearing them in Tokyo."
The heart of the issue
Let's keep this brief… @BreenOlivia we stand with you, in our briefs, in confidence. ❤️ pic.twitter.com/sOo1adPFwl

— Lounge Underwear (@loungeunderwear) July 21, 2021
In particular, Paralympian Olivia Breen was floored that such criticism came from another woman, instead of something uplifting as she took to an international stage. Additionally, she concluded, "I [recognize] that there needs to be regulations and guidelines in relation to competition kit but women should not be made to feel self conscious about what they are wearing when competing but should feel comfortable and at ease."
Breen plans to represent Britain in the 2021 Tokyo Olympic Games, which kick off Friday, July 23 and end Sunday, August 8. She has cerebral palsy, and wants to make sure comments like from that official don't "ruin confidence and self-esteem" for anyone else with big dreams. What do you think about the statement and ensuing fallout?