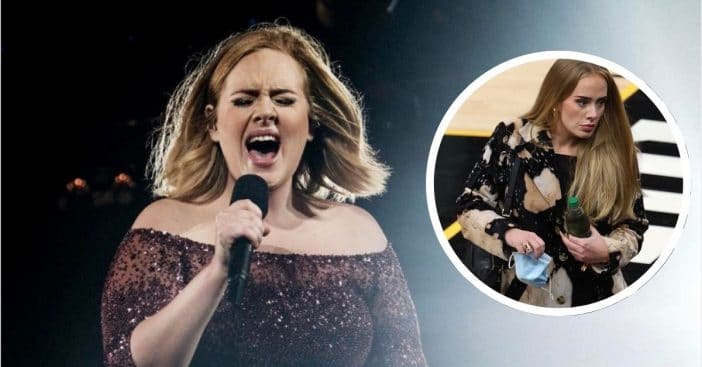 After recently taking to enjoying more quiet, personal time, singer Adele was spotted at the NBA Final game. This gave her the chance to watch the Milwaukee Bucks play against the Phoenix Suns.
All the while, she sported a long flowing tan coat on top of a black jacket and top, all over fitted black leggings. The outfit showed off her body and its transformation since she lost 100 pounds.
Adele crosses new milestone in her 100-pound weight loss
View this post on Instagram
Some sources trace Adele's weight loss back to 2016 in time for her 25 album tour. Her personal trainer, Pete Geracimo, cited personal health and better lifestyle pursuits as the motivating factor after the singer's weight loss actually stirred debate and concern from fans.
View this post on Instagram
RELATED: Valerie Bertinelli Shares Tearful Message To Online Haters Who Comment On Her Weight
On the one hand, her supporters wanted to make sure she wasn't going to extreme or unhealthy lengths just to lose weight. On the other, body-positive followers disliked the emphasis the media put on her weight loss, adding that her musical accomplishments should be the only headline-worthy news. For her part, Adele chronicled her transformation with Instagram posts, including a black-and-white one captioned "Thirty Free."
Seeing the ongoing culmination of lifestyle changes
According to an insider who's already set things right about Normani, Ariana Grande and other artists we can expect new songs from Adele before the summer ends. pic.twitter.com/5WV8BWktUO

— Adele Daily (@adeledailynet) July 19, 2021
These days, Adele is all about loving herself, even before reaching this approximately 100 pound loss. She shared a makeup-free selfie celebrating her 33rd birthday and she was all smiles to personally congratulate England at the UEFA European Football Championship.
View this post on Instagram
"You did us so proud!" she captioned the photo. "You brought our game home and brought us all together." As long as it's through healthy means and she's happy, may Adele continue to get the chance to do the same as well!