As much as cooking food on the grill and star-spangled banners waving everywhere, fireworks are a staple of many Independence Day festivities. But that might be less so the case this year under the threat of a fireworks shortage, limiting what people can purchase.
This threat is actually a residual consequence of last year when fireworks sold at unprecedented numbers. As a result, consumers demand might be checked by the supply at hand. Here's what experts advise if you planned on enjoying the holiday weekends with a bit of sparkle.
Last year's trend disrupted sales and may have sparked a fireworks shortage this year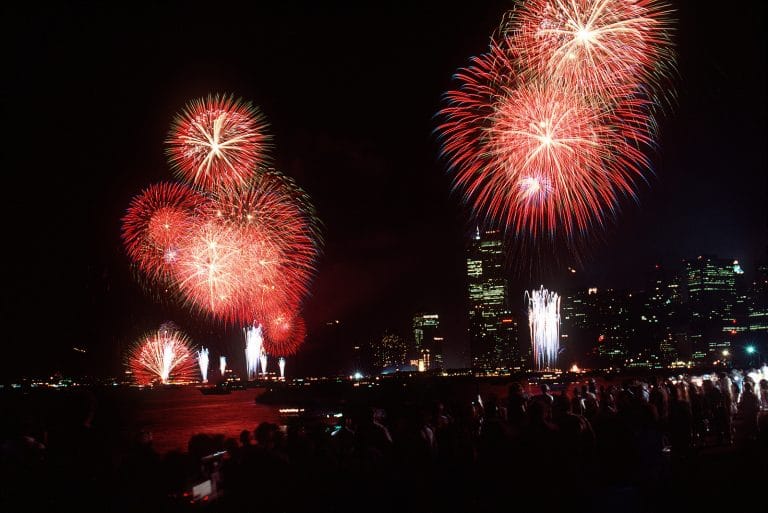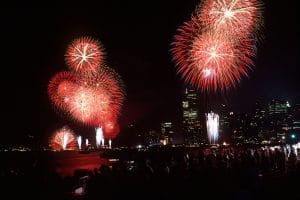 Stephen Pelkey is the CEO of Atlas PyroVision Entertainment Group, New England's largest source of sophisticated pyrotechnic displays for private venues, sporting events, and even municipality-sanctioned festivals alike. Pelkey revealed that the fireworks industry saw an unprecedented boom in consumption last year. In fact, sales from 2019 of $900 million doubled by 2020 to a whopping $1.8 billion.
RELATED: Get Ready For July 4th With These Facts You Never Knew About Fireworks
"So naturally," Pelkey went on, "you're going to have a disruption of having a lot of those companies try to resupply at those levels." The pandemic drove this fireworks shortage in other ways too. There have been factories closing in China and an increase in shipping costs to 250% to 300% or more. Another logistical hurdle is that only 70% of ships that could transport fireworks overseas are operating, so when fireworks are ordered, they have to wait on their means of transport.
How will this affect your Fourth of July weekend?
When supply decreases or becomes messier to guarantee, price increases, even in the face of skyrocketing demand as well. There's been a 5% to 8% increase in cost for raw materials used in fireworks originating in China, which provides 94% of America's fireworks imports, according to Statista. NPR cites an even higher value of 99%. Back in the states, Pelkey anticipates consumers can see an increase somewhere between 15% to 20% in prices, and that this might become the new standard for the industry.
As for actually acquiring fireworks for Fourth of July, "The only way to get around [the shortages]," Pelkey advises, "is if you're going to need fireworks for the Fourth of July, buy it early, if you're going to need fireworks in August or September, buy it now." Even for festivities later in the year, he urges consumers to plan ahead and make sure they get what they want early, "Because there may not be those items or even any of the particular items that you're really interested in."
Will you be celebrating Independence Day with fireworks?