Butch Patrick, known as the original Eddie Munster on The Munsters, got to take a literal drive down memory lane with a replica each of the Dragula and Munster Koach. He road alongside Singer-songwriter-actor Rob Zombie in a video posted to Instagram.
The match emphasized each icon's unique personality and persona. In The Munsters, Patrick was a werewolf-esque youngster part of a larger family of creepy characters. Zombie meanwhile lets his appearance emphasize his hardcore heavy metal musical artistry.
Butch Patrick can still drive the Munster mobiles
View this post on Instagram
Tapping into the horrific creative genius of Universal Pictures, The Munsters stayed creative with the family's vehicles. Grandpa Munster rode the Dragula, while the rest of the family could get behind the wheel of the Munster Koach, made from a stolen funeral coffin.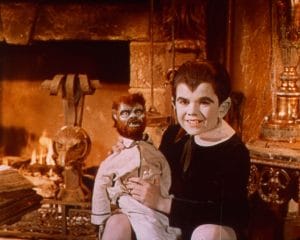 RELATED: 'The Munsters' Cast Then And Now 2021
Eddie Munster can still drive the family vehicles since his actor, Patrick, owns replicas of each. Usually, though, Patrick brings these mechanical masterpieces to themed conventions or charity events to stir excitement and support. Recently, he and heavy metal rockstar Rob Zombie took the Koach for a spin in a documented drive.
Rob Zombie drives the coffin and the camera
View this post on Instagram
Zombie shared a video of their drive on his official Instagram account. "Ever wonder what the view is like speeding down the road in the Munsters Koach?" the caption reads. "Well, here it is as captured by @the_real_butch_patrick_," referencing the official Instagram page for Butch Patrick. In traditional Munsters fashion, it is shot in black-and-white.
View this post on Instagram
This may be to stay in the spirit of Zombie's latest project, a Munsters reboot in the form of a feature film. No official decisions have yet been made, but some rumors put Sheri Moon Zombie as Lily Munster and Jeff Daniel Phillips as Herman Munster. It also has Daniel Roebuck, Richard Brake, Jorge Garcia, and Cassandra Peterson. Take a drive back down memory lane and into the future with Rob Zombie's video and the upcoming reboot.