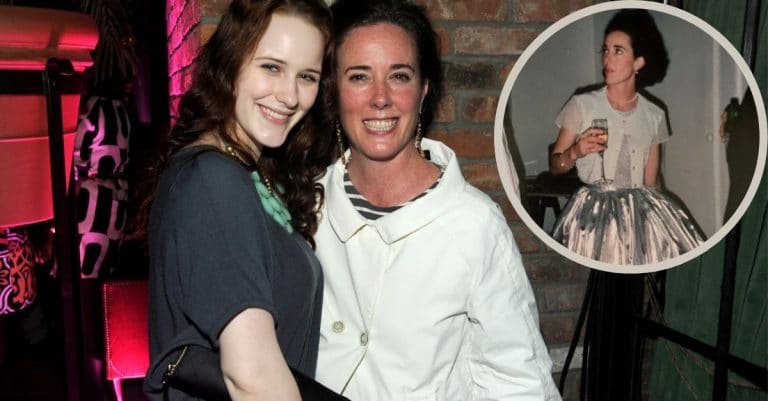 On June 5, 2018, fashion designer Kate Spade died at the age of just 55. Born Katherine Brosnahan, she is the aunt of actress Rachel Brosnahan. Recently, the actress paid tribute to her late aunt three years since the designer's passing.
The official report on Spade's death ruled it suicide by hanging, and a statement from her husband Andy Spade noted that she "suffered from depression and anxiety for many years. She was actively seeking help and working closely with doctors to treat her disease, one that takes far too many lives."
Rachel Brosnahan honors her late aunt Kate Spade
View this post on Instagram
Earlier this week, Rachel Brosnahan took to Instagram to pay tribute to designer Kate Spade with photos and a tribute post. Shared on the three-year anniversary since Spade's shocking and devastating death, Brosnahan posted a picture of Spade in a silver dress with a thick, shining skirt.
Rachel Brosnahan shares tribute to aunt Kate Spade on the anniversary of her deathhttps://t.co/J469UtzkSc

— ET Canada (@ETCanada) June 6, 2021
RELATED: Zak Williams Shares Impactful Tribute To Robin Williams For Suicide Prevention Day
The caption reads "Missing Katy B today and every day," followed by a yellow heart. In the world of symbolism, the color yellow can have many meanings, including when associated with a curled ribbon – such as the pink ribbon for cancer. Relating it to ribbon color, yellow can refer to suicide prevention, making Brosnahan's tribute both a heartfelt admission and an important note of solidarity and call for awareness.
A legacy continued
Rachel Brosnahan honors Kate Spade three years after designer's death: 'Missing Katy B today and every day' https://t.co/nxTCNrzLLm pic.twitter.com/VIE1821pxP

— Yahoo Entertainment (@YahooEnt) June 7, 2021
Spade's niece has carved her own path, in her case in the acting world. Born on July 12, 1990, she is currently 30 years of age. Spade would have gotten the chance to see the start of Brosnahan's most popular role, that of Amazon Prime Video's titular Marvelous Mrs. Maisel. But her career spans back to 2009 in the Michael Bay horror film The Unborn, in which Brosnahan played a high schooler. After that, she appeared in single episodes of various drama shows.
Rachel Brosnahan for Kate Spade (2018) pic.twitter.com/Mb5isE5tKg

— joy (@careymilfigan) June 5, 2021
Following her aunt's death, Brosnahan shared another poignant post online, writing, "She had a light that words can't capture but touched everyone she came into contact with. She was exceedingly kind, beautifully sensitive, insanely talented, funny as heck and one of the most generous people I have ever known. She was effervescent. Hug your loved ones extra tight today." Her words accompanied a video of Spade dancing with an apparently joyful look.