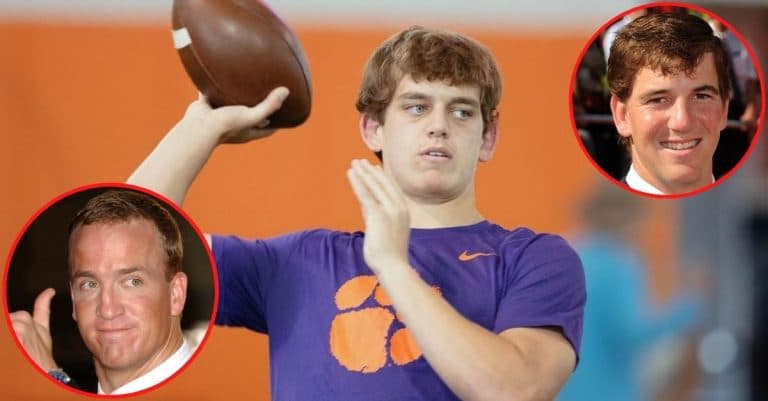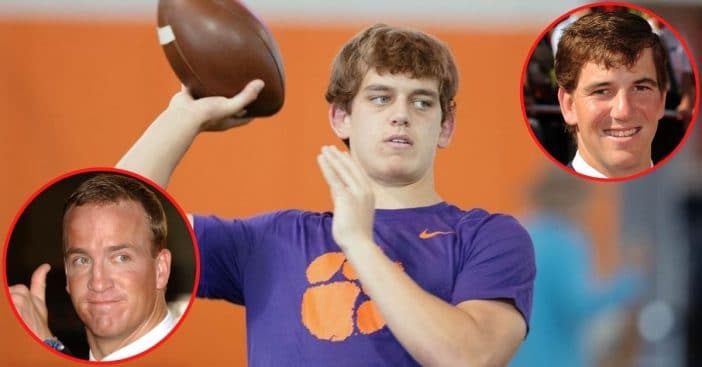 Arch Manning, who is the nephew of Peyton and Eli Manning, recently went viral on social media after his 50-yard touchdown toss. Arch, who is entering his junior year at Isidore Newman School in Louisiana, visited Clemson this past weekend and threw an impressive 50-yard touchdown toss in front of Clemson head coach Dabo Swinney and his staff.
Arch is considered a five-star recruit in the 2023 class at his school, and it's no secret why. He completed the touchdown to wide receiver Matayo Uiagalelei, who is the younger brother of Clemson quarterback D.J. Uiagalelei. He is also one of the top-ranked in his class.
Arch Manning proves why he is the best of the best
Arch Manning connects with Matayo Uiagalelei at Clemson's camp.

Both are ranked as Top 15 players in the class of 2023.

🎥 Via: @thekjhenry / IG pic.twitter.com/oh5cCyaKqK

— Hayes Fawcett (@Hayesfawcett3) June 5, 2021
Arch's Uncle Eli and grandfather Archie both starred at Ole Miss, whereas Uncle Peyton played college ball at the University of Tennessee. As for Arch, he may be taking his legacy elsewhere. "I'm wide, wide open," Arch tells The Athletic in an exclusive interview.
RELATED: Betty White Appears In New NFL Promo To Celebrate 100 Seasons
"Arch is open-minded right now," Arch's father Cooper Manning tells the publication. "He is going into everything wide-eyed and excited to meet people and develop relationships. He's starting to figure out what he likes and what he doesn't like in terms of the offenses and the systems. He's looking forward to getting a better feel for the schools and their atmospheres."
Arch reveals that no one is pressuring him to do anything or play anywhere – not his parents, coaches, etc. However, they are a fantastic resource of knowledge for him. "No one's pressuring me to do anything. I mean, I don't even have to play football in college if I don't want to. But I want to go play at a good school, and I think every college has something great to offer. I'm not singling out anywhere."