Jackie Coogan, credited as America's first child actor, with 125 movies and 750 TV shows to his name, won a lot of regard for himself. Between the quantity and quality of his roles, Coogan became certifiably famous, working with the likes of Charlie Chaplin as a merchandise magnet, and the kooky and creepy Uncle Fester from The Addams Family.
Despite his role as The Kid drawing all sorts of campaigns that netted hundreds of thousands of dollars, Coogan's favorite role always remained that of Uncle Fester. In the end, it wasn't about the money but the character himself. Learn his reasoning for preferring The Addams Family here.
The Kid vs. Uncle Fester
With his dark, sunken eyes, completely hairless body, and wild smile to rival even his brother Gomez, Uncle Fester would easily stand out in a crowd. That's not even counting his wild antics, which included major property damage to 0001 Cemetery Lane, which only leads to more hijinks on the insurance company.
RELATED: 'Addams Family' Star Jackie Coogan Was Haunted By His 'Lost Childhood' When He Played Uncle Fester
Jump back to the 1920s and fans can see (but not hear) Jackie Coogan in a totally different role: that of the Kid, "John," a mischief-maker and crook always looking for the next way to earn a buck. The silent film The Kid ended up making Coogan a veritable icon. "We pioneered the commercial tie-up market," Coogan reminisced. "At one time, my name was on 50 or 60 different items, from dolls to pencil boxes. Peck and Peck paid us $100,000 per year to put out a Jackie Coogan line of clothes. Millions and millions of caps were sold."
It wasn't about the money for Jackie Coogan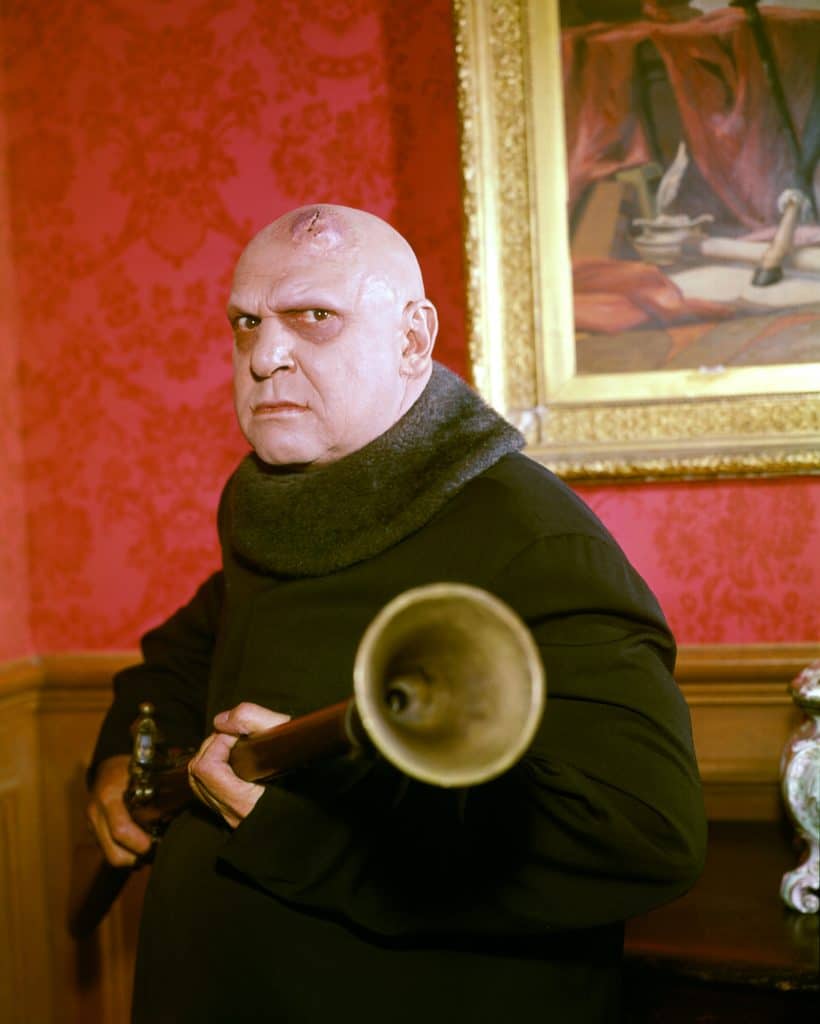 "Ask anyone," Coogan himself countered. "Public adoration is the greatest thing in the world." Indeed, Fans could easily enjoy Coogan, himself overflowing with joy thanks to playing Uncle Fester, as he bicycled home while still in makeup; Coogan loved playing the creepy uncle so much, he often forgot to take it off after filming.
For this reason, Coogan always preferred Uncle Fester over his most profitable role of the '20s. "adoration is the greatest thing in the world," he explained. "He's 120 volt AC and DC, and he's great with dynamite. His only trouble is that he's one of the great losers of our time. He would make a great spy, but he kinda stands out in a crowd. Fester appeals to youngsters because he thinks like they do. Every time he suggests, 'Let's shoot 'em in the back,' the kids share his straightforward approach to the situation."
Even so, the character's appeal to a broader audience befuddled Coogan, who admitted, "Fester never talked in the Addams family cartoons. So I raised my voice an octave and gave him a beetling look. He's my kind of people. He's an irascible old goat, and I can't honestly say why everyone loves him." Who was your favorite of The Addams Family and why?