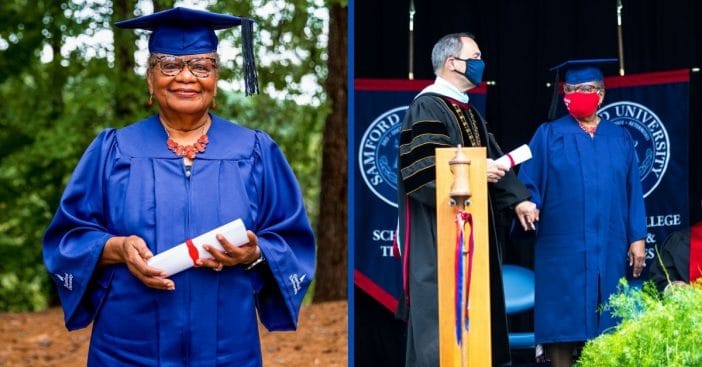 Never put an age cap on big dreams or simple wants alike – or anything in between. At the age of 78, Vivian Cunningham is a prime example that it's never too late for anything, including earning a college degree while also being a stellar great-grandmother.
As graduates turn in their tests and don their gowns for graduation ceremonies gradually made in-person again, they're joined by a senior with a lifelong love for learning. She, like many of her younger peers, now officially has a liberal arts degree from Samford University in Alabama.
A round of applause as great-grandmother Vivian Cunningham as she retrieves her diploma
It's #nevertoolate to finish your education, and Vivian Cunningham walked across the stage at 78 years young, diploma in hand. Her story is one of faith and determination; we are blessed to be part of her journey. Congratulations, Vivian! #SamfordGrad2021 https://t.co/5zfyLJTpXA pic.twitter.com/H4JDc7Sl4S

— Samford University (@SamfordU) May 8, 2021
"If I could have done cartwheels across the stage, I would have," said Vivian Cunningham, a 78-year-old college graduate and great-grandmother of three, grandmother of three, and mother of two. Her family joined Cunningham for her in Birmingham, Alabama for a very meaningful graduation ceremony.
RELATED: 80-Year-Old To Graduate College And Receive Exemplar Award
She could bask comfortably in the moment as a retired Alabama Power Company worker. Following the ceremony, she was officially deemed an undergraduate college degree recipient, with a concentration in liberal arts studies. She hopes this moment acts as an inspiration to others and so far it's seemed to be doing just that.
Who inspires the inspirational?
78-year-old Vivian Cunningham graduated today from Samford University with a degree in Liberal Studies — Read the full story here >> https://t.co/rSedCpF8jA pic.twitter.com/xvvMGaCiFs

— ABC 33/40 News (@abc3340) May 8, 2021
"My friends have called and told me that it has motivated them," she shared. "And some of the young ones in my family, too. They said if I can do it, they can do it." Cunningham offered a piece of advice from everyone who could learn from her six-year journey: "I say follow your dreams, don't let anyone tell you it can't be done, keep pushing and keep God in the plan."
But what kept that spark of education enthusiasm alive for Vivian Cunningham all these years? Cunningham credits her children Tarra Barnes and Donald Cunningham, her son-in-law, retired Army Col. Rob Barnes, Samford Office of Professional Studies director Bryan Gill, and associate director Nicole B. Otero. All of them helped her stay the course.