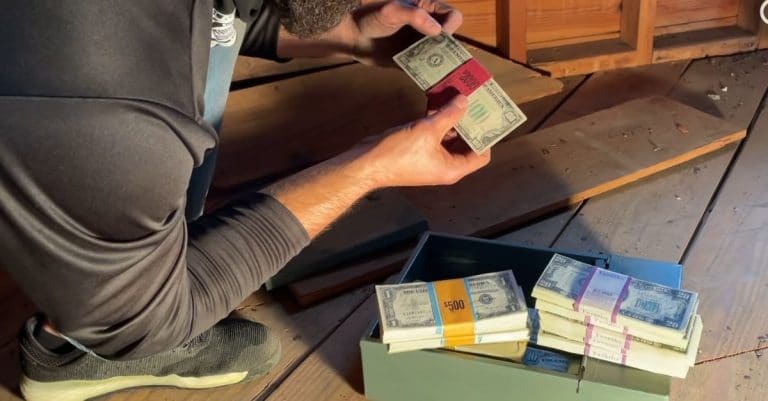 A Massachusetts family often lived with the rumor that a cache of cash existed hidden away in the attic, dating all the way back to the Great Depression. Their searching appeared in vain until they called in an expert.
If there's something strange in your home attic, who you gonna call? Treasure hunters! Specifically Keith Willie with the YouTube channel RediscoverLost. With his experience and tools, he helped this eastcoast family exactly what they'd always dreamed of and more.
An unyielding attic was a pain in the cash
When a Massachusetts family clung to the old family myth of Great Depression-era cash hidden in the attic, they wanted to believe. Even more, they wanted to find something. They thought they tore the attic apart looking meticulously, pouring over the floorboards for hidden compartments and the like.
RELATED: 9 Surprisingly Delicious Recipes, From The Great Depression, You Should Try
Finally, Keith Willie came onto the scene. He brought with him a YouTube channel known as RediscoverLost. Willie writes on his channel, "I take pride in reuniting people with lost possessions and the thing that means the most to them and their families." He ended up doing just that, thanks to also bringing some special equipment.
The right approach unearths cash from the Great Depression in the attic of legend
The house itself was built around the 1950s, but legends of the cash it would come to harbor dated back to the Great Depression. Though the family checked all over, Willie had just the right tools for the job. He utilized lights, an endoscopic camera, and a metal detector. Finally, just an hour into his work, he struck gold.
He unearthed a lockbox with no key in sight, so he pried it open. Inside, he found dollar bills kept in good condition. Silver certificates and other related clues indicated some of these could be collector's items. Indeed, they could be traced from the 1930s through the 1950s, the point at which the family stopped adding to this collective savings. They likely felt compelled to save money at home after the Stock Market Crash of 1929. For Willie, this find marks the "most exciting find to date." Do you have items from historical eras such as these? What do you hope to find someday?