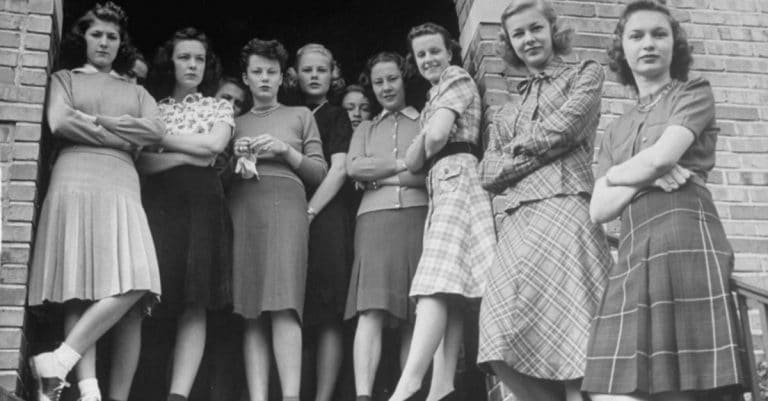 David Hoffman is a baby boomer who grew up around Hicksville, Long Island, where he also attended high school. According to him, just one town over, in East Meadow/Levittown, Long Island, New York, schools put together a video about dress codes, particularly for girls.
Having witnessed this policy's rise and fall, Hoffman decided to chronicle his observations and reflect at the rules governing clothing in schools over the years. His video analyzes the greater context of American culture at home and abroad, and the greater implications of a dress code over autonomy.
Propriety defined school dress codes decades ago for boys and especially girls
As Hoffman notes, both girls and boys were expected to be dressed properly, respectably, and formally for classes. The school dress codes usually required penny loafers and Peter Pan shirts for girls, complete with a skirt or dress whose hem reached at least to the knee.
RELATED: Do You Remember When Girls Weren't Allowed To Wear Pants To School? The History Behind It
Hoffman muses over dress codes as a small-scale early way to exercise control over young, growing, independent minds. Even before women made the outright transition to pants, they exercised some control over their outfits through accessories. If they must wear dresses, then they added thick belts to show off their waistlines. And where sweaters had to be worn, women would wear them so they fit tightly. As long as they weren't too tight, they could get away with this move to further show off their figure under the thick fabric.
Self-expression or "clothing rebellion"?
Should someone fall out of line with these school dress code restrictions, they'd have an audience with the assistant principals, responsible for enforcing the code. To ensure they addressed any rebels, these enforcers would measure skirt length – and even hair length.
In Hoffman's video and pictorial montage, he juxtaposes authority figures vying for control over young minds with varying levels of strictness. Even boys had to meet certain requirements, most notably those condemning open-front shirts, or tops with buttons undone. Without control yet over their wardrobe, children might rebel in other ways, as showcased in one of the videos of an unruly math class and its dismayed teacher. As the class displays, when authority figures have a level head and approachable demeanor, everyone can get along just fine.
As Hoffman notes, changes in dress code allowing girls to wear pants to school arose in the '70s, right when the women's liberation movement gained major momentum. Instead of hiding pants under their skirts for warmth, women could show them off freely. Administrators of those days likely couldn't imagine where fashion would take kids with the outfits they'd wear to school with the freedom to choose.