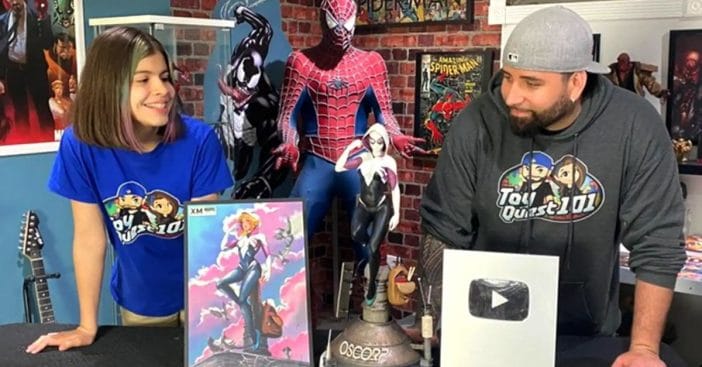 When Miguel Figueroa encouraged his daughter Illiana to start her own YouTube channel, Illiana was the one to shut the idea down. She felt she wouldn't be able to accomplish something like that because she has autism. Figueroa, who never wanted his daughter to feel limited by or from anything, decided then and there to teach Illiana, others on the autism spectrum, and the world, that she can do anything her heart desires and thrive while doing so. As a result, father and daughter now run a YouTube page called ToyQuest101 that's all about uplifting special needs children.
This journey began four years ago when Figueroa first suggested the channel. At the time, Illiana had been nine with a full life to live yet taught by society to feel limited just for seeing the world differently. Now, their channel, ToyQuest 101, has 119,000 subscribers and counting, as of April 26.
Illiana and Miguel Figueroa empower others through ToyQuest101
Check us out !#autismawareness https://t.co/DXTam7047r

— ToyQuest101 (@toyquest101) March 2, 2021
Four years ago, Miguel Figueroa suggested his daughter start her own YouTube channel, like other channel hosts she herself liked to watch. He then revealed, "She said she couldn't do it because she had autism. As a parent, it kind of broke my heart because it was the last thing I was expecting her to say." He decided to counter this way of thinking and turned his "man cave" into the location for ToyQuest 101.
RELATED: No One Would Hire This Man With Autism, So He Opened His Own Coffee Shop
The duo's channel now has almost 120k subscribers. Its mission reads: "Our vision is to bring awareness and promote a culture of acceptance where all kids with autism and special needs can be empowered to do what they set their mind to." On a personal note, Figueroa shared of Illiana, "She was more excited than anything else." But the positive impact didn't end with excitement.
A channel that encourages everyone on the autism spectrum to never feel limited
Wow ! Thank you so much @PebblesBoston for covering our story all the way up in Boston on @HOT969Boston ! We appreciate it so much but more that your segments are all about good news, good people, and good vibes ! We need more positive energy like this in the world ! pic.twitter.com/WZWp3vrLyT

— ToyQuest101 (@toyquest101) April 25, 2021
"Illiana was talking more, engaging more, completing her sentences, trying to pronounce words," Figueroa further stated. "Lot of things that we struggled with growing up with autism." Ultimately, ToyQuest101 affected a "huge change in her excitement level and her engagement and her wanting to kind of come out of her shell."
Illiana and her father want the channel to do the same for all other viewers on the autism spectrum, with special needs, or any other uncertainties and doubts. Success is for everyone, just as happiness and pride and comfort in who they are. ToyQuest101 reminds viewers that with each video, many of which are fun toy unboxing clips. As of last week, all their video views totaled 55 million views. Among those viewers, parents have reached out to express their gratitude. Additionally, other special needs individuals revealed what an inspiration the channel became. Some even felt encouraged enough to start one of their own.
For Figueroa, they've already far surpassed his personal goal as a father. "It gives me goosebumps because no matter how many subscribers we have, no matter if we have 55 million views, if we could impact just one person and even if it was that little girl, that's what matters the most," he said. Check out one of their videos below.