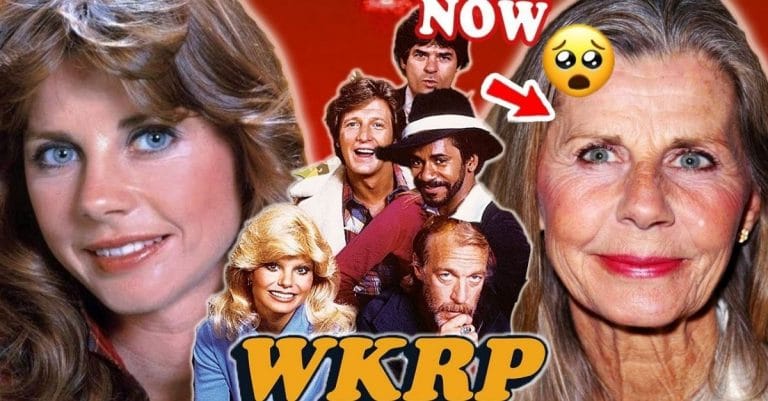 *FAQs at the bottom of article*
UPDATED 2/28/2023
WKRP in Cincinnati is a subtle masterpiece with eight distinct characters that enjoyed four stellar seasons from 1978 to 1982. This show was extremely authentic, the credit for which goes to creator Hugh Wilson, who based the show upon his experiences working in ad sales at a radio station in Atlanta. WKRP didn't pull great ratings, but did earn ten Emmy nominations and was heralded by disc jockeys for its accuracy. This show had a cult following and enjoyed huge success in syndication, eventually warranting the spinoff The New WKRP in Cincinnati. The cast of WKRP made this one of the most compelling sitcoms of the '70s and '80s. This show remains a classic. 
Today we're heading back to the station to see what the staff got into after the videotape filled up. That's right, this show was videotaped instead of filmed because rights to rock songs were cheaper for a taped show than for a filmed one. That's genius. 
1. Gary Sandy (Andy Travis)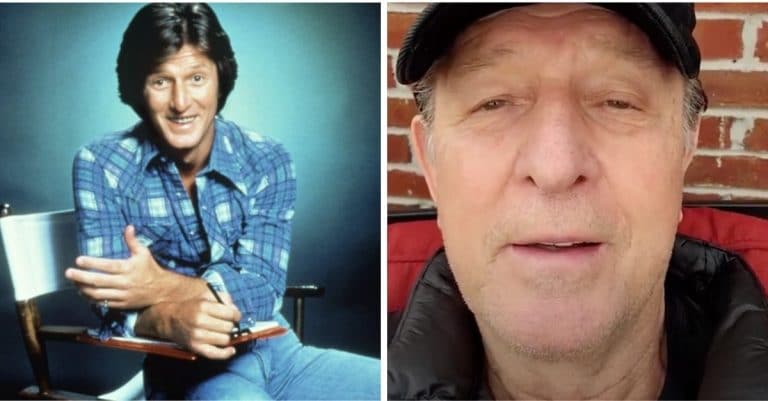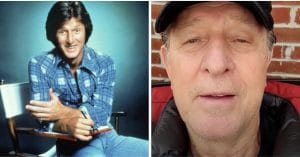 Andy Travis is the new program director and turns the station from elevator music to rock — with his feathered hair Andy was handsome and wholesome, a sharpshooter who forms quite the bond with his staff. His satin WKRP staff jacket was actually a modified Cincinnati Reds warm-up jacket, one of many nods to the hometown team.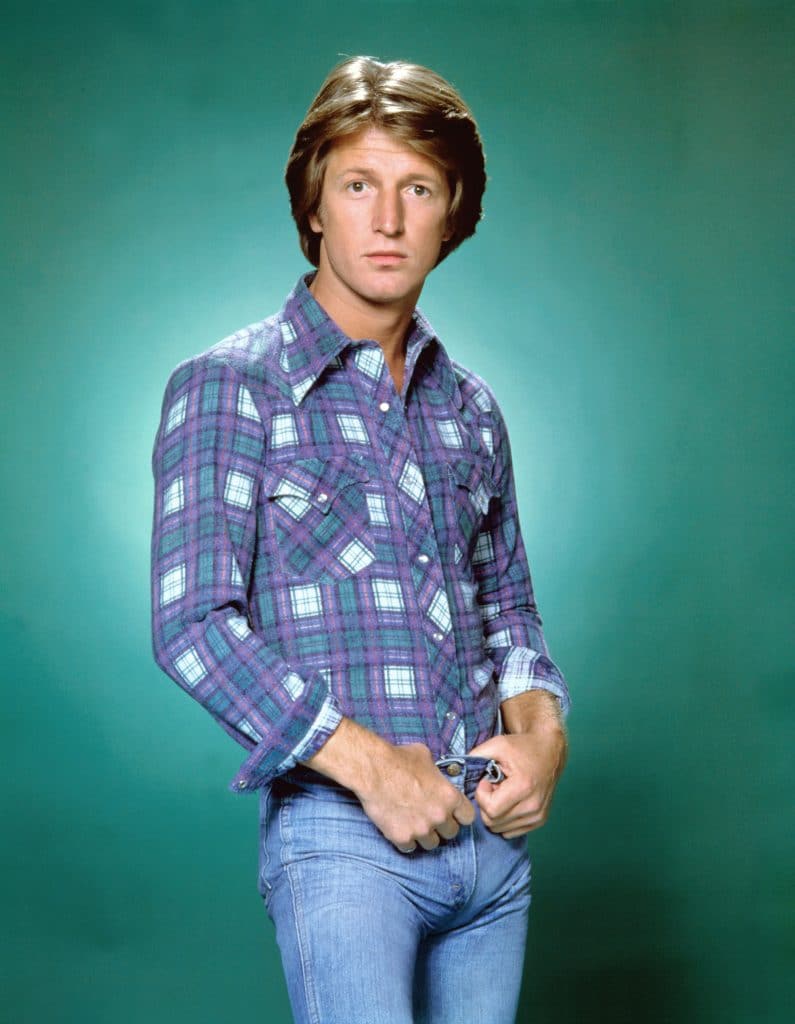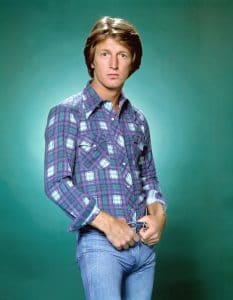 And Gary Sandy was the perfect everyday man for this sitcom. He was even born in Dayton Ohio and lived in the state until after college. Gary's acting career began in 1970, with guest roles on some great shows like an episode each of Medical Center and Barnaby Jones, but nothing close to his Andy Travis.
In 1986, he starred alongside the Neverending Story's Noah Hathaway in the film Troll. It's a pretty bad but fun Ghoulies or Gremlins attempt if you haven't seen it. We last saw him in the 2004 made-for-TV movie, A Place Called Home. The film featured Bye Bye Birdie star and former Elvis lover, the beautiful: Ann-Margret. Today he's 77 years old, and still acting but mainly stage work and, coincidentally, he's also doing some radio dramas.
 

2. Gordon Jump (Arthur Carlson)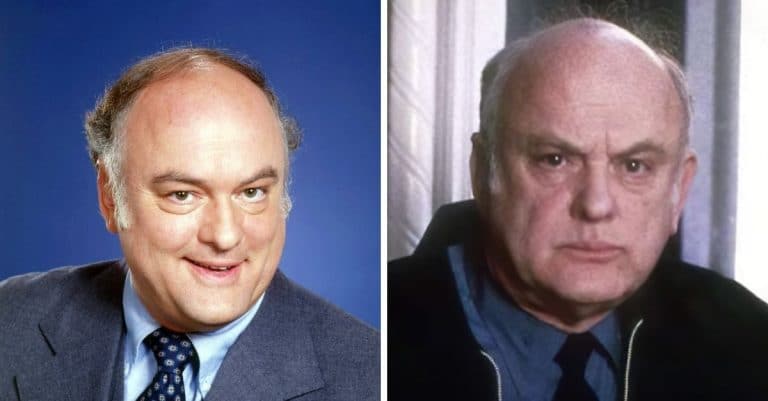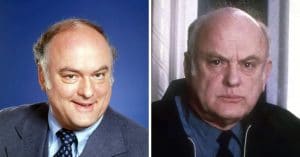 Arthur Carlson, aka the 'Big Guy,' is the stammering awkward general manager whose main qualification is that his overbearing mother is WKRP's owner. Thankfully Gordon himself was very qualified for his job.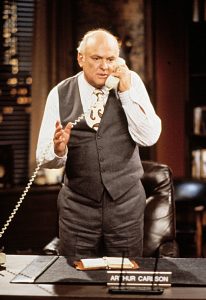 Interestingly enough, Gordon was also born in Dayton, Ohio and his first job was actually in a radio station. He began acting in 1965 with an episode of Daniel Boone. Then he started working constantly, including seven episodes of The Partridge Family in the early '70s. And if you haven't watched our Then & Now episode about the Partridges, go see what Susan Dey and company are up to. The year before he became Arthur Carlson, he was Chief of Police Tinkler in the popular show Soap. Along with reprising his Carlson in The New WKRP, he also played Ed Malone in the wildly popular Growing Pains. One of his final gigs was in the ninth and final season of Seinfeld, as George Costanza's boss at a playground equipment company over two episodes. Jump sadly died in 2003 at the age of 71 from pulmonary fibrosis, but his footprint on television history is quite significant.
3. Jan Smithers (Bailey Quarters)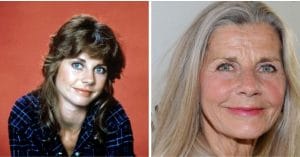 Bailey Quarters was originally in charge of billing and station traffic, the young ingenue of the station if you will. However she's savvy, and later on, we see how much more competent she is than Nessman. The character of Bailey Quarters was based on creator Hugh Wilson's wife. Smithers started her career as a model, featured on the cover of Newsweek Magazine in 1966. Her acting career bloomed in the 1974 film, Where the Lilies Bloom. But besides four episodes of The Love Boat, she didn't do much after playing Bailey.
We last saw her perform in 1987's comedy Mr. Nice Guy as after which she retired from acting. From 1986 to 1995, she was married to actor James Brolin and the two have one daughter together named Molly Elizabeth. Today, Jan is 73. She also enjoys traveling, specifically to India. In a recent interview, she says, "I learned to meditate there, and I changed a great deal." Smithers has traveled there for 16 consecutive years, becoming an advocate for wellness and spirituality.
4. Frank Bonner (Herb Tarlek)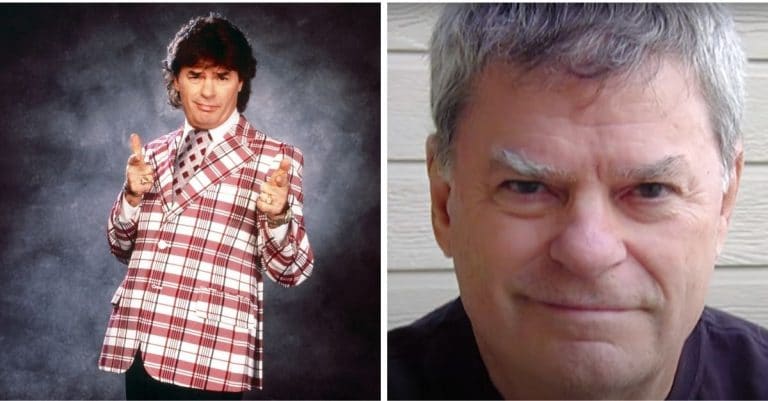 Herb Tarlek was the vain sales manager with the tackiest suits in Cincinnati, often referred to as the "Little Guy" to Arthur Carlsons' "Big Guy." Frank Bonner got his start in the 1970's cult classic Equinox, which has some great stop-animation monsters if you've never seen it. In 1978, Bonner was injured in a parachute accident when a freak wind left him falling 20 feet to the ground. This is why you may remember his Herb on crutches for some of Season 2.
From 1988 to 1990, Bonner played the headmaster of the fictional St. Augustine's Academy on the TV show Just the Ten of Us, which was a spin-off of Growing Pains. Frank didn't just act on WKRP, he also directed for the first time, and did six episodes in total. He has gone on to direct many shows, from 11 episodes of Harry and the Hendersons to all 105 episodes of the late 90s show, City Guys. Sadly, Bonner died in June 2021 at the age of 79 from complications from Lewy body dementia.
5. Tim Reid (Venus Flytrap/Gordon Sims)
Venus Flytrap, whose real name was Gordon Sims back when he was a teacher, instead of the funky evening DJ. Venus was smooth-talking and soulful. So iconic, his character inspired Tim Meadows' to create Leon Phelps for the SNL sketch "The Ladies Man." Tim Reid began acting in 1974 and his big break was WKRP. After which he joined the hit CBS detective series Simon & Simon for nearly 80 episodes.
His next television mainstay was in the '90s show Sister, Sister starring as Tia and Tamara Mowry's onscreen father. Reid never slowed down. We recently saw him in the 2020 Lifetime movie, A Welcome Home Christmas. Today, he's 78 years old and also founded the Legacy Media Institute, a non-profit organization that seeks to attract young people to film. 
6. Howard Hesseman (Dr. Johnny Fever)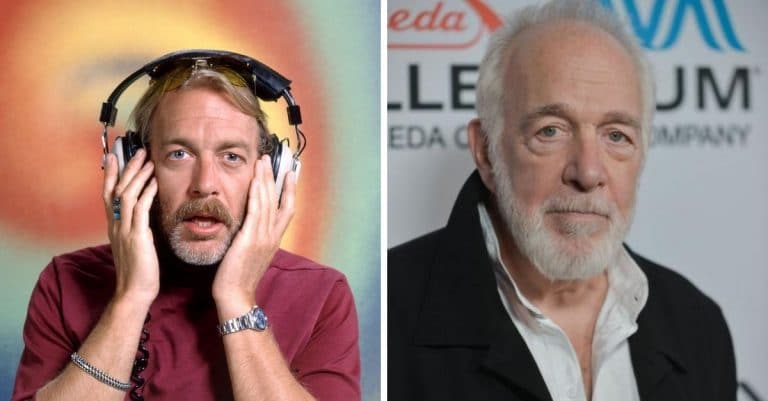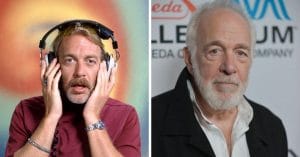 Dr. Johnny Fever is a heavily caffeinated anti-disco DJ who we all wanted to be. He came to WKRP after being fired from his last gig for saying "booger." Needless to say, he adjusted to the rock style swimmingly. Hesseman was originally asked to audition for the part of Herb, but he felt he was only right for Johnny Fever and refused. That's Dr. Johnny Fever for ya and Hessman would be nominated for two Emmys for his work.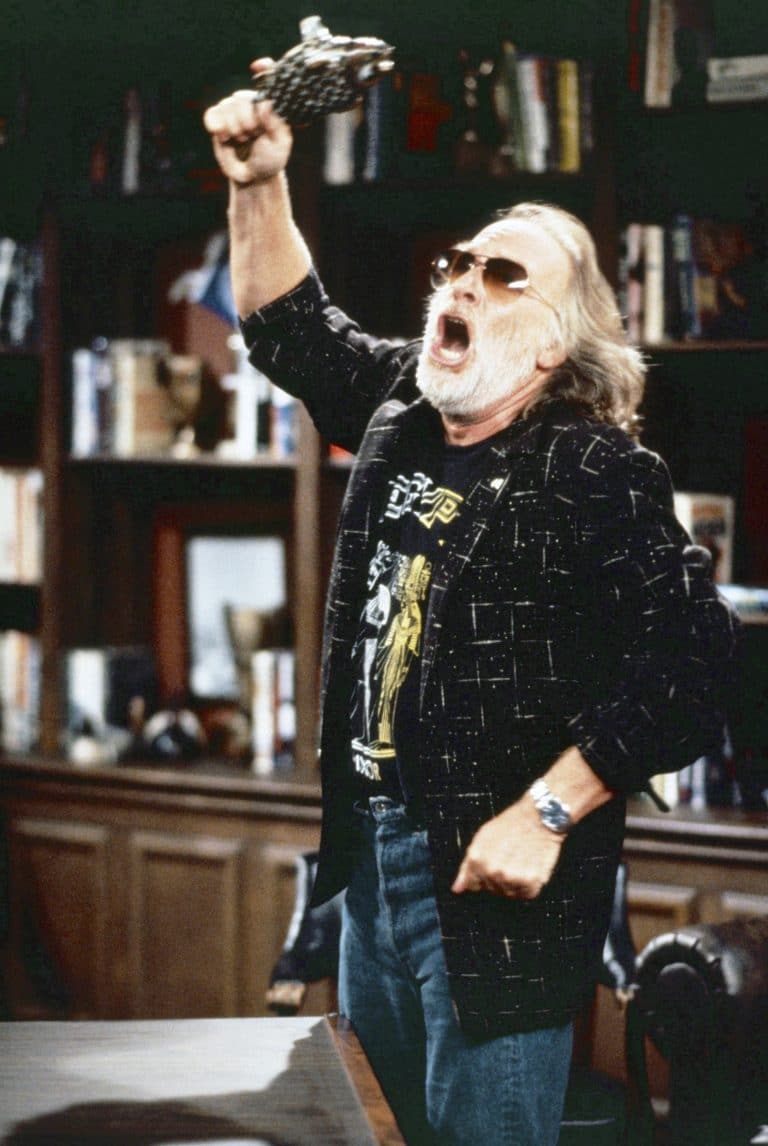 Howard Hesseman's first gig was his two episode on The Andy Griffith Show in '68. However, Hesseman's first recurring gig was that of 13 episodes on Mary Hartman, Mary Hartman. After WKRP, he had another starring tv job as Charlie Moore on the ABC series Head of the Class from 1986 to 1990. He was everywhere in the '70s and '80s, even appearing on SNL three times. We last saw him in 2017 in two episodes of Season 3 of Fresh Off the Boat. Sadly, Howard passed away from complications of colon surgery on January 29, 2022, at the age of 81.
7. Richard Sanders (Les Nessman)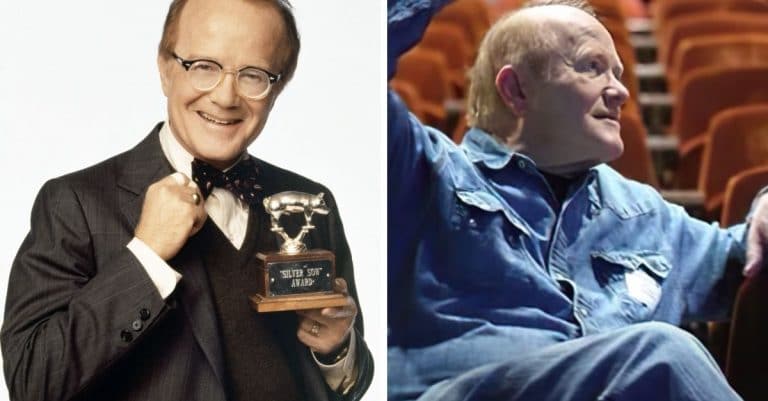 Les Nessman is a very serious reporter, but is fairly incompetent at the same time. It's kind of endearing, actually: he had a running gag of "find the band-aid" — supposedly his character had a bad, big dog at home, so Les always sported some injury-ware.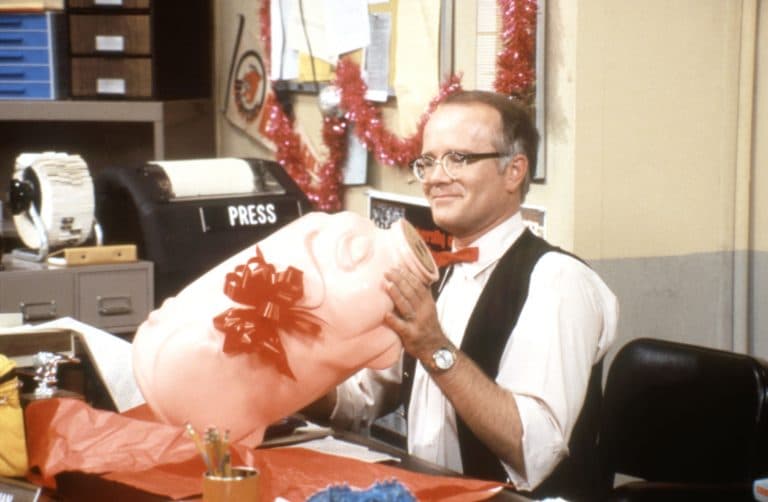 Richard was hysterical as Nessman, highlighted in "Turkeys Away," especially when he broadcasts live from the Pinedale Mall as Carlson dropped turkeys from the sky. "The turkeys are hitting the ground like sacks of wet cement!" What a line. And the fact that it wasn't entirely fiction; Hugh Wilson said he based the plot on a similar promotion spearheaded by a station in Dallas where they threw turkeys out of the back of a truck that shockingly went awry. And Sanders brilliantly narrates the entire thing. before lending his voice to InHumanoids. But he shined again in the WKRP revival. We last saw Sanders act in 2006 in the comedy Expiration Date. Today he's 82 years old and hopefully avoiding all things turkey. 
8. Loni Anderson (Jennifer Marlowe)
Jennifer Marlowe is the station's receptionist and also its highest-paid employee. And probably the biggest reason why most people, men in particular, tuned in. But she didn't just have looks, she was incredibly friendly and good-hearted. Loni refused to be the dumb blonde type. Her Jennifer was not only smart but a journalism major. And Loni was quite brilliant in the role, constantly deflecting calls for Carlson. 
Loni Anderson began acting in 1966, but didn't really hit her stride until the late '70s, which included five episodes of The Love Boat. I was surprised that her next TV show attempt, 1984's Partners in Crime alongside Wonder Woman herself, Lynda Carter, didn't last past one season (for more on lovely Lynda, check out our Wonder Woman Deep Dive Episode). In 1993, Anderson was added to the third season of the popular sitcom Nurses, playing the hospital administrator. 
Aside from her acting career, Anderson became known for her colorful personal life, particularly her marriage to actor Burt Reynolds. They starred in the 1983 comedy Stroker Ace, which was a critical and box office flop. The two adopted a son together named Quinton, but divorced in 1994 after six years of marriage. Today Loni is 77 years old, and will forever be remembered as one of the biggest sex symbols of the 1970s.
So, what's a great episode of this TV show that you remember fondly? Maybe one besides "Turkeys Away"? Did you have a favorite character from WKRP? Can any actual radio station employees speak to the authenticity of this show? Tell us in the comments below, we wanna hear from you. 
Are any of the cast of WKRP in Cincinnati still alive?
Five cast members from WKRP in Cincinnati are still alive. This includes Gary Sandy, Richard Sanders, Tim Reid, Jan Smithers, and Loni Anderson.
Who was the brunette on WKRP?
Bailey Quarters was the brunette on WKRP. She was portrayed by actress Jan Smithers.
Does Jan Smither have children?
Jan Smithers has one child, Molly Elizabeth Brolin, with actor James Brolin. They were married from 1986 to 1995.