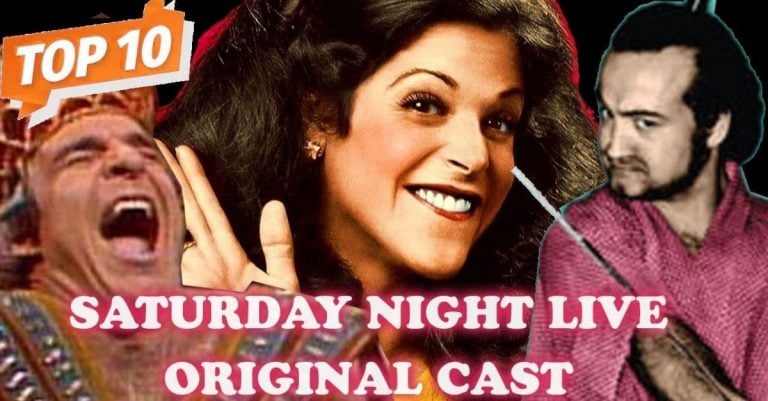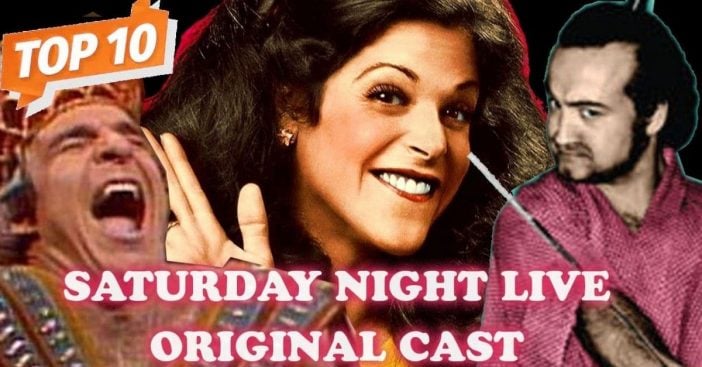 Today we're counting down the Top 10 SNL Skits, courtesy of that Original Cast! The Original Cast of Saturday Night Live, better known as SNL, was a troupe of renegades. The Not Ready for Prime Time Players began busting into our living rooms on Saturday evenings with their first episode on October 11, 1975, with a little help from host George Carlin!
NBC hired Lorne Michaels to create a show destined to run on Saturday Nights. They would begin making sketches that would alter Saturday Nights forever. These are our Top 10 Sketches from before the '80s. Let's Go!
Thanksgiving Dinner with some of the original cast members – Season 5, Episode 5 (1979)
Host Bea Arthur is Aunt Judy who has cast the four youngins to the basement kiddy table. Enter Bill Murray, Laraine Newman, Jane Curtin, and well-known Letterman-sidekick Paul Shaffer, Of course, the comedians don't live up to their adult-sized bodies and soon are shouting and behaving like children at an appropriately-themed table. "Perhaps I am, But what are You" was genius writing showcasing the mix of popular children's sayings with a faux-matured approach. A Fun Fact, Paul Shaffer was the first person to use the F-Word on the show in 1979. Perhaps related to that, he was only a cast-member for that one season.
RELATED: Eddie Murphy Scores First Emmy For Return To 'SNL': "It's Been 40 Years"
Killer Bees – Season 1, Episode 9 (1976)
They're Bees, they're banditos, and they're desperate. The skit begins with Chevy Chase and Gilda Radner relaxing to the radio's evening news, which is stating, "Swarms of South American Killer Bees have been seen crossing the border into California." Pretty much immediately thereafter, the window behind is filled with a large, extremely large, killer bee, ready for his pollen, and more importantly, his screen-time. Elliot Gould, Garrett Morris, and Dan Aykroyd (as taco-head) joined Belushi onstage and demanded all of the couple's Pollen. This skit really lets you see Behind the Scenes, as a technical malfunction led to Lorne Michaels coming out and storming to the control booth. This skit had everything from Lorne Michaels making an appearance in his dirty white converses, to Paul Simon on Guitar. Man the '70s were the best.
The Olympia Restaurant: Cheeseburger! – Season 3, Episode 10 (1978)
Frustrated patrons are annoyed that they can only get cheeseburgers, chips, and Pepsi at The Olympia Restaurant. John Belushi breaks the news to customers at the register that instead of Coke, it'll be Pepsi, no fries you get chips, and that's right, cheeseburgers for all. If a customer complained about having to order a cheeseburger, Belushi would point out all the other customers enjoying said dish. Fun Fact, John Belushi's father owned a cafe called the "Olympia" in the 1960s. And it's worth noting that Dan Aykroyd was actually cooking burgers on the set of SNL. That's some attention to detail right there and part of the reason that the original SNL Cast was the best!
Word Association – Season 1, Episode 7 (1975)
This was some cutting-edge racial satire back in '75! Possibly the raciest racial joke on network television to date, and possibly still to-date. Richard Pryor was the invited host and only agreed to do the show with the addition of Pryor's fellow companion, Paul Mooney as a scriptwriter. Apparently, the interactions with Lorne Michaels and NBC were not positive. Meanwhile, Chevy Chase was begging to be in a skit with the iconic stand-up comedian. So Mooney killed two annoying birds with one stone, he wrote a sketch that emulated the job interview that Pryor was seemingly still in, while also getting to insult a bothersome Chevy that Pryor didn't care for. The result, a simple word association game that quickly gets out of hand, as Chevy asks Pryor to respond to words that started out mundane, but soon escalate to Negro and Tarbaby, eventually rising to the N-Word which Pryor responds with a lot of face twitching and… And the crowd went wild.
Samurai Hotel – Season 1, Episode 7 (1975)
Speak softly and carry a big sword. We're staying on the same Richard Pryor episode for my personal favorite appearance by the Saturday Night Live Samurai titled "Samurai Hotel."
Where John Belushi plays a stereotypical samurai wielding a katana. Belushi was infamous for never stepping out of the Samurai persona. In the scene, he and his bellhop Pryor duel over who gets to carry the newly arrived guest's luggage. Pryor eventually smashes the front desk in two with his sword; and The Samurai says: "I can dig where you're coming from," – Those were the only words ever spoken by the character in English. This skit was the samurai's first appearance but he would continue to grace the SNL stage until 1979 when Belushi said farewell.
Weekend Update – Point/Counterpoint (1977-1978)
Another skit that raised the parental guidelines for the show, Point-Counterpoint was a segment on Weekend Update featuring Jane Curtin and Dan Aykroyd. A spin on 60 Minutes, this debate was about Lee Marvin and Michelle Tiola, and things quickly got heated: "But you wouldn't know about that Dan…miserable failure." ("Jane, you ignorant sl–") The rapid-fire delivery by Aykroyd was on point. It was confirmed on Howard Stern that Al Franken wrote that infamous line. Four words perfectly delivered by Aykroyd would make TV History. Jane Curtin says that this line still haunts her to this day.
Land Shark – Season 1, Episode 4 (1975)
Chevy is back on this countdown and he's hungry! The Landshark played by Chevy Chase finds his dinner by politely knocking on doors, using ploys like mumbling, "it's the plumber." This skit embodies everything SNL used to be, shots in the dark with an abundance of silliness. The character was a response to the film, Jaws, and would become one of the most popular and imitated icons from the first season. Landshark has made guest appearances in multiple seasons throughout the years, as recent as the 40th Anniversary honoring Tina Fey, Amy Poehler, and Jane Curtin on Weekend Update. I didn't get out of the water for years because of my fear of Landshark.
King Tut – Season 3, Episode 18 (1978)
Steve Martin's classic tribute to the Egyptian boy king. Martin begins the sketch talking about the trinkets and commercialism that's detrimental to honoring such historical figures as King Tut. He then preps the audience for his honoring song that he wrote while being 'up in the woods'. Well cue Steve Martin for a scenery-eating dance, and he does the rest! The skit was one of the most expensive SNL productions of all time. Martin had brought the song to the show and asked if he could perform it, not expecting the production that may be necessary. The band members accompanying Steve were actually part of the Nitty Gritty Dirt Band! The song was released as a single in 1978 and sold over a million copies. Martin and the Steep Canyon Rangers later recorded the song in a bluegrass version for their 2011 album.
Super Bass-o-matic '76 – Season 1, Episode 17 (1976)
In this infomercial, a slick-talking salesman played by Dan Aykroyd advertises the Super Bass-O-Matic '76 fish blender. With the talents of a used car salesman, Aykroyd wows the viewer with his speech and wows one consumer played by Laraine Newman with a sample glass of the yummy fishy drink. After all, this is the tool that lets you use the whole bass. This sketch is another example of how amazing Dan Aykroyd was during live tapings, hardly ever stumbling with the very fast dialogue.
Two Wild and Crazy Guys – Season 3, Episode 18 (1978)
The Festrunk Brothers, played by Steve Martin and Dan Aykroyd, prepared for a wild double date with two "foxes." Contrary to popular belief, Martin was never a cast member but did host 15 times with even more popup-appearances which gave the brother some opportunity to dazzle the ladies. These brothers were culturally inept with enough obnoxious behavior to turn off any woman. They were often referred to by their catchphrase (play catchphrase) "We are, two wild and crazy guys!"
This skit helped enshrine the Original SNL Cast in the Television Temples, as I remember nothing being bigger at the time of the three networks. If it was Saturday night, we were watching the Not So Ready For Prime Time Players, and we couldn't wait to talk about it with our friends.
So how'd we do? Is there a skit that didn't make the cut?
RELATED: John Belushi And Dan Aykroyd Hit All The Right Notes Singing "Soul Man" On 'SNL'