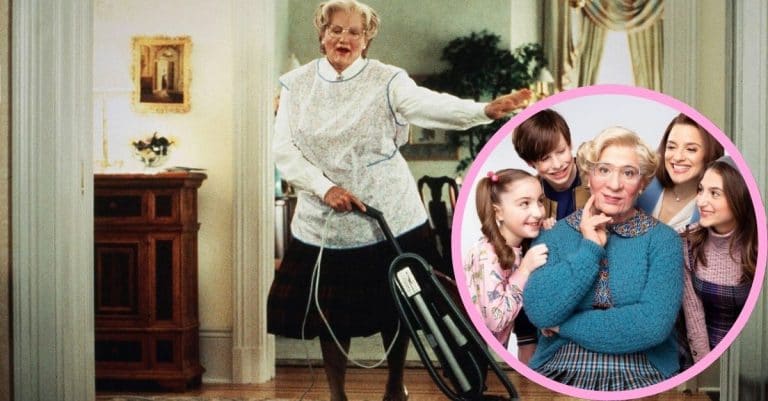 In 1993, Robin Williams introduced us to Mrs. Doubtfire, the stern, eccentric nanny to the Hillard children, who also happens to be their father wanting to bond with his children after a custody battle. The film showed Williams at some of his best and reminded viewers what an improv master he was. Previews for a Mrs. Doubtfire Broadway production, which started a small-scale tour in late 2019, began on March 9, 2020, just in time for quarantine. But viewers saw enough to get a feel for this stage adaptation. Here's where it stands.
When handling such beloved source material, any adaptations walk a slippery slope. Staying too similar risks the mantle of nothing but a repeat. Deviating too much gains disapproval for slighting the source material. So, did Mrs. Doubtfire the Broadway musical walk the delicate line and win cheers, or did the pie mask fall off and reveal unpleasant surprises?
Yes, there is a match to Robin Williams for the 'Mrs. Doubtfire' Broadway musical
View this post on Instagram
Disney's live-action remake of Aladdin faced a very similar question upon its release: can someone else match the performance Robin Williams gave in a role practically crafted for him? According to Misha Berson with Variety, yes, someone can, and that someone is Rob McClure, who plays the man behind the titular Mrs. Doubtfire for the musical adaptation.
RELATED: People Are Not Happy About Broadway's 'Mrs. Doubtfire' Look
View this post on Instagram
Right off the bat, Berson notes that McClure can match the potency of Williams' performance without being simply an imitation; he brings his own spin on things while honoring the source material. For Berson, McClure brings "winning sincerity and his own nimble, multi-voiced comic chops to the effort."
Adapting and getting lost in translation
Exclusive: Here's your first full look at Rob McClure in Broadway's Mrs. Doubtfire musical https://t.co/ABrx7nRA2N

— Entertainment Weekly (@EW) March 9, 2020
When adapting from any preexisting intellectual property, said adaptation must also contend with changes in medium and any faults that existed with the source material. Berson notes that the original Mrs. Doubtfire had some imbalances in pacing that the musical must contend with. It also deals with some jokes that may appear dated, and walks a precarious line in adapting those jokes to suit a modern palette, something it does not always seem to accomplish with grace.
🎧 Listen: "Mrs. Doubtfire" the Musical, live from #BroadwayCon https://t.co/vIjAoijyQ0 pic.twitter.com/lJ2f4cKpC6

— Variety (@Variety) January 28, 2020
That's not to say the Mrs. Doubtfire musical totally misses the mark across the board. In fact, many official reviews laud its humor. Broadway World wrote that the "show is a rollicking, laugh out loud good time, largely due to the genius that is Rob McClure." McClure is not the only thing carrying the show, according to The Moderate Voice, which writes "The choreography is crisp, clear and energetically engaging. The set design is stimulating and evokes the right emotional weight for each scene."
View this post on Instagram
One can expect these positive elements present in the stage adaptation since Tony Award winner Jerry Zaks directs. Catherine Zuber and David Brian Brown brought Mrs. Doubtfire's costume and wig into vivid existence, making it suitable for a stage that requires some exaggeration and boldness while referencing the original outfit. Ultimately, Mrs. Doubtfire as a musical has a lot it has to do with each performance, living in the shadow of a beloved original with remarkable star-power behind it, while standing on its own merits for a totally different medium. Because of these necessities and its own strengths and weaknesses, viewers are left with an enjoyable production that, based on reviews, feels visibly aware of the pressure it's under.