Hollywood actor, Sam Elliott, began stealing hearts back in the early '70s. Elliott made his big-screen debut in Butch Cassidy and the Sundance Kid in 1969 causing many to fall in love with the star instantly.
While the actor featured in many movies, his career took off in 1985 when Elliott starred in his first Western film. Sam Elliott played the role of Gar in Mask, which became nationally recognized as a timeless classic in American western cinema.
Sam Elliott and His Love for Westerns, Cowboys
In the same year as Mask's release, Sam Elliott sat down for an interview in which he discussed his new film. The actor talked about first moving to Los Angeles and his hopefulness to star in a Western.
RELATED: The Sweet Story On How Sam Elliott Met His Wife Katharine Ross
"When I first came down to Los Angeles I wanted to do Westerns," Elliott told the interviewer. "I don't know, I saw too many movies as a kid. That was the fantasy, I wanted to go down there and play cowboys and Indians. I've wanted to do it since I was a kid like I said, ten years old. I used to go to the theatre on the weekends and get turned on by the movies or whatever happened and think 'I'd like to do that someday.'"
Elliott continued the interview by joking about how the Western genre was canceled right when he arrived in Los Angeles. "I tried not to take that personally," the actor joked.
Elliott Dotes Over Katharine Ross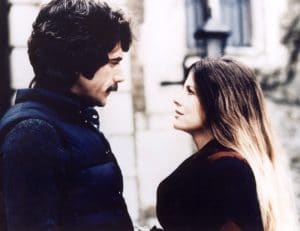 In addition to his love for Westerns, Sam Elliott discussed his love for actress Katharine Ross. Today, the two actors have been married for over three decades. Looking back at this interview, fans can tell how in love the pair truly are. After discussing Elliott's film, the interviewer prompts the actor to talk about the woman he is seeing. Sam Elliott smiles and blushes as he covers his face a bit.
"This woman I married," Elliott said in the interview. "The love of my life. Katherine. Katharine Ross. I married Katherine Ross. I've been going with Katherine since 1978." Further, the interviewer comments on how the actor seems to have it all— success, fame, a gorgeous woman. "Real glutton, huh," Sam Elliott replies smoothly. "I hope it all doesn't give me a bellyache."